Ofcom Will Not Investigate Qur'an Episode Of "Fireman Sam"
A spokesperson said the page's contents "could not have been deciphered, nor recognised as being from a given text".
Ofcom, the media watchdog, has announced it will not investigate an episode of Fireman Sam which featured a page of the Qur'an.
A few minutes into Season 9, Episode 7 (entitled "Troubled Waters") of the children's TV show, a fireman slips on a piece of paper next to a pile of paper that has recently fallen out of a cardboard box. As he falls to the floor, one of the pieces of paper that flies up in the air appears to be a page of the Qur'an.
One social media user claimed the page showed verses 13–26 of chapter 67 of the Qur'an, Surah Mulk.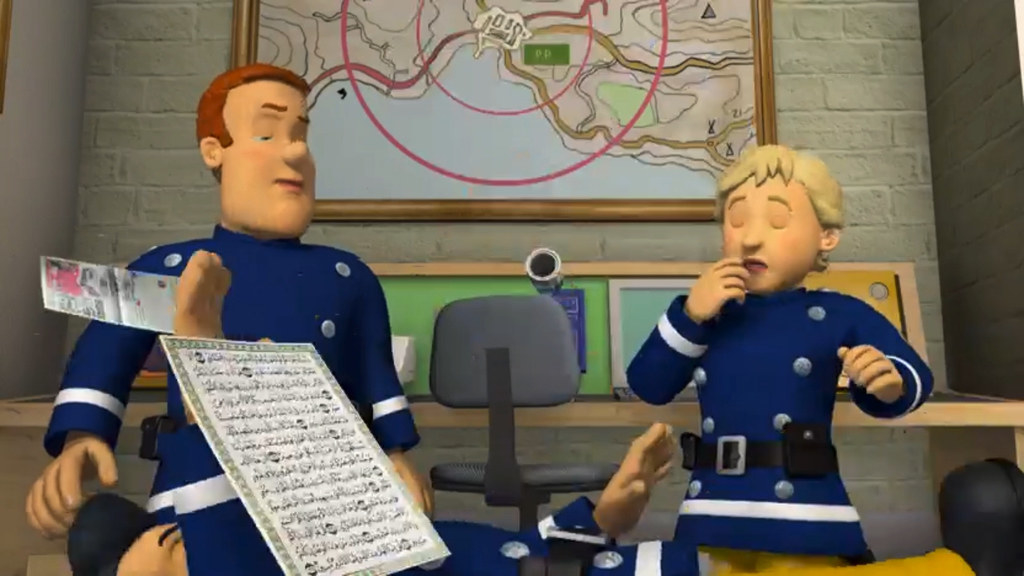 The chapter deals with the origin of existence, the hereafter, the Day of Resurrection, hellfire, and the attributes of God.
Social media users who spotted the strange addition were confused, and some were offended.
However, an Ofcom spokesperson told the Telegraph: "We received a number of complaints about a character appearing to trip on a piece of paper that might have contained text from the Qur'an. After careful assessment, we won't be investigating.
"We studied a recording of the programme in the highest possible resolution. We found that the page did appear to contain Arabic text, but its contents could not have been deciphered, nor recognised as being from a given text."
However, at the time it was brought to light, the show's makers apologised. A spokesperson for Mattel said: "It has been bought to our attention that in an episode of Fireman Sam (Series 9, Episode 7), an image of the Quran is briefly depicted. The page was intended to show illegible text and we deeply regret this error. We sincerely apologise for any distress or offense it may have caused. We will no longer be working with the animation studio responsible for this mistake. In addition, we are taking immediate action to remove this episode from circulation and we are reviewing our content production procedures to ensure this never happens again.
Again, we apologise unreservedly to our viewers."
* Four years ago, the creator of the show, Dave Jones, was detained at Gatwick Airport after asking why a veiled Muslim woman was not being checked by airport security. He had apparently joked about wearing his scarf over his face, which he told the BBC was "an observation, nothing more". However, he was told to apologise to a Muslim security guard who overheard the comment.