Pictures have circulated on social media of snipers on the roof of the Tory party conference.
Yesterday 60,000 people marched through Manchester to protest austerity policies. Four people were arrested: In one incident a young Conservative was egged.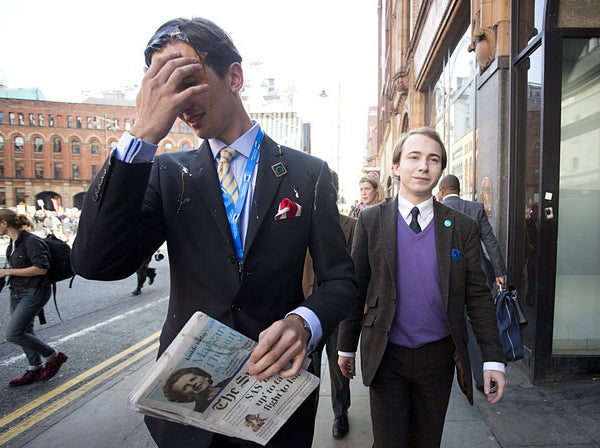 Greater Manchester police said most demonstrators behaved with "dignity and good grace".
The presence of snipers provoked a negative reaction on social media.
A Greater Manchester police spokesman told the Manchester Evening News: "It is an ongoing observation of the biggest march that has ever been in Manchester because of the Tory party conference."
He went on to say that they were "there purely for observation and supporting the police at the march as it's a major public event.
"They are high up for that reason, to observe. And they [the guns] are used for their powerful sight, which is stronger than any pair of binoculars. They are not there to shoot people," he added.
UPDATE: Greater Manchester police have now issued a new statement, below.
Chief Superintendent John O'Hare said: "Rifle Officers are one of a number of specialist roles which are deployed on the ongoing operation to manage the Conservative Party Conference, which began yesterday and runs until Wednesday 7 October 2015.
"This deployment is not unusual, and they have been used for previous party conferences, both Conservative and Labour, over the years here in Manchester.
"This should also be viewed as part of the wider context, which is that we are hosting the ruling government of the day while the terrorist threat level has been set at the highest point for several years.
"Despite what is being reported, they were not on duty specifically to assist in the policing of the TUC march, except in a minor observational role due to their elevated position above the streets."