Here's What Happens When People Try To Expose Abuse In The Care System
Whistleblowers explain how they were marginalised and silenced.
For years now, Eileen Chubb has been battling to secure protection for people who blow the whistle on abuse in the care industry.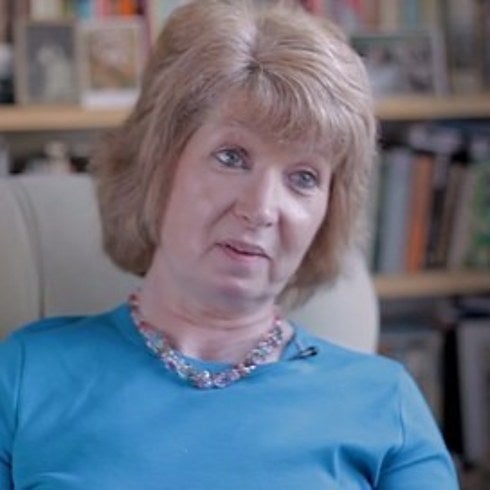 In 1999, Chubb spoke out about abuse at a private care home. She claims that while working at Isard House, a BUPA care home, she saw a member of staff abusing the residents. As a result of reporting the incident she was abused at work, she says, and management attempted to cover her claims up.
BUPA denies her version of events to this day and told BuzzFeed News that independent reports found "no conclusive evidence of abuse by staff". The company also said she was treated "properly and fairly" and that it has a "robust whistleblowing scheme". You can watch a full interview with Chubb here.
Her case was the first to be brought under the Public Information Disclosure Act, which is supposed to protect whistleblowers. Chubb believes it does not, and has set up a charity called Compassion In Care to help whistleblowers get the truth out. Last year the charity worked with BBC's Panorama to expose shocking scenes in the Old Deanery nursing home in Essex.
In a report, the charity says it spoke to hundreds of whistleblowers about their experiences. Below are some of their words. They explain the difficulties with exposing abuse in the care sector.
Blowing the whistle

"I went to the owner and told him everything that was happening, he wrote it all down and I really believed something would be done. Later when I knew the whole thing was being ignored I went back to the owner and he said he knew nothing about what I told him, he denied I had ever told him anything, I cannot stand seeing vulnerable patients being abused. What am I going to do?"
"I went to the manager and told her what I had seen, I thought that was the right way to do things. Now my life is hell and my shifts have all been changed: Some of the staff call me a grass. The manager must have told them I had reported to her. I am afraid to go to anyone else."
"If I lose my job I will be deported – they said that I should keep quiet if I wanted to stay in this country."

"I worked there seven years and had nothing on my file and then I blew the whistle. The manager made my life hell, constantly finding fault with my work: I was sacked and when I went to my union they would not help me. They said I had so many warnings on my file that if I took a case to a tribunal I would not stand a chance."
Abuse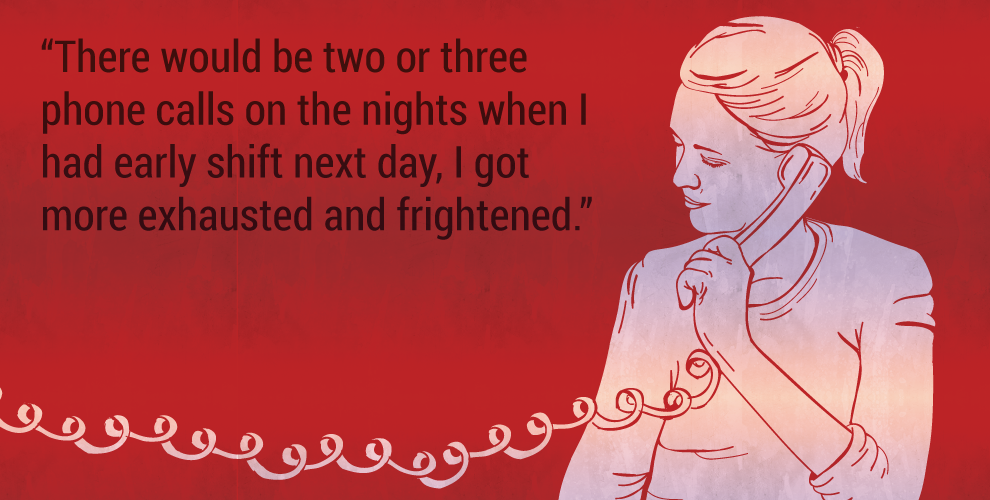 "There would be two or three phone calls on the nights when I had an early
shift next day, I got more exhausted and frightened, and I did not want to
turn the phone off as my mother was elderly and may have needed me."
"As I walked to my car I saw jagged scratches all down the driver's side, the
staff who were going off shift just looked on and smiled, not a word was said
but I was left in no doubt as to what had happened."
"All the staff got a meal each day – that was normal – but I was suddenly told
that I was no longer entitled to this after working there for a decade. Suddenly everything I did was wrong. When I look back I do not know how I got through the silence and hatred."
"I worked there over 10 years and never had any problem with my work, after blowing the whistle everything changed, I was sacked for being constantly late for work. I could not believe it, but when I asked to see my file all these notes had been made, warnings I was supposed to have been given. I said this is all lies, this is because I blew the whistle. The manager said 'no one will believe you', and she was right."

"I feel afraid every minute I am there, the people abusing the clients just laugh at me and they are safe after all. It is me who is afraid now."
"Silence wears you down, day after day being invisible, when a client fell on the floor no one would help me, I walked out the door crying, sobbing – I had only tried to protect the clients, that's all, why did I get treated like this?"
"Silence it does not sound so bad and had I not suffered day in and day out I would not have thought it so bad, but in the end it was worse than being screamed at. I just left. I tried to get help and advice but was told I did not have a chance."
Trying to get help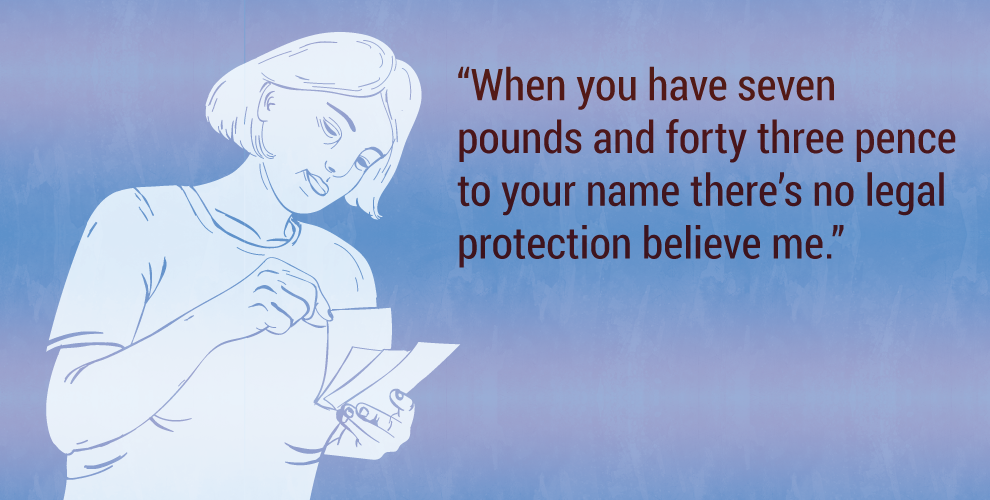 "I could not get a lawyer or any help. I did not know how to protect myself – all this rubbish about legal protection, when you have seven pounds and forty three pence to your name there's no legal protection, believe me."
"My union would not help, they said I had no chance of winning because I would not be believed, I felt the worst thing my employer had done was take my good name, my reputation. The law – what law?"
"I tried to get legal help and contacted about ten solicitors and could not get anywhere, then one solicitor said they could take the case on a no win no fee basis, but after a short time it became clear that this was all about getting my employer to settle and pay my legal costs, I wanted to go to court and have a judge say what my employer had done to me was wrong. The lawyer was just more interested in getting their costs paid."
"I could not get a solicitor to help me and contacted the Citizens Advice people, but they said they did not have an employment lawyer."
Losing your job

"Things were so bad I started to sell things just to have enough for food. I applied for dozens of jobs but as soon as you were asked why you left your last job you could see the change of expression, the distrust – the word whistle-blower meant you had done something wrong."
"'It's just bad luck you can't get a job,' some people would say to me, it surely can't be because you reported abuse, I would have thought the same before I blew the whistle, but I knew as soon as I said I was a whistle-blower I was not wanted."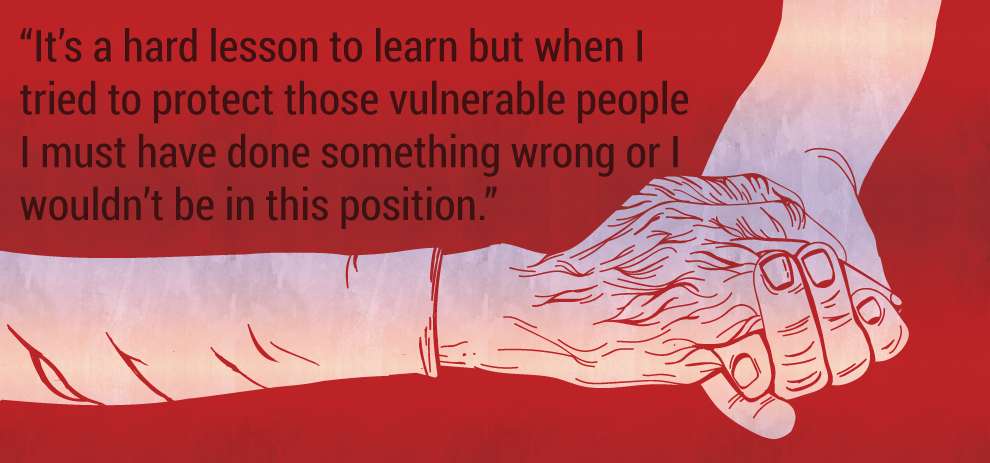 "I do not even have the money for basics like sanitary towels, I am ashamed to say I go into hotel toilets to get paper hand towels to use, it's so embarrassing. It gets me down, the constant struggle, I can understand why so many people turn a blind eye to the wrongs they see. It's a hard lesson but when I tried to protect those vulnerable people I must have done something wrong or I would not be in this position – it's me that is being punished and that is a fact."
"I had to ask friends and family for food. I felt so ashamed, there were days when I did not eat simply because there was no food and I could not face the shame of begging for some."
"The man I reported for theft was left in his job: He was in a position to make my life hell, and no one could understand this. I was the bad person and no one would help me. The tribunal did not understand it was not just about my job."
"Settle out of court or you will be punished even more. That's the law, I went and reported the abuse because it mattered that it stopped, I was told to settle because my employer did not want all this coming out."