An 89-Year-Old Man Tried Stand-Up Comedy For The First Time And Smashed It
The old ones are definitely the best.
It shows Esterly giving a performance at the Go Bananas comedy club in Cincinnati, Ohio, on 14 October. According to the club's Facebook page, Esterly performed after attending a stand-up comedy 101 class at Sycamore Senior Center.
The centre wrote on its page: "Students learned how to make their own stories hilarious, write and deliver jokes, timing and delivery, how to charm an audience and how different shows are structured. At the end of the class, students performed their routine at Pro-Am Night Go Bananas Comedy Club. Chuck was the head of the class."
A spokesperson for the Sycamore Senior centre said the centre was "so excited" that the performance had gone viral.
They said: "This was the first time we offered the class. When we first approached the comedy club they were reluctant, but then they sent us two great instructors." They told us that Cam O'Connor and Mark Califoux taught the students how to use their own stories to write and deliver jokes: "They learned timing, delivery, how to charm an audience and how different shows are structured." Chuck, they told us, was head of the class.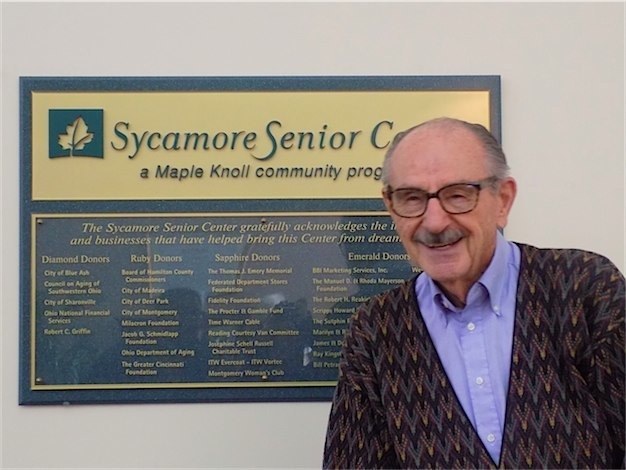 UPDATE
Chuck has now sent us a message! He writes: "If I have become an 'internet stupidstar'.... it's all your fault! I'm not sure I should thank you - or stop speaking to you.
"I don't think about it too much, and so far no one has asked me for an autograph!
My comedy heroes are probably two Florida friends who emailed me most of the jokes I used in my one and only stand-up routine a couple of weeks ago.
"I never thought about doing stand-up until the senior center I belong to had a short course (Stand-up Comedy 101). Four of us started, two of us finished... the other gal didn't want to appear on stage... so it was up to me to make a fool of myself."
We also asked him about his background. He said: "I was with a small fire and casualty company in Cincinnati for 35 years, retiring as Vice President of Sales in 1986.
"My wife, Peg, and I celebrated our 70th wedding anniversary in April, this year, and I will hit 90 years of age on the 10th of this month. We have four daughters, nine grandchildren, and 6 great-grandchildren. I'm just a lucky guy who likes to have fun!"