A YouGov poll for the Sunday Times has shown the Yes camp in the lead for the first time.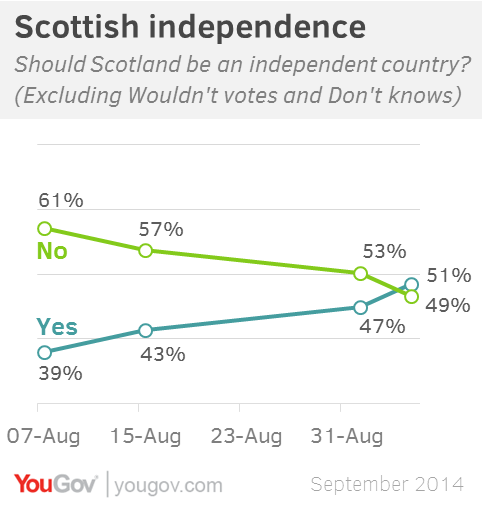 It should be stressed that this poll is, at present, an outlier: other polling companies have yet to show the same trend.
There's no doubt that the poll has, however, shaken up the No campaign.
This morning's Observer reports: "a devolution announcement designed to halt the nationalist bandwagon is due to be made within days by the anti-independence camp," and that there is "panic" and "recrimination" among pro-union ranks.
Today's Mail on Sunday, meanwhile, reports that Ed Miliband is warning manned border posts could be required if independence goes ahead.
Labour has responded to the Mail on Sunday story about border guards, saying it's "ridiculous" and that Miliband is "focused on keeping the UK together".