U.S. Supreme Court Clears Way For Arizona DREAMers To Get Driver's Licenses
In refusing to grant Gov. Jan Brewer's request to stay a lower court's decision, the nation's high court on Wednesday cleared the way for thousands of young undocumented immigrants to apply for driver's licenses in Arizona.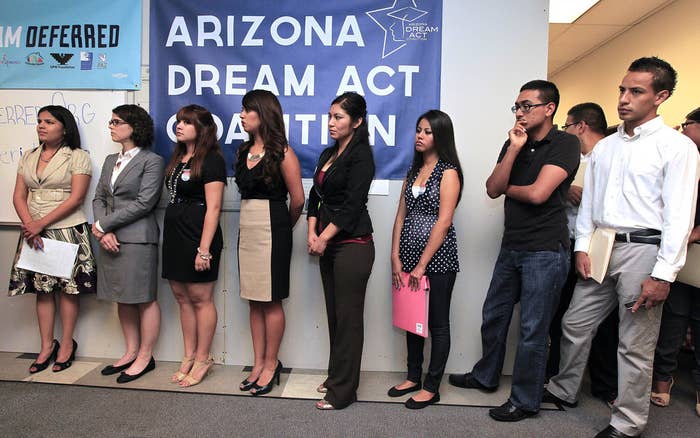 The Supreme Court on Wednesday opened the door for thousands of young immigrants brought to the U.S. illegally as children — known as "DREAMers" — to get driver's licenses in Arizona after declining to intervene in a lower court's decision.
Arizona Gov. Jan Brewer's asked that the lower court's decision opening the door to driver's licenses be put on hold while her administration appeals to the Supreme Court, but the justices declined.
The move affects more than 20,000 immigrants who were able to receive two-year work permits under President Obama's Deferred Action for Childhood Arrivals (DACA) program in 2012.
In response to the program, Brewer issued an executive order prohibiting anyone approved under Obama's program from receiving any state benefits, which includes driver's licenses.
That prompted the Arizona Dream Act Coalition to file a lawsuit on behalf of the undocumented immigrants, setting the stage for what has been a two-year legal battle.
"I'm really excited, it's taken two years of fighting to get to this point," said Erika Andiola, organizing development director for the coalition. "For a lot of us it was devastating to hear that all of our friends across the country were able to get their driver's licenses, but that in Arizona that was not the case."
The battle was pushed to the doorstep of the Supreme Court after the U.S. District Court of Arizona found that the DREAMers had established a likelihood of success in their claim against the state, but denied their request to put Brewer's policy on hold.
That decision was appealed to the 9th Circuit Court of Appeals, which ruled in favor of the DREAMers in July. The appellate court then sent the case back to the U.S. District Court of Arizona with instructions to lift its driver's license ban on deferred-action eligible immigrants.
Brewer asked the Supreme Court to intervene and stay that order, but it declined Wednesday.
While the high court's decision is a cause for celebration, Andiola said it may be a while before a final ruling is made on the driver's license policy. She also warned that it would likely take some time before eligible immigrants are able to apply for licenses.