Following a whirlwind year filled with chart success, numerous awards, a rap feud, and the birth of her first child, 2018 looks to be ending on a low note for rapper Cardi B, who has confirmed that she and husband Offset are no longer together.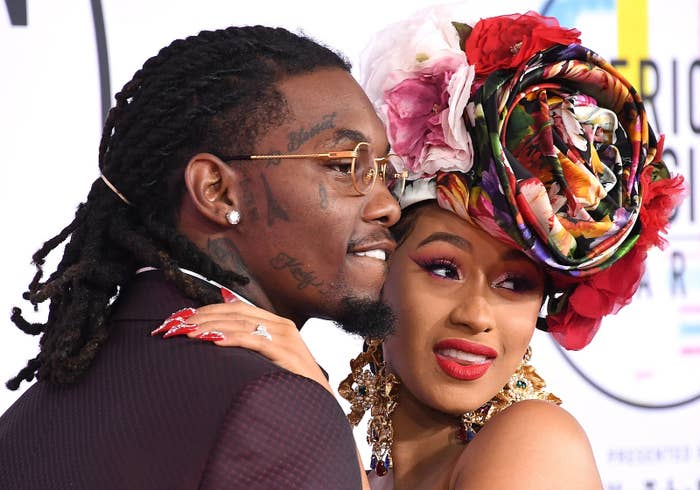 True to form, the 26-year-old rapper took to Instagram to explain that she and Offset had split but insisted that nobody was at fault.
She said: "So everybody been bugging me and everything, and you know I've been trying to work things out with my baby father for a hot minute now... and we're really good friends, and you know we're really good business partners, and you know he's always somebody that I run to to talk to and we've got a lot of love for each other, but...things just haven't been working out between us for a long time, and it's nobody's fault. It's just like I guess we grew out of love, but we're not together anymore.
"I don't know, it might take time to get a divorce and I'm going to always have a lot of love for him because he is my daughter's father and — yeah."
Offset, real name Kiari Kendrell Cephus, 26, responded in the comments, appearing to blame public pressure for the demise of his marriage.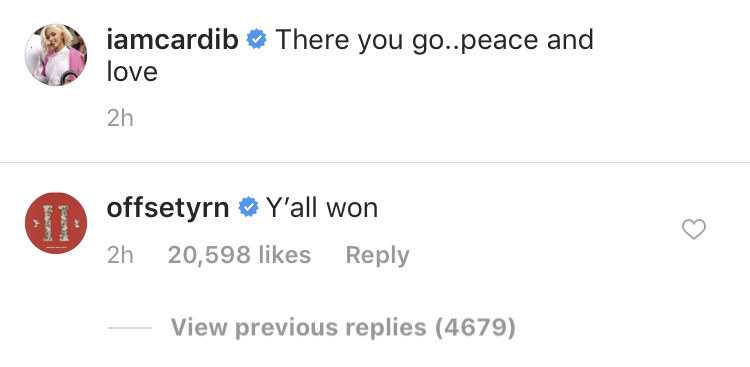 The breakup may come as a surprise to some as the couple appeared on stage just last week at 102.7 KIIS FM's Jingle Ball concert in California.
The pair began dating in February of 2017. A marriage certificate obtained by TMZ showed that the couple made it official in September of 2017, despite Offset publicly proposing a month later.
Confirming the news, Cardi said that their low-key nuptials happened away from the public eye because of how new their relationship was.
The pair welcomed the first child together, a girl named Kulture Kiari Cephus, in July of this year.
While Cardi insists that the relationship ending is "nobody's fault", fans can't help but speculate about whether infidelity has played a part. Her single "Be Careful", from her debut album Invasion of Privacy, seemed to be an admission of their marital problems.
In it, she raps: "Man, I thought you would've learned your lesson. 'Bout liking pictures, not returnin' texts. I guess it's fine, man, I get the message. You still stutter after certain questions. You keep in contact with certain exes."

The relationship has been marred by numerous cheating allegations including claims that Offset had been unfaithful with siblings Rachel and Sarah Wattley, employees of Angels strip club in New York.

The women said they were attacked by members of Cardi's team with bottles and chairs as a result of the allegations. Cardi, real name Belcalis Almanzar, was subsequently charged with assault and reckless endangerment for her part in the incident, which took place in August. She failed to appear in court this past week.
News of their split has caused a buzz and people are really divided. There are those who were really rooting for them...
...and then there are others who seem to think this is the best thing for the pair.