Woody Allen's Estranged Family Reacts To Director's Golden Globe Lifetime Achievement Award
UPDATED: "A woman has publicly detailed Woody Allen's molestation of her at age 7. GoldenGlobe tribute showed contempt for her & all abuse survivors," Mia Farrow tweeted.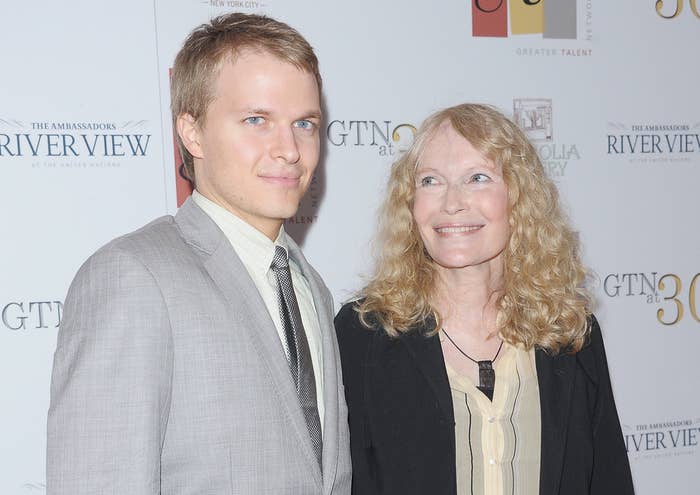 Woody Allen was not present during Sunday's Golden Globe Awards, during which the Hollywood Foreign Press Association gave the esteemed filmmaker their Cecil B. DeMille Award for lifetime achievement. (Diane Keaton, the star of several of Allen's most well regarded films, accepted on his behalf.)
But Allen's estranged family — his longtime romantic and creative partner Mia Farrow and her 26-year-old son Ronan Farrow — definitely made their presence known on Twitter. Mia Farrow and Allen publicly split in 1992, in part due to the revelation that Allen was in a relationship with their then 20-year-old adopted daughter Soon-Yi Previn. When Allen's tribute began to air on NBC, Farrow — who had been live-tweeting the ceremony — pointedly noted that she was changing the channel:
Farrow then re-tweeted a tweet from his future MSNBC colleague Luke Russert pointing readers to the 2013 Vanity Fair story (written by Russert's mother Maureen Orth), in which Mia Farrow also suggested that her son's biological father may not be Woody Allen as had been widely reported, but the late Frank Sinatra.
And then, to round things out, Mia Farrow re-tweeted both her son and Russert.
Allen has denied all allegations regarding Farrow's daughter.
Update: On Monday morning, Mia Farrow tweeted more direct criticism of the Golden Globes for celebrating Woody Allen, and of Allen himself.