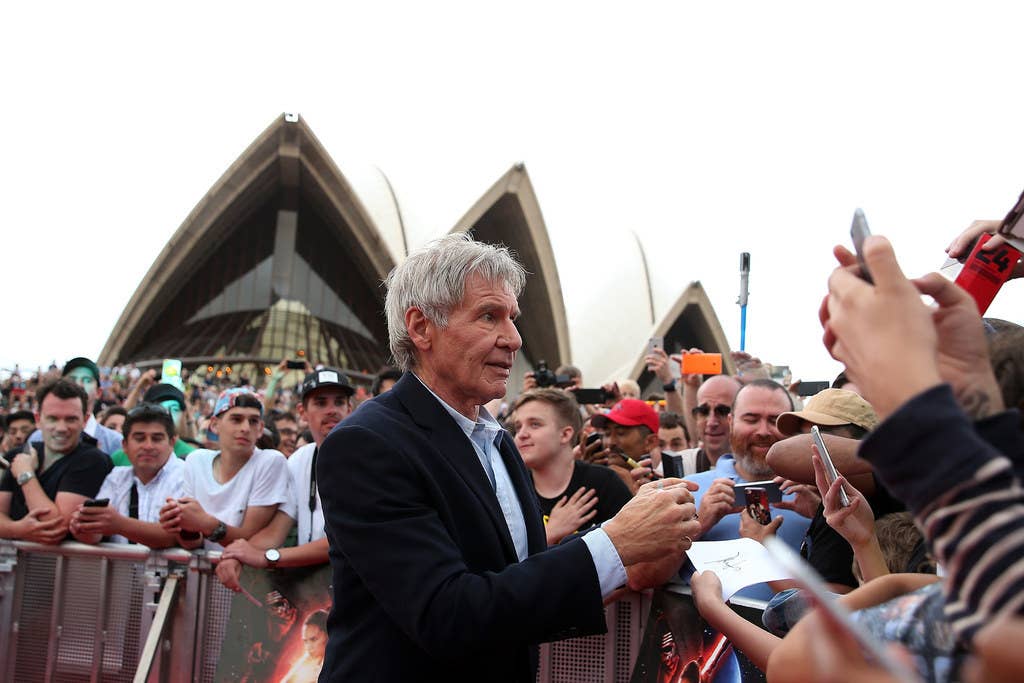 Star Wars has been an unmistakable force in Harrison Ford's life for nearly 40 years, but until he appeared at the Star Wars: The Force Awakens panel at San Diego Comic-Con in July 2015 — his first public appearance after a plane crash in March — the 73-year-old star had not once experienced the full magnitude of Star Wars fandom in person.
"It was gratifying," Ford said calmly of seeing 6,500 Star Wars fanatics roaring in unison at the mere sight of him. "It was encouraging. It was nice."
Ford has never been one for hyperbole — and many observed that the fan reception at Comic-Con moved him to tears.
"Listen, I mean, I cry when they announce my bus stop," he told BuzzFeed News with a hint of a smile. "I'm not made of stone. I recognize the warmth of the greeting, and I was pleased. I was surprised. And I was delighted."
That delight carried over to the surprise concert of composer John Williams' Star Wars music that followed the panel. When Ford took to the stage to join The Force Awakens director J.J. Abrams, producer Kathleen Kennedy, and the rest of the cast, he playfully pretended to hobble using a toy lightsaber as a cane — which some saw as a nod to the injuries he sustained in that plane crash.

Ford, however, sees that moment a bit differently. "It wasn't necessarily a tip of the hat," he said. "It was a flash of my ass to all the people who thought I wasn't going to get [there]." He smiled. "It was a mooning!"
Despite cultivating a reputation as a gruff and prickly guy with little interest in revisiting his years as the swashbuckling scoundrel Han Solo, Ford explained that, if anything, he finds a deep satisfaction in his interactions with Star Wars fans. But, befitting a man who has maintained a singular career over five decades — including the Indiana Jones adventure franchise and the Jack Ryan CIA thrillers — Ford sees his relationship with fans through a unique lens.
"In my mind, I convert fans — and let's be careful about how we take this word — into customers, because I know full well that those are the people that are supporting my life and supporting the film industry and the kind of movies that I like to make," he said. "I've been very gratified to have them as customers. I grew up working in stores, working in the stationery store, working in the flower shop, working as a waiter, working in various capacities, and I have respect for my customers. So that's maybe a distinction that's not immediately apparent to people." Part of the reason that Ford thinks of fans as customers is because the vast majority of the strangers he encounters on a regular basis treat fandom as a business. "If you walk out of a restaurant, and there are 40 people out there, and they all have something to be signed, 99.9% of them are professional autograph collectors," he said. "They're collecting them to sell. That's a business." Ford said he tries to "accommodate" the autograph pros. "But," he added, "I'm delighted to meet, on a casual one-on-one basis, people who feel well-served by the films that I'm in."
More recently, Ford said he has been coming across fans who want something signed for personal reasons, too. "A lot of young people come up to me these days and say, 'Would you please sign this…for my mother? She's your biggest fan,'" Ford said, affecting a youthful, earnest enthusiasm. "Or, 'Please, please my father really likes your movies!'"
He paused, cocked his head, and smirked in a way that calls to mind a certain smuggler who can do the Kessel Run in 12 parsecs. "Hey, you know, one of the great things about Indiana Jones or Star Wars is that they've been passed on from generation to generation in families when it's age appropriate," he said. "And that has been a very lucky thing for my career, I believe."
What Ford most wants out of his time with fans is very simple: "Their satisfaction," he said. "If you're running a shop, and somebody happens to come in just as you're closing, you don't want to go home at that point. You don't slam the door in their face."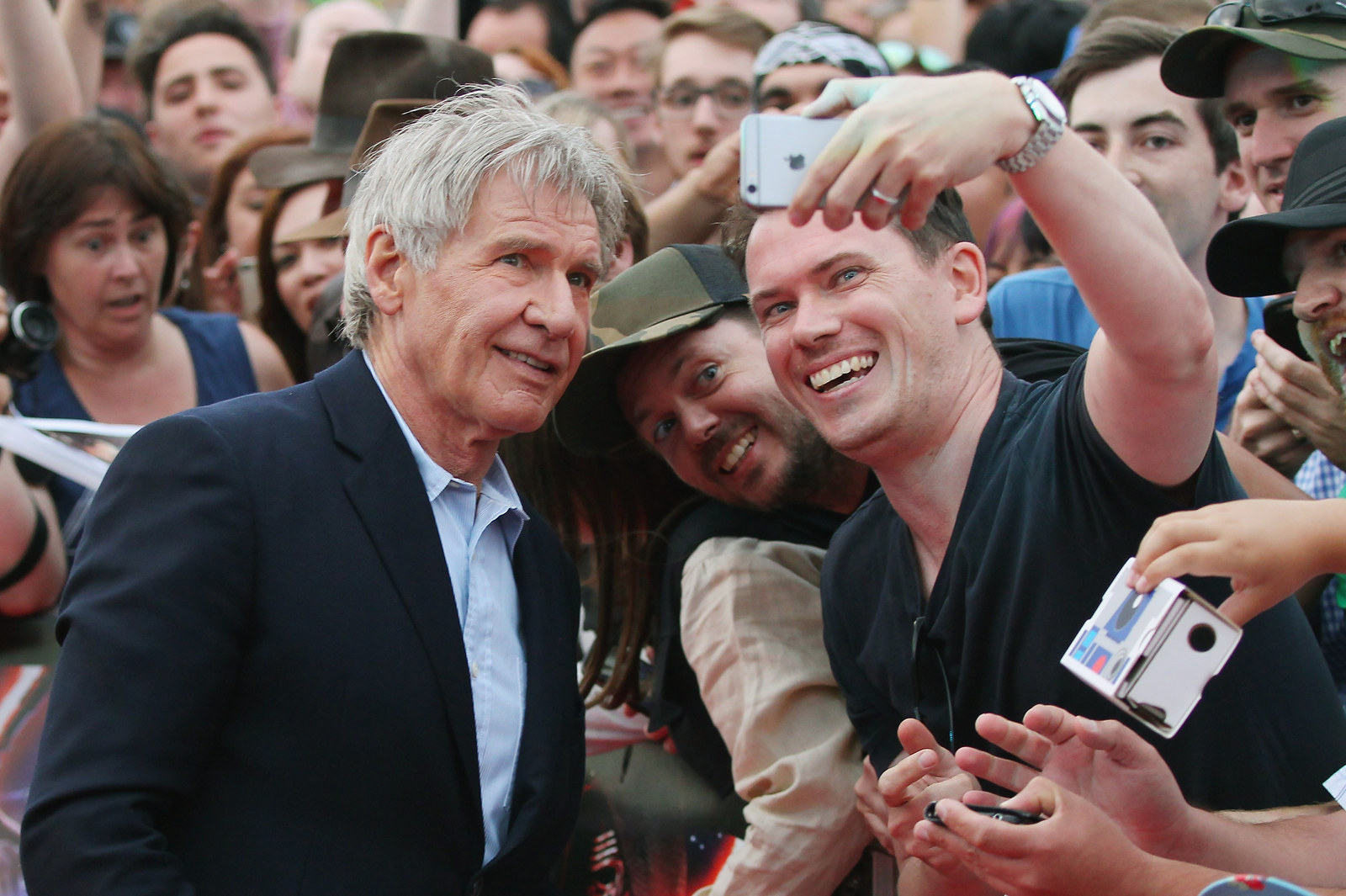 By thinking of fans as customers, Ford is seeking to flip the classic fan–star dynamic — instead of them giving him adulation, he focuses on how he can be of service to them. "I mean, I like people to go away from meeting me — whether they're fans, whether they know who I am or don't know who I am — feeling the same way," he said. "And that is to say, not abused. Taken seriously as another human being."
Of course, Ford does have boundaries. "Under some circumstances, you just have to say, 'I'm sorry. I'm with my family, I can't do that now,'" Ford explained. "'Please understand.'"
Speaking of his family, actually, do they interact with Star Wars in the same way the millions of people who aren't related to him do? "Oh, I suppose, not exactly," Ford said. "I think there's a reality context in their lives that may give them a different point of view. I have five kids. Some of them are bigger fans of the genre than others. Some of my kids don't watch movies at all. And my youngest, who's just turned 15, he's more interested in looking at Sherlock with [Benedict] Cumberbatch or the Hercule Poirot series that was done on BBC. He's got very arcane taste. But I think my eldest children, who were very young at the time [I was making] Star Wars, are perhaps the biggest, the most susceptible to the cultural effects that the success of Star Wars created."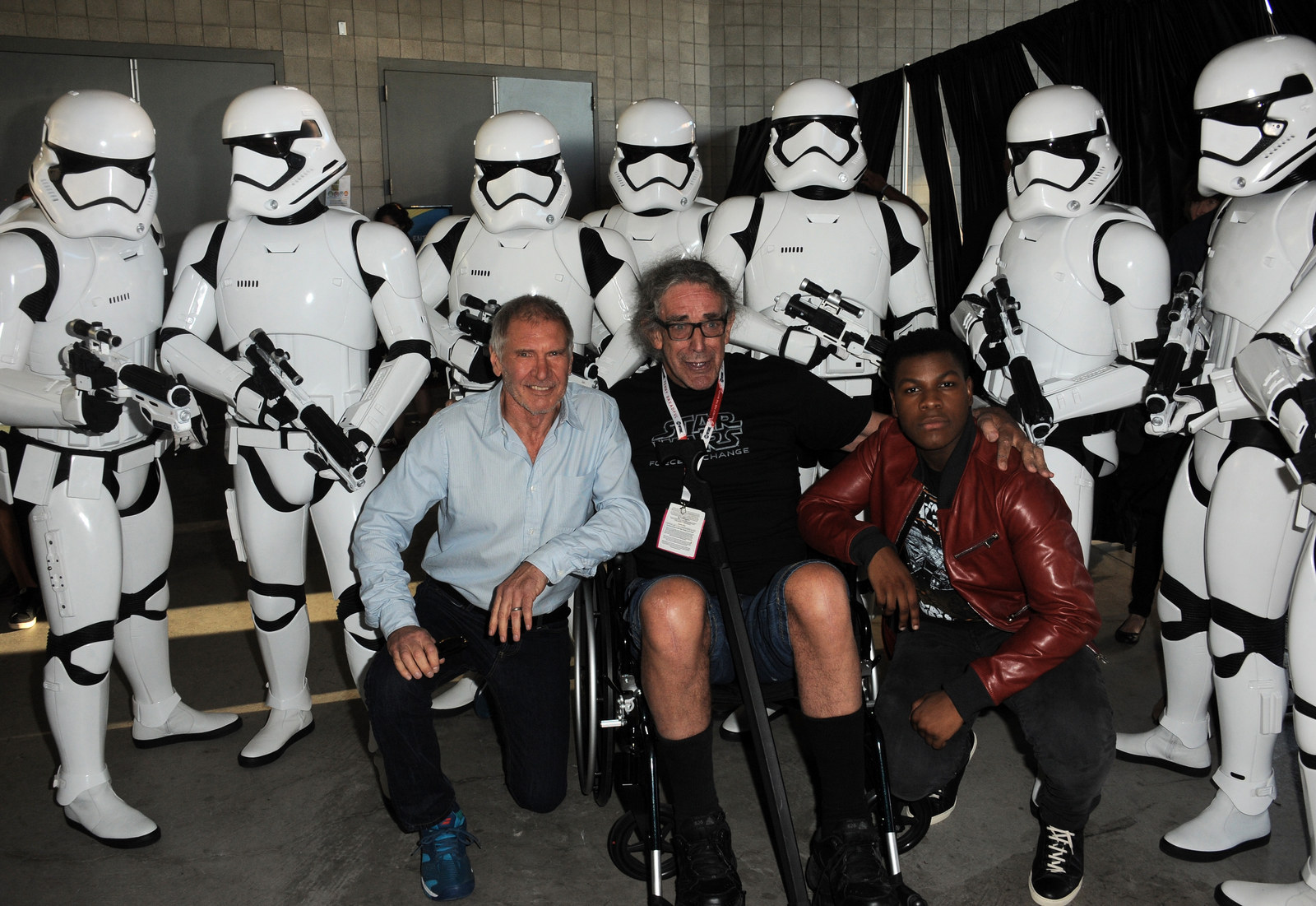 Ford's grandchildren are roughly the same age now that his older children were when he made the first Star Wars trilogy. And after spending more than 30 years away from the franchise — a franchise he never thought he would return to until Lucasfilm and Disney committed to making new movies in 2012 — Ford is in the thick of it again, alongside fellow Star Wars veterans like Carrie Fisher as Princess (now General) Leia, and Peter Mayhew as Han Solo's trusted companion Chewbacca. Defining what that means to him at first left Ford at a loss for words.
"It's actually hard to articulate," he said, before taking an unusually long pause, even for the famously laconic actor. "I'm gratified that I've still got a utility in the context of these films," he said finally. "I'm glad I had another opportunity to play Han Solo at a different stage of his life. As a professional experience in terms of representing a character, it makes it more interesting."
And then, something else happened: For a brief moment, Harrison Ford became, in essence, a Star Wars fan.
"It's been a splendid opportunity to work with J.J., someone who I've always admired," he said. "To work with Carrie again and Peter Mayhew and the new cast has been an extraordinary event." He smiled. "It's been fun. Really fun."