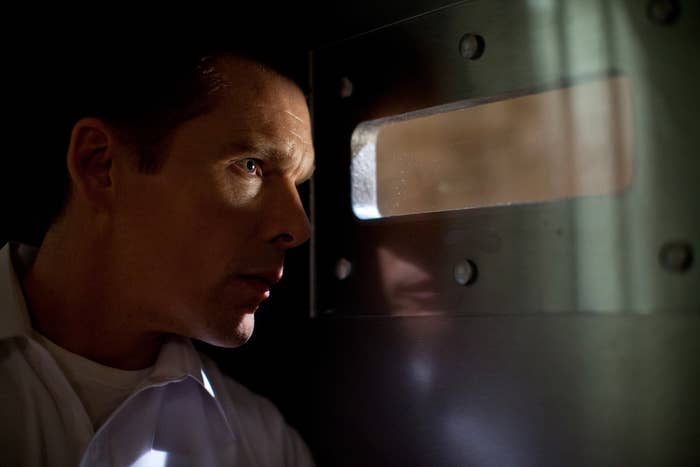 The phenomenon of dirt-cheap horror movies doing phenomenally well at the box office has been around for at least a few years now, ever since the "found footage" genre gave rise to micro-budgeted hits like 2009's Paranormal Activity and 2012's The Devil Inside. Those films, however, have always been released in the fall or winter, lest the mega-budgeted summer behemoths squash them flat.
Hollywood may want to reconsider that strategy. The Purge — a horror film set in a dystopian near-future where all laws are suspended for 12 hours every year — just racked up an estimated $36.4 million this weekend, displacing Fast & Furious 6 atop the box office. In large part because the movie is set pretty much exclusively inside a single house, it cost just $3 million.
To put that accomplishment in perspective, the last time a summer movie that cost that little was No. 1 at the box office, Ronald Reagan was in the White House. Friday the 13th: Part VII opened on May 13, 1988, grossing $8.2 million (or $15.9 million when adjusting for inflation) — but that accomplishment still has some major caveats. Even if the $2.8 million production budget listed on the movie's Wikipedia page is accurate — and that is not an insignificant "if" — in 2013 dollars, that is almost twice the money The Purge had to work with. Plus, in the 1980s, the "summer movie season" didn't really start until Memorial Day anyway.
You get my point: In the modern summer-movie era, films this cheap are not supposed to do this well. Of course, in the modern summer-movie era, man-boy comedies starring A-list actors usually do quite well, but the Vince Vaughn/Owen Wilson vehicle The Internship fizzled out in fourth place with $18.1 million. The Will Smith bomb After Earth, meanwhile, continued to tank, dropping 59% to seventh place in its second weekend. And the crowd-pleasing sci-fi adventure Star Trek Into Darkness has failed to keep pace with J.J. Abrams' predecessor, pulling in a respectable-but-not-spectacular $200 million in 25 days.
For all three of those movies, $3 million would likely cover just the catering budget. And while audience reaction to The Purge has been pretty sour — it scored a terrible "C" grade from the audience polling firm CinemaScore — it is already more profitable than those aforementioned summer movies by several orders of magnitude.
Here are the estimated top 10 box office figures for Friday to Sunday, courtesy of Box Office Mojo:
1. The Purge* — $36.4 million
2. Fast & Furious 6 — $19.8 million
3. Now You See Me — $19.5 million
4. The Internship* — $18.1 million
5. Epic — $12.1 million
6. Star Trek Into Darkness — $11.7 million
7. After Earth — $11.2 million
8. The Hangover Part III — $7.4 million
9. Iron Man 3 — $5.8 million
10. The Great Gatsby — $4.2 million
*Opening weekend