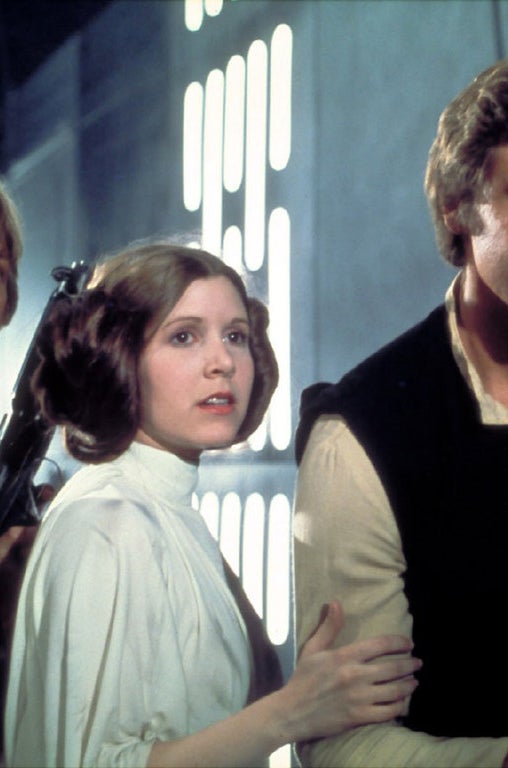 As if they weren't busy enough already, filmmakers Phil Lord and Christopher Miller (The Lego Movie, 21 Jump Street) have officially signed on to direct an untitled Star Wars movie about a young Han Solo, Lucasfilm announced on Tuesday.
The movie will be a part of the new series of Star Wars "anthology" films, designed to fill in details about the established Star Wars universe, and alternating between the main Star Wars movies.
The Han Solo prequel film, written by longtime Star Wars screenwriter Lawrence Kasdan and his son Jon Kasdan (Freaks and Geeks, In the Land of Women), will focus on "how young Han Solo became the smuggler, thief, and scoundrel whom Luke Skywalker and Obi-Wan Kenobi first encountered in the cantina at Mos Eisley," according to the official release announcing the news. It is scheduled to open on May 25, 2018.
"This is the first film we've worked on that seems like a good idea to begin with," Lord and Miller said in a joint statement. "We promise to take risks, to give the audience a fresh experience, and we pledge ourselves to be faithful stewards of these characters who mean so much to us. This is a dream come true for us. And not the kind of dream where you're late for work and all your clothes are made of pudding, but the kind of dream where you get to make a film with some of the greatest characters ever, in a film franchise you've loved since before you can remember having dreams at all."
The film adds to an already crowded slate of projects for Lord and Miller. The duo is producing and writing an animated Spider-Man film for Sony Pictures, scheduled to open on July 20, 2018. And they are still set to produce 23 Jump Street for Sony as well. Lord and Miller are producing several Lego movies for Warner Bros., including The Lego Batman Movie, Ninjago, and The Lego Movie Sequel. They are also executive producers on the Fox series The Last Man on Earth, which will premiere its second season on Sept. 27.
Chris Miller marked the news with this cheeky tweet.
The confirmation of the Han Solo film further establishes Lucasfilm and parent company Disney's aggressive plans for the Star Wars movie franchise. Star Wars: The Force Awakens, from co-writer-director J.J. Abrams, will open Dec. 18, 2015.
Then, the first film in the Star Wars anthology series, Rogue One, will open Dec. 16, 2016. That film stars Felicity Jones and will depict the effort to steal the Death Star plans, which leads to the events in the very first Star Wars film released in 1977. Godzilla's Gareth Edwards will direct.
Then, the untitled Episode VIII, from writer-director Rian Johnson (Looper), will open May 26, 2017. Along with the Han Solo film, that will be four Star Wars movies opening in just three years. With a rumored Boba Fett anthology film and Episode IX also on the horizon, the Star Wars universe is set to become even more ubiquitous than it already is.