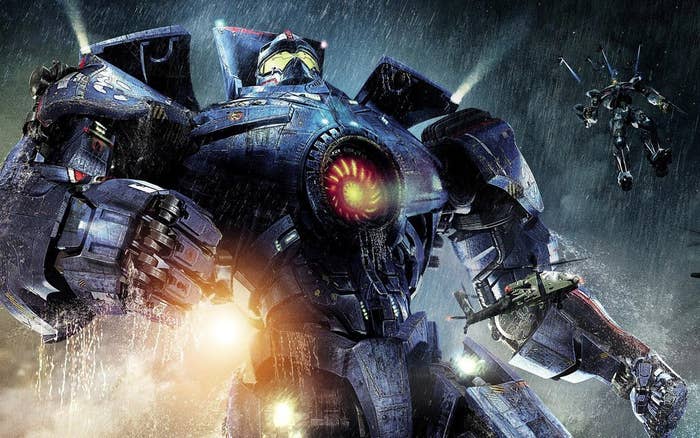 Director Guillermo del Toro announced on Thursday that Legendary Pictures has committed to making a sequel to the 2013 international hit Pacific Rim, and the company has scheduled to release the film on April 7, 2017. Del Toro also announced that an animated series set in the Pacific Rim world will be released at an undetermined time before Pacific Rim 2 is released (and distributed in the U.S. by Universal Pictures).
In early June, del Toro told BuzzFeed that he was working on a script for the sequel with screenwriter Zak Penn (X-Men: The Last Stand), and in his announcement today, del Toro said original screenwriter Travis Beacham would also be contributing to the expansion of the Pacific Rim franchise.
"The characters I love will return," del Toro told BuzzFeed in an exclusive new statement. "Raleigh, Mako, Newt, Gottlieb and who knows, maybe even Hannibal Chau – but we are taking them into a fresh territory that will display amazing sights and battles. The first film set the stage and now we're ready to have a blast." (The film's original actors, including Charlie Hunnam, Rinko Kikuchi, Charlie Day, and Burn Gorman, are expected to return, but official deals are not yet complete.)
Del Toro certainly has some time to get the new movie to theaters, given that Pacific Rim 2 is slated for release almost four years from the release of the first film. (Lately, studios have been planting flags in major release dates as far out as 2018, and as Captain America: The Winter Soldier proved this year, the first weekend in April is as viable a release date for a major franchise film as anything in the summer.)
Meanwhile, his plate remains quite full: He's currently in post-production on his horror film Crimson Peak, also bankrolled by Legendary Pictures, and he's executive producing FX's upcoming horror series The Strain, which is based on the novel trilogy he wrote with Chuck Hogan. But Pacific Rim is by leaps and bounds his biggest financial success, and he made no secret that he found making it to be one of the most creatively satisfying experiences of his career.
With total global grosses of $411 million, however, Pacific Rim did not pull in quite the same franchise-launching blockbuster box office of movies like Man of Steel ($668 million) or The Hunger Games ($691 million). But Legendary's commitment to continuing the franchise is one of the biggest indications yet of just how important the international marketplace has become to Hollywood. Thanks in no small part to its international cast and locales, Pacific Rim pulled in a whopping 75% of its worldwide gross from foreign audiences — it made a very modest $101.8 million gross in the U.S., versus $111.9 million in China. (Sales of high-end merchandise through companies like Sideshow Collectables and NECA also continue to be robust.)
Legendary is clearly bullish that it can expand the film's rabid fan-base for the subsequent sequel — and certainly Legendary's recent reboot of Godzilla, which has nearly doubled Pacific Rim's U.S. grosses, proves that American audiences are still keen on watching rampaging giant monsters on the big screen.
This story has been updated to reflect that the Pacific Rim cast is expected to return for Pacific Rim 2.