In these exclusive outtakes from the new Twilight Forever: The Complete Saga Blu-ray (out Nov. 5), Kristen Stewart demonstrates the hardship of working constantly with two kinda doofy dudes.
Summit Entertainment
All Kristen wanted to do was talk through the scene, and Robert Pattinson makes fun of her.
Taylor Lautner especially thinks it's hilarious!
But good sport that she is, Kristen just plays along.
And let the boys have their fun.
You're hilarious, R-Patz.
Then there was the time Kristen was momentarily hypnotized by Taylor's shirtless body in the rain.
Which is completely understandable.
She gets so distracted, some of the "rain" water rushes into her mouth.
So much so that she has to spit it out.
She's miserable here, you guys.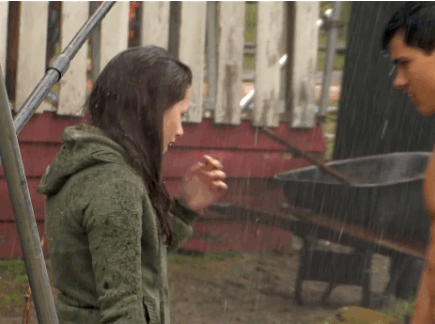 But she feels bad about it and apologizes to everyone.
And Taylor just finds it hilarious (again).
Thanks for being such a good sport, Kristen!