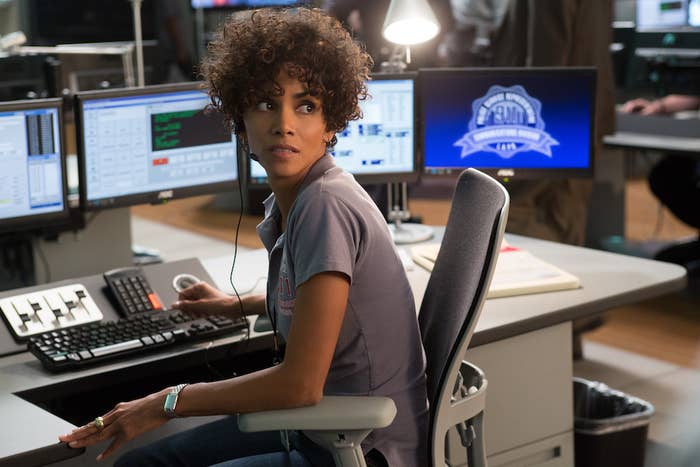 The box office, she is fickle. After years of struggling to make any impact as a solo star, Halle Berry witnessed her 911 thriller The Call debut this weekend with an estimated $17.1 million. That's the best opening for a film banked on Berry's star power alone since the 2003 psychological thriller Gothika. With Berry officially joining the cast for X-Men: Days of Future Past earlier this month, her career would appear to be on the up-swing.
Steve Carell and Jim Carrey, on the other hand, have both hit career lows with the less-than-magical comedy The Incredible Burt Wonderstone, which limped to a $10.3 million opening for a weak third place. This is a total flop, folks. Since they became stars, neither Carell nor Carrey has ever seen one of their comedies do worse. Even Carell's 2007 family dramedy Dan in Real Life and Carrey's 2007 psychological thriller The Number 23 opened with better numbers, in fewer theaters. It has been a particularly grim month for Warner Bros.' subdivision New Line Cinema, which nominally backed both Wonderstone and the similarly slumping Jack the Giant Slayer. Perhaps there is a lesson here about baiting the box office gods with self-important titles?
Or perhaps not: Disney's Oz: The Great and Powerful continued to be both, easily riding into first place in its second week with $42.2 million for a $145 million domestic total (and $281.8 million worldwide). As impressive as the film has been, it's good to keep in mind that by this point three years ago, the similarly CGI-soaked, 3-D, Disney extravaganza Alice in Wonderland had pulled in $209 million in the U.S.
Finally, Harmony Korine's latest cinematic provocation Spring Breakers opened with $270,000 in three theaters, for an impressive $90,000 per theater average. It opens wide this Friday.
Here are the full top 10 figures for Friday to Sunday, courtesy of Box Office Mojo.
1. Oz: The Great and Powerful — $42.2 million
2. The Call* — $17.1 million
3. The Incredible Burt Wonderstone* — $10.3 million
4. Jack the Giant Slayer — $6.2 million
5. Identity Thief — $4.5 million
6. Snitch — $3.5 million
7. 21 and Over — $2.62 million
8. Silver Linings Playbook — $2.59 million
9. Safe Haven — $2.5 million
10. Escape From Planet Earth — $2.3 million
*Opening weekend