14 Reasons Candice Glover Made "American Idol" Watchable This Year
UPDATED: No offense to Kree, Angie, and the rest of the contestants, but Candice was simply in another league from everyone else. And that is why she won.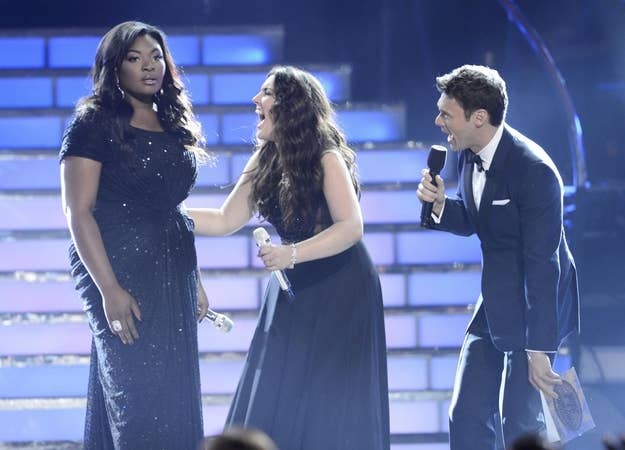 Save for one shining bright spot this season, these have been dark days for American Idol fans.
As the shows ratings keep hitting record lows, the judges have managed to become the hot mess sideshow we all feared/hoped they'd become — but instead of juicy, trashy fun, it's largely been a tedious bore, a lose-lose game of deciding which self-serving diva, Nicki, Mariah, or Randy, to dislike the least. (Poor Keith Urban, stranded like a hunky country music superstar in a den of high-strung poodles.) Whatever goodwill these judges started with at the beginning of the season has been frittered away by their behavior since the live shows began. It's no wonder there are reports Fox wants to eighty-six the lot of 'em, and Randy just left the show outright.
As for the contestants, it has been refreshing to watch several talented women battle it out without having to contend with a totes adorbs white man with a guitar syphoning away all the tween girl votes. Getting to that point, however, meant slogging through five weeks' worth of non-guitar-playing male contestants who were so self-evidently inferior to their female counterparts that one wondered why the Idol producers didn't just do away with the pretense of gender parity in the first place and make it an all-female season. (It hasn't helped that those producers' insistence on musty theme nights have forced powerfully irrelevant song choices like "For Once in My Life," "Lately," "Shop Around," "(They Long to Be) Close to You," "I'll Never Fall in Love Again," and "MacArthur Park." I say again: "MacAurthur Park".)
When you're in the 12th season of a show, however, even solid singers will inevitably fall into well-trod Idol archetypes: The over-eager perfectionist who tries too hard (Angie Miller); the "commercial" beauty who can't quite live up to the hype (Amber Holcomb); the aw-shucks southern country girl who can't quite capture "America's heart" (Janelle Arthur); and the fabulous singer who feels too mature (read: too serious) to go all the way (Kree Harrison). As lovely and talented as these women all are, on Idol they're retreads of contestants we've seen time and time again. We can cite their "Idol journeys" by rote.
There is one contestant, however, who has stood apart, delivering so many show-stopping performances that she has pushed well past easy categorization and elevated the show into watchability. I am speaking of Candice Glover, who was just crowned the winner of the 12th season of American Idol. There really was no one else who should have won.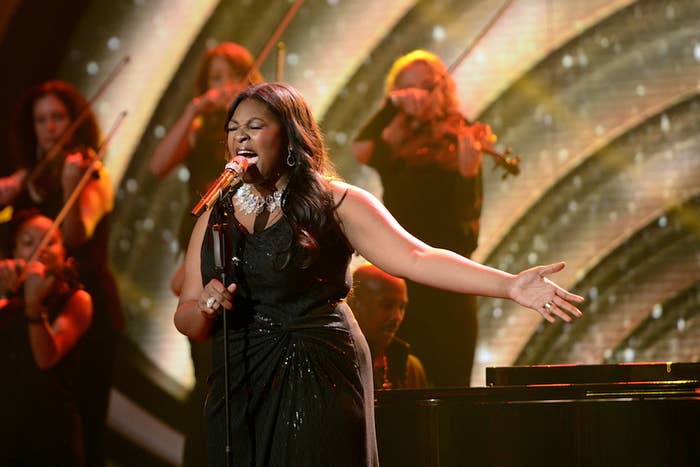 If you've been watching Idol this year, you already know what I'm talking about. But if you haven't, just know that as a reality show contestant, this 23 year old is humble and genuine and terrifically non-obnoxious. Watching her wobbly sob through her winning single "I Am Beautiful" was a great coda to a terrific trajectory on this otherwise, er, wobbly season.
That final vocal aside, as a performer, Candice is in a league of her own. But don't take my word for it. Check out these 14 performances over the course of Candice's time on Idol to understand why she was not only the frontrunner to win, she was basically the only reason to watch at all.
1.
Her audition in Charlotte, N.C.
2.
Top 10 week: "I Who Have Nothing"
3.
Top 8 week: "I Heard It Through The Grapevine"
4.
Top 7 week: "The Letter" (duet)
5.
Top 7 week: "(I Can't Get No) Satisfaction"
6.
Top 6 week: "Don't Make Me Over"
7.
Top 6 week: "Lovesong"
9.
Top 4 week (take two): "When I Was Your Man"
10.
Top 3 week: "Somewhere"
12.
Performance Finale: "I Am Beautiful"
14.
Results finale: "Inseparable" with Jennifer Hudson
This post has been updated to include Candice Glover's finale week performances, and note that she was the winner of the season.