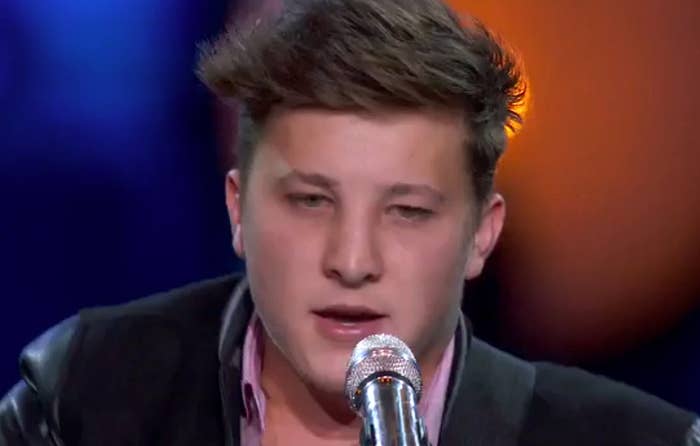 On Wednesday night, 21-year-old aspiring musician Keith London performed Beyoncé's "If I Were a Boy" during the "Hollywood Week" episode of American Idol. He purposefully did not change the pronouns in the song, which London intended to be a sly way of acknowledging that he's gay.
After London's performance aired on the East Coast, he tweeted, "Wait, did I just basically come out on National TV? Oh well cats out of the bag!"
"It was amazing," he told BuzzFeed Thursday morning. "Twitter's blowing up. Facebook's blowing up. It's awesome that people are talking about it."
During the episode, Idol judges Jennifer Lopez and Harry Connick Jr. expressed their confusion over London's song choice and the segment caused some disapproval on Twitter and elsewhere online over the judges' reactions. After London began singing the song, Lopez pointed out to Connick that London wasn't changing the pronouns, and Connick responded, "It don't impress me." Lopez agreed, adding, "It is bizarre." Then, Connick said, "It's a weird choice. OK, we get it. You're trying to be cute."
London said his goal in singing "If I Were a Boy" was quite the opposite of "trying to be cute." "My view on it is that Beyoncé is thinking that she would know what it's like to be in a man's shoes," London told BuzzFeed. "And my take on that is that you'll never know what it's like in somebody else's shoes. I come from a very unique background, and no one knows just why I do the things I do." When asked to elaborate on his unique background, London said, "I travel all over the country doing odd jobs. It's not the stereotypical, you know, lifestyle [for a gay man]."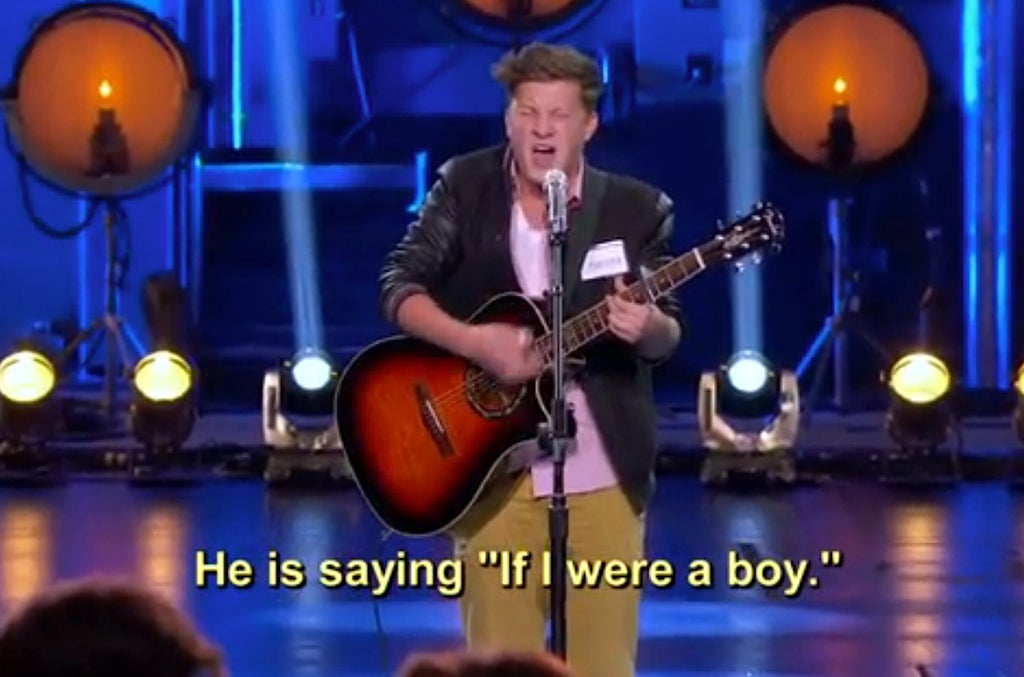 After learning Wednesday night while watching the show what the judges were saying to each other during his performing, London said he was especially bothered by Connick's assertion. "Some of the other contestants, they're obviously trying to be cute," he explained. "But I get that comment when I'm coming with such a strong message? Especially Harry being on Will and Grace. Like, Hello? I don't know what to say about that." (Fox did not immediately respond to BuzzFeed's request for comment from Lopez, Connick, and fellow judge Keith Urban.)
London said he was inspired to sing the song after the November episode of Fox's Glee in which trans high school student Unique (Alex Newell) sang "If I Were a Boy" after being bullied in both the women's and men's bathrooms. "It was just moving," he said. "So I thought, Why not? I'll give it a shot." London said that "legal" reasons prevented him from changing the lyrics to the song, but he he was surprised that the judges reacted with such confusion over what Connick called the "novelty" of the song. (A spokesperson for Fox could not immediately confirm whether not changing the lyrics is a set rule on the show, but contestants have altered lyrics in the past.)
"I didn't want the gender thing to be a big deal," London added. "I feel like everyone's just focusing on [it]." Indeed, some viewers were not sure whether London was coming out as gay, or as trans. When asked how he self-identifies, London sighed. "Yeah, this is a funny thing. People are somewhat confused, and I'm kind of like, 'Really?' I am a man. I've always been a man. I will always be a man. I'm very much about being a man. And I like other men. That's the bottom line."
Because they had talked through so much of his performance, the judges asked London to sing another song, and he chose Macklemore and Ryan Lewis' Grammy-winning song featuring Mary Lambert, "Same Love," which promotes LBGT rights. Viewers only saw London sing Lambert's chorus, but London actually performed much of Macklemore's opening rap — but as a song, not as spoken word. "I had it on guitar, and I changed it up a lot. And when Harry said, 'No guitar,' that was a little scary, but the chorus sounded good," London said. "Whatever. I think the verse sounded good, but they didn't air it, so I couldn't see it." It was, however, enough for the judges to send London along to the next round. (He could only discuss his status on the show up to Wednesday night's episode.)
The tumult over how American Idol handles LGBT issues is far from new for the show, which is currently in its 13th season. For several seasons, former judge Simon Cowell and host Ryan Seacrest were criticized for what many saw as gay-baiting banter, and while Season 8 runner-up Adam Lambert was called "flamboyant" during his time on Idol, he did not officially come out until after the season finale. Last season, eventual winner Candice Glover performed Bruno Mars' "When I Was Your Man" the week Connick coincidentally was a mentor on the show and he counseled her to change the pronouns of the song — counsel she did not take. (In fairness, Connick also made a point of noting that Glover could be singing her second song, the standard "You've Changed," to a man or a woman.)
London was well aware of that history when he stepped onto the Dolby Theater stage to perform during Hollywood Week. "For some of the more obviously [gay] contestants [on Idol], it's not talked about," he said. "And going into Hollywood Week, I was like, I'm not going to go up there and sing a song to sing a song. That's what a lot of the contestants did. And it's like, Sing something to make a difference — and since they aired [my performance], it's making a difference. It's so what I wanted, and I'm so happy that it's happening."
Watch the entire segment here:
Fox
UPDATE (and SPOILER ALERT): During Thursday night's group round episode, London was cut from the show — although the episode never showed his performance.