1.
A granite and stone cleaner reviewers swear removes grease without leaving a filmy haze behind. All you have to do is spritz your countertop and wipe, no elbow grease required.
2.
A glass and ceramic cookware cleanup kit filled with a heavy-duty scrubber, razor blade, and a cleaner specifically designed to remove those burnt-on foods and stains that came with you trying out that new recipe you thought would not be so messy...
Promising review: "I never thought our electric top would look good again. My husband loves to do the shake-and-scrape thing with the pots when he cooks. This stuff worked like magic though. I will say we figured out that you need to work differently from what the directions say. First, spread on the liquid and let sit for a good 25 minutes, then sponge off, then use the scraper after that. The scraper after was what really got those tough spots." —Stef V
Get it from Amazon for $11.41.
3.
Or a gas range cleaning spray if you have trouble getting all that gunk that accumulates around the burners. It will dissolve the burnt and cooked-on mess without you ever having to pick up a sponge.

Promising review: "This is the best cleaner that I've used on my stove top. Easy to use, just spray, and wipe. Before discovering this product, I used hot, soapy water to clean my black stove top. It cleaned the stove top, but it was dull and showed streaks. This product cleans and polishes. Shiny and no streaks." –Julia Glenn
Get a two-pack from Amazon for $14.88.
4.
Or a bottle of Bar Keepers Friend soft cleansing liquid that comes with a scouring cloth you can use in tandem to remove caked-on stains without scratching the surface on more than just your stovetops — it also works wonders on steel appliances, pans, and even sinks.
Promising review: "I used the product on my stainless-steel gas range and it worked amazingly!!!! I have tried so many other things and it was so hard getting the stains from the water (over flow of potatoes and pasta) and oil spills that would burn on to the range off. For a while thought this would be permanent. It bothered me so much to have a clean kitchen and my range would be this way. I let it sit on my range for about 15 minutes because the stains were there for so long then I scrubbed it with the scrub cloth that was provided and you can obviously see the results in my picture. My stove looks as it did when we first moved into our new home. Definitely purchase this, you won't be disappointed. ☺️" —Ci B.
Read BuzzFeed's full review of Bar Keepers original formula and the soft-cleansing liquid for more deets!
Get it from Amazon for $22.43.
5.
A 100% natural oven cleaning kit complete with everything you need to fight through the tough grease in your oven without you having to put too much of your own elbow grease into it. Simply apply the all-purpose cleaner, scrub, and use the metallic sponge to blast away the grease. It's (almost) as easy as the pie you made in said oven.

Everneat is a small business based in Fairfield, Connecticut specializing in natural cleaning products and tools. The kit includes a jar of oven scrub, an all-purpose cleaner, and a metallic sponge that should be used in conjunction to get the best results. 
Promising review: "I admit, I was skeptical — but this stuff is like magic! I got the kit, and the concentrate cleaner and oven scrub both worked so well I could hardly believe it. I wish I'd taken before and after pictures!" —Paige NewMyer
Get it from Everneat on Etsy for $27.99+ (available in two jar types).
6.
A fridge deodorizer designed to keep produce fresher for longer *and* neutralize any unwanted smells so you can go longer in between deep cleaning sessions.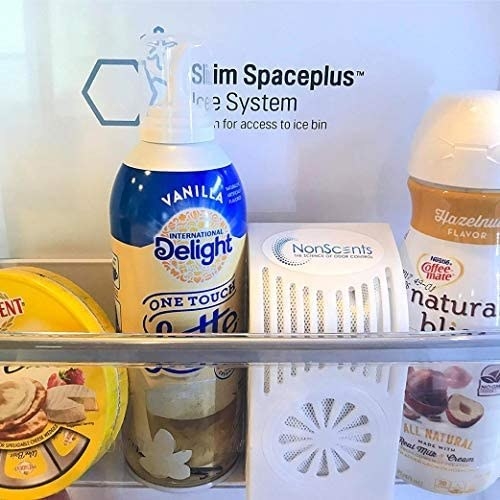 This deodorizer lasts up to six months, and also helps keep produce fresher for longer. The company claims it's six times more effective than baking soda — a ton of reviewers mentioned they'd tried the baking soda method and failed, but that this worked like a charm!
Promising review: "OMG THIS THING ACTUALLY WORKS!!! I moved into my new apartment two months ago. When I first moved in I opened the freezer and fridge to sanitize since I have no idea if the previous tenants did, and boy oh boy when I opened it up... I got smacked in the face with the smell of old moldy food! I bleached it and decided to wait a day. Tried again the next day and the smell was still there. I bought some baking soda and put it in the fridge thinking it would solve it. Welp, it DIDN'T! Tried charcoal, tried taking bits apart and deep cleaning them and nothing worked. I got the two-pack and as soon as they came this morning I placed one in the fridge and one in my freezer. In an hour I noticed a difference. Went out to run some errands and when I got back home tonight I opened the fridge and noticed I couldn't smell anything coming from it!" —Zoraida Gunter
Get it from Amazon for $11.97.
7.
A foaming garbage disposal cleaner you can use weekly to stop any buildup or odors from coming out of your sink. Nobody wants to deal with that grossness!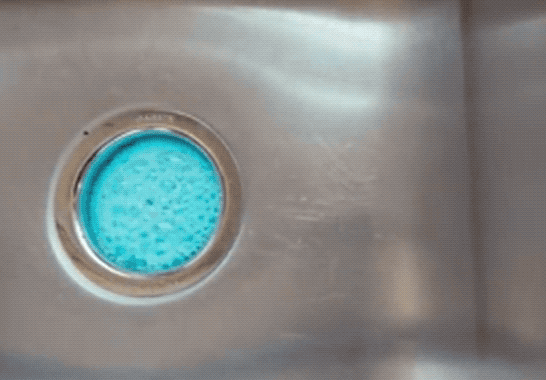 Promising reviews: "We moved into a townhouse that had a garbage disposal in the kitchen. I never had one growing up and didn't think too much about it until the funky smell started. I researched ways to clean it and came across these. Decided to order a four-pack and try them. THEY ARE LIFE CHANGING. Just run some water, toss the packet in, and turn on the disposal. The little packet does all the hard work for you. I order a new set as soon as we start to run low." —lucas broshears
Get a four-pack from Amazon for $3.98.
8.
A steaming microwave cleaner accurately named the "Angry Mama" because it's what your mom would look like if she saw how dirty your microwave was. This gadget works to dislodge the food and dirt inside the microwave so you can easily wipe the mess away. Save the scrubbing for the Scrub Daddy. 

Promising review: "This product is so amazing, I'm going to get one for all of my children. I am a teacher, and I let my students use my microwave. Usually it takes me half an hour of scrubbing after 31 students have made popcorn, and heated up lunches. This time I used the product, and I literally spent less than one minute just wiping down the microwave!!! I will now keep one in my classroom, and one at my home. A miracle product that actually does what it says, remarkable!!!" —Desiree Barlow
Get it from Amazon for $7.99 (available in two colors and also packs of two).
9.
An all-natural surface scrub safe to use on all sealed surfaces (even where food touches) to make film, grime, and grease disappear in a single swipe.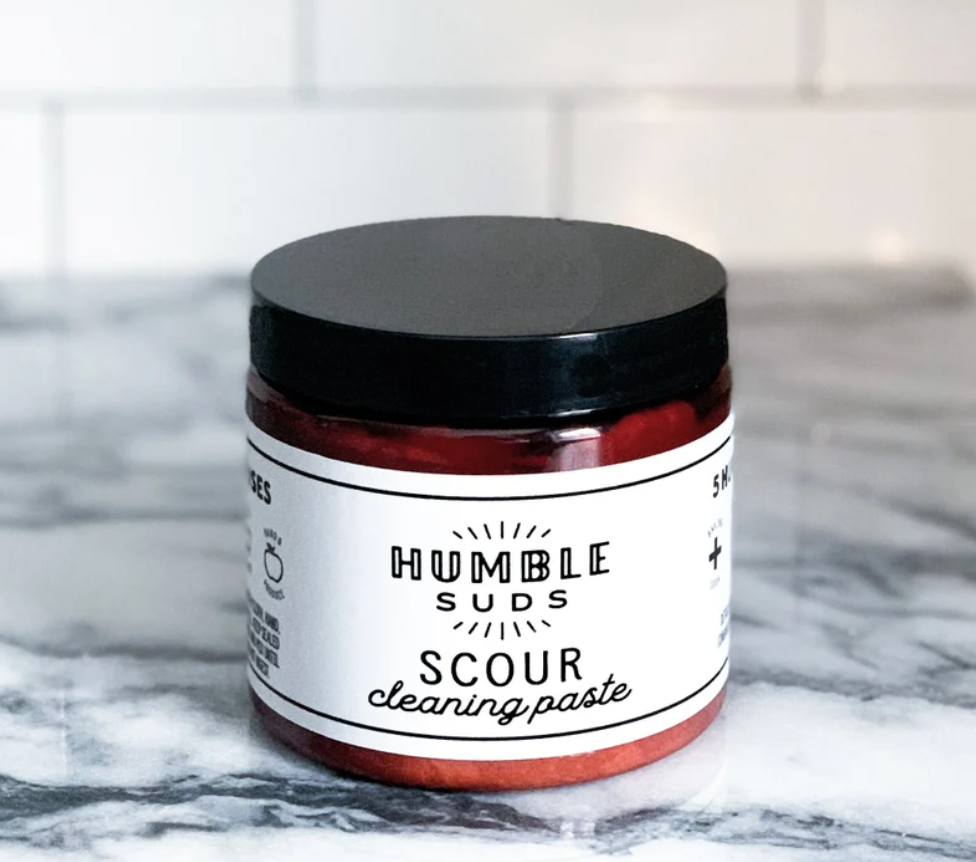 Friends Holli and Jennifer started Humble Suds in 2014 to create trustworthy and clean cleaning products. The cleaners are made with plant and mineral-based ingredients and are always disclosed.
Promising review: "Holy moly, this stuff is like magic. I am allergic to everything, even air, I swear. But I have no issues at all with this product, and it does the job super well. Buy some. I mean it. Like NOW♥♥♥" —Brassy
Get it from Humble Suds on Etsy for $14.95+ (available in two sizes). 
10.
An easily washable drip catcher made to fit around your faucet to stop water from pooling around it every time you do the dishes. It's the small things in life that make the biggest difference when it comes to cleaning your kitchen.
Two Lilacs Studio is a small biz based in Saint Helens, Oregon.
Promising review: "LOVE these splash catchers! They save me from having to chase the puddles that form around the base of our faucet before they start creeping over the counter. So reasonably priced, made well with neatly finished edges, and packaged with gift-ready care." —Alina
Get it from Two Lilacs Studio on Etsy for $13.50+ (available in four sizes and six colors).
11.
A grout pen that'll transform your backsplash (or kitchen floor) from drab to fab by restoring it to the pristine color of yesteryear with minimal effort on your part.
Promising review: "We just moved into our new-to-us house but did not like the yellowish-colored grout behind the white subway tiles. These grout pens did the trick. I feel like we have a brand-new kitchen backsplash as my grout is Snow White. I went over the grout twice in some spots. I saved hundred of dollars and countless labor and mess by refreshening my grout instead of replacing all the tiles. I highly recommend this excellent product that performs as promised." —Vicki
Get it from Amazon for $8.99 (available in two tip sizes).
12.
A stainless steel cleaner made with natural coconut oil to clean, polish, and protect your sink, fridge, and oven.
Plus, it comes with a microfiber cleaning cloth!
Promising review: "I was hesitant because other cleaners weren't great. They either didn't work or left a weird residue that dust would stick to. This cleaner doesn't leave a residue and actually works! Highly recommend!" —Courtney B.
Get it from Amazon for $16.95.
13.
Dishwasher-cleaning tablets made to remove the lime and minerals built up in your dishwasher over time. If you've been feeling like your dishwasher isn't getting your dishes as clean as it once did, this is your sign to throw one of these in with your next cycle and see how much of a difference it makes. 
It's recommended to use a tablet once a month. You can use these on stainless-steel and plastic tub dishwashers. 
Promising review: "Absolute magic. I always approach with a healthy dose of skepticism whenever taking advice from BuzzFeed, tip hero, etc. but this time I took a chance and could not be happier. I recently bought a condo that was not well maintained and struggled cleaning many of the appliances. The dishwasher was caked in deposits from years of operation without proper care. Two of these pods, as suggested for heavily soiled scenarios turned back the clock. It looks brand-new inside. BRAND-NEW. The plastic, the walls, everything. For those who spend hours a week cleaning, you will be amazed by this product. 10/10 would buy again and again and I'm telling everyone I know about this." —Jason

Get a pack of six from Amazon for $8.99.
14.
A microfiber spin mop reviewers *swear* actually makes mopping fun. 😱 I know — I am in shock, too. But the features alone will make you want to take this gadget for a ~spin~. This mop is machine washable, has an automatic wringer, and is designed in a shape that will reach into small spaces and corners of your kitchen, no problem. Cinderella is shaking!!!
Promising review: "Ashamed to say, but I barely ever mop the floors. I purchased this O-Cedar Mop and Bucket based upon the great reviews. I am here to add a 5-star review of my own. This mop and bucket not only cleaned my floors, but it made the entire process easy (and dare I say fun?). I did the entire first floor of my house both tile and wood. Then wanted more fun, so i scooped up the handy handle and carried it upstairs where I continued on to the bedrooms and bathrooms. I don't want to go on and on, but this mop picked up lots of dirt and grime, then popped easily into the washing machine. It came out great. The swirly thing makes all the difference. It wrings out all of the excess water, so it's easy to mop without using too much muscle, which I do not have. And the mop heads are short, rather than long mop heads, which only make for heavier mops. If you're on the fence, go for it, you'll agree." —LauraP320
Get it from Amazon for $56.99.