1.
Bala Bangles ankle weights everyone on TikTok has been using during their "Hot Girl Walks" (though anyone can use them for any occasion). They're great to add a little extra resistance while staying comfortable as you get those steps in (or any other exercise, really). 
You can see them in action on TikTok here. 
Promising review: "Oh my goodness, these are one of my favorite fitness finds this year. The material is smooth, and the color is beautiful. I have the nude, but even the other colors are good. They are a little spendy, but I definitely recommend saving and waiting a little longer to purchase these over other brands." —ZeldaBarbie99
Get a set of two from Amazon for $49 (available in two eights and 10 colors).
2.
A barbell pad useful for your lifting sessions. It's made to evenly distribute weight across your shoulders, meaning you can squat without feeling a bunch of pressure in your neck. All you have to do is slide it onto a barbell, secure it, and get going on your reps.

3.
A foldable mini trampoline you'll ~spring~ out of bed to use in the morning because it's a super-easy way to get a good cardio workout in while feeling like a kid bouncing away.
Promising review: "I am a fitness fanatic and wanted something to stay in shape during the winter. I love hiking and walking, but living in the Northeast prevents me from enjoying the outdoors during the winter. This has provided me with an excellent opportunity to jog in place, walk in place, and jump to add some fun to it. I find it to be an excellent workout and place it in my living room while I'm watching TV. I haven't had to fold it yet as it is light enough to move around and may even fit in my closet to get it out of the way. I highly recommend this for all ages!" —Paula
Get it from Amazon for $79.99+ (available in three colors).
4.
A mat about to change your whole workout game — it's designed to fold in fourths so you don't have to deal with rolling your mat at all, either during your workout or after when it's time to put it away.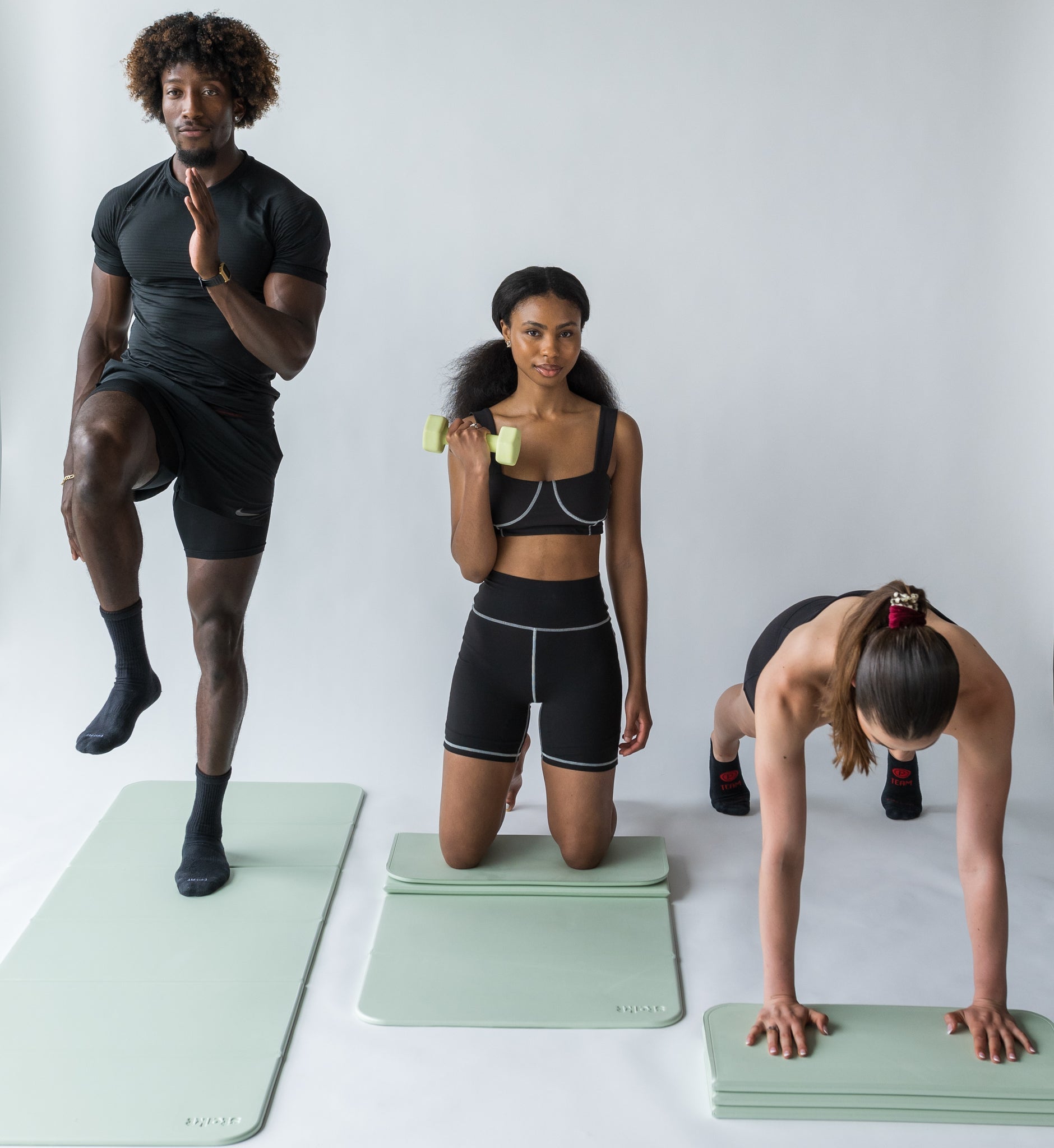 I first came across this mat while scrolling TikTok and thought it was such a cool idea. Ever since I saw it, it has been on my wishlist. Rolling up a yoga mat can be so challenging sometimes, especially when you're in the middle of the workout and need some extra support on your wrist while in plank. This mat folds up in fourths, so you can give your knees or hands some extra padding. Plus, it's way easier to store flat. It's also two times thicker than the average yoga mat.  
Stakt is a woman-founded small business!
Get it from Stakt for $86 (available in three colors). 

5.
Quiet Punch — a smart punching bag designed to fit into any doorway, giving you an easy, convenient, and quiet way to release your stress without needing a whole punching bag in your home.
Quiet Punch is a small biz started to make boxing accessible for all!
Plus, the punching bag comes with access to the Quiet Punch Play app, which has more than 100 hours of on-demand training and workout routines, meaning even beginners can use this equipment.
Promising review: "This saved me during quarantine, and I continue to use it frequently. Living in a small apartment, it was hard to find any type of boxing equipment. This fits perfectly, and I like that you can easily take it with you. I love the lunchtime Zoom class and the prerecorded classes, but I also love just practicing and getting out all of my frustrations. Highly recommend this to anyone who likes boxing." —randi s
Get it from Quiet Punch for $159 (originally $250).
6.
Or an adjustable punching bag set that will be a ~knockout~ addition to your home because it comes with a pair of gloves, so you can ~one-two-punch~ your way to an intense workout and get out some frustration at the same time.
Promising review: "I'm not going to lie, I didn't have high hopes for this product after reading the other reviews. For that reason, I went with the standard punching bag in case it wouldn't last long — being out of $50 is better than $90! But I really wanted to add this to my home gym for cardio days. I'm really glad I got this because holy hell this is a great workout! I'm still working on upper body strength, but my boyfriend also used this and he has a hell of a lot more strength than I do, and he loved it! He beat the crap out of it, which made me nervous after reading reviews that it doesn't withstand heavy punches. To our surprise, it passed the test. Overall, it's great for everyone regardless of strength. You'll be dripping sweat after doing this! My boyfriend is 6'1" and I'm 5'4" and neither of us had an issue with the height of the punching bag." —Mary
Get it from Amazon for $50.96 (also available in two youth and one children's style).
7.
A yoga strap you can use to help carry your yoga mat to class and then to keep a better stretch while you're in class. We love a multi-purpose product.
Promising review: "This is perfect for transporting a yoga mat and for passive stretching. Highly Recommend. I love the color. Thanks, Alo!" —Alo Yoga Customer
Get it from Alo Yoga for $20 (available in 10 colors).
8.
A weighted fitness hoop about to ~turn~ up your workout while making you feel like you're a kid again. Reviewers say this is great for not only strengthening your core but also relieving back aches from sitting for too long.
Promising review: "Like everyone else, I saw this on TikTok and decided to give it a shot. Super fun to use. I'll admit it's difficult to start, but once you get the hang of it after a few minutes, it's super easy and fun. It is a little loud but nothing unbearable. The pieces are easy to add on, and the weight is not too heavy or light." —Richard Enriquez
Get it from Amazon for $39.99+ (available in 13 colors). 
9.
Push-up bars you'll have ~a-round~ for a long time because they'll make doing push-ups on the floor more comfortable and also an even better workout. The handles let you get a good grip and then rotate as you go down, so you don't slip or slide at all. These are also great for anyone who's still working on their push-up game (it's okay, I am too) because they work just as well if you're on your knees.
Promising review: "I really love these, which was surprising to me. I generally use rings, paralletes, and kettlebells for my workout, and I wasn't sure how effective these would be. I was happy to learn that these really hit your abs, chest, and arms. Doing push-ups with these I gave my biceps more of a workout than I anticipated. They also provide a nice chest workout (while I think dips on the rings is one of the best things, these worked well). These have managed to make their way into my regular rotation of exercises; that's really one of the highest compliments I can give this product. I highly recommend this product." —DDC
Get them from Amazon for $29.99 (also available in two other styles).
10.
A Stealth core trainer perfect for anyone who needs a little extra motivation to get a workout in. This genius tool is a video game balancing board where you use your abs to get high scores. How cool is that?!?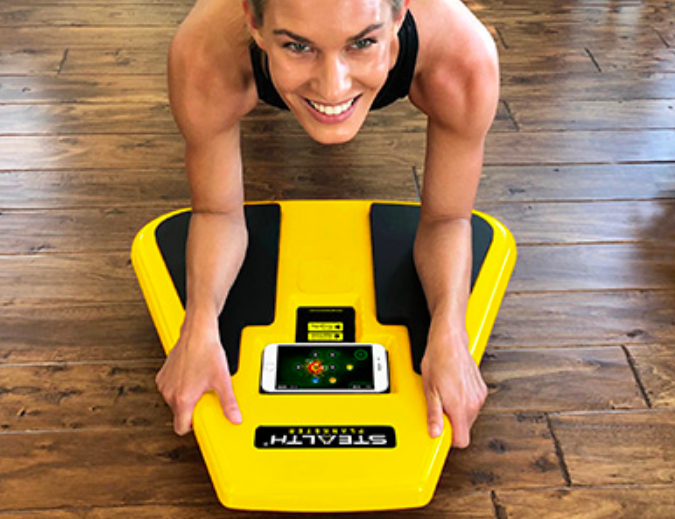 Don't forget to download the app before you get started so you can play the four free games!
BuzzFeed Shopping writer Mallory Mower says: "Getting a Stealth board was the very best thing that has happened to me during quarantine. Mixing the fun of games on your phone with the natural endorphins you get from exercising is, to put it lightly, genius. I have two in my home, and my husband and I compete daily to see who can last the longest. My favorite game is the paragliding challenge, he's into the planet-blasting space adventure. Nerd."
Get it from Amazon for $149.
11.
Or Ring Fit Adventure for Nintendo Switch, if you prefer to play video games. In this game, you explore a fantasy world and battle enemies, all while never leaving your living room.
BuzzFeed Shopping editor Heather Braga says: "This may seem like a childish adventure from Nintendo, but JEEZ within moments I'm sweating my butt off. To play, you'll place a JoyCon into both the ring con and a leg strap so your movements are monitored. To move through each level you have to physically run in place and each time you 'battle' an enemy you have to do 15 reps of an exercise of your choosing. For example, each time I complete a squat the enemy receives a 'kick.' It's so fun I don't realize I'm working out until the game reminds me to take a break and have some water. It even monitors your heart rate for you. It's more intense than you'd expect!"
Get it from Amazon for $69.88.
12.
A dumbbell set, a must-have for anyone who is trying to increase their strength because it comes with a set of 2-, 3-, and 5-pound weights so you can easily grab the next weight up when you realize that you're ready for more of a challenge.
And with more than 29,000 5-star reviews, this no-fuss, no-frills set is perfect for beginners who don't want to drop a huge chunk of change on weights.
Promising review: "I've recently started working out at home since I can't do much walking outdoors here in Wisconsin during the winter. Rather than getting a gym membership, I decided to invest in some workout equipment. I've owned these weights for only a couple of weeks, and I'm very happy with them! I've used them a number of times, and they work great. I feel the price is good for the quality, and I will look at ordering others in the future as I get stronger! If you are looking for some hand weights, I recommend buying these!" —Kristin B.
Get the set from Amazon for $44.56+ (available in various weights and set combinations).
13.
A simple jump rope with a digital counter that's great for beginners who are looking for ways to ~switch~ up your cardio routine while also feeling like they're back in grade school having fun with your friends during recess.
Promising review: "I love how this jump rope has both a timer and a counter. This allows me to jump for a fixed length of time without having to check my phone. I usually jump for two minutes every set, and when the time is up the timer will beep to let me know, and then I rest for another minute before beginning another set. Also, it is difficult to keep counting when I am too exhausted from jumping, and I'm glad that the rope counts for me, so I don't have to worry about it. I can keep a very detailed record with these features. Overall this is a nice product, especially during the time of self-quarantine." —Lynda
Get it from Amazon for $14.95+ (available in seven colors).
14.
Or a cordless version ensuring that you can jump, hop, and skip to your heart's content without having to worry about a rope thwacking your floor and ceiling. This is great for anyone who lives in an apartment and doesn't want to disrupt your neighbors too much, but it's also super portable, meaning you can take it anywhere with you. 
Promising review: "I am a huge fan and champion of jumping rope as one of the best forms of cardio. I am unable to jump rope outside, as I don't have any area to do so, and inside is not an option, as I would be constantly hitting the ceiling, the fan, or other objects in the area. This solves all of my issues so easily! Out of the box, it is exactly what you would expect. You then go through the motions of jumping rope, and it really feels like you are. It is super easy and intuitive to use. I am now able to jump rope inside, and not hit anything! I also can go a while and not trip. The only time I do stop is when one hand gets a little faster than the other, and it feels a little off, but then I just start over. This is a great option for those who want to increase their cardio, but are low on space!" —Bobby D
Get it from Amazon for $14.99 (available in four colors).
15.
A Bala Power Ring basically ready to transport your workout into the future. This versatile 10 lb. weight can be used during Pilates or even just to hold when you're doing squats.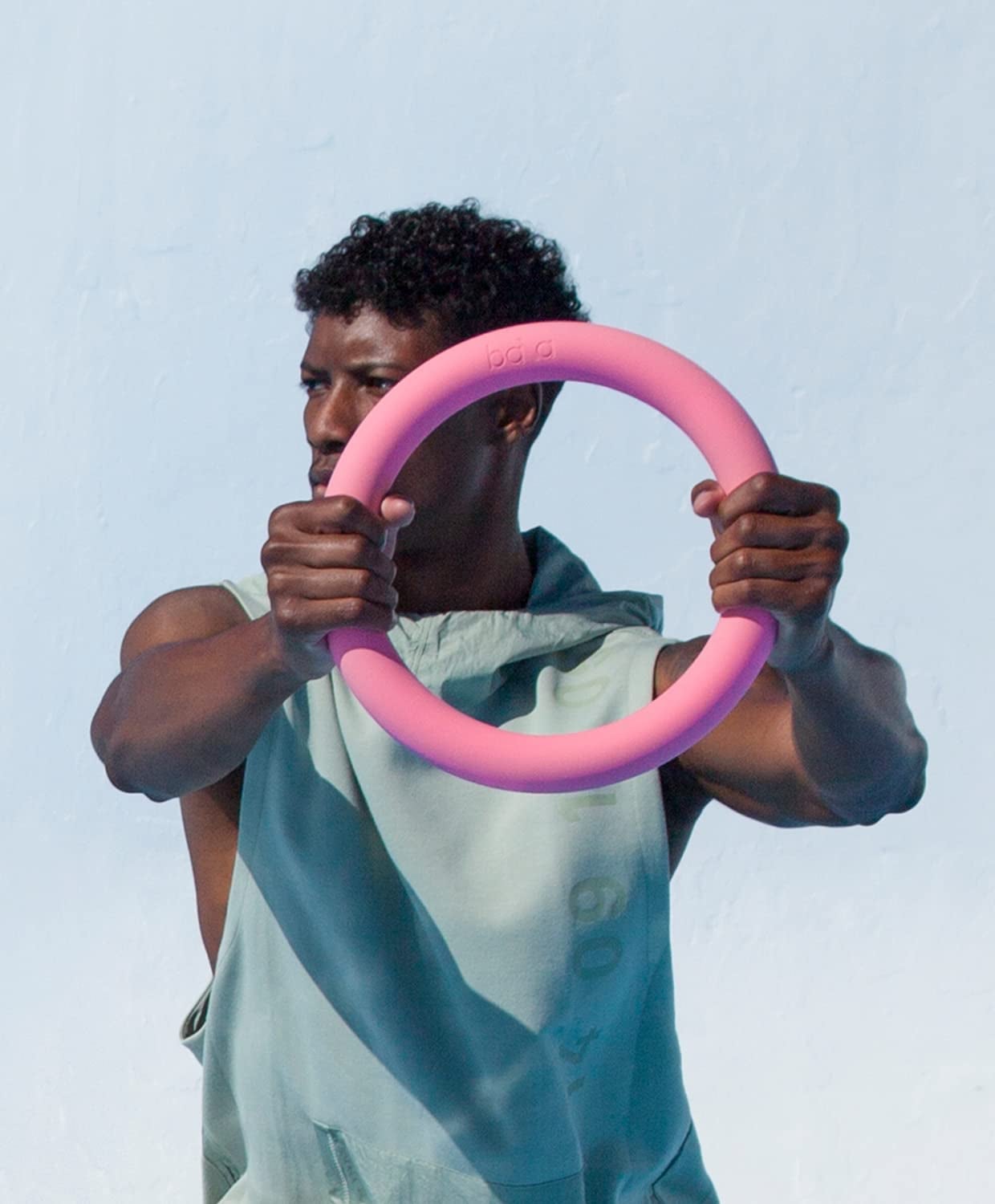 Promising review: "I love this! I bought it after getting the little wrist weights as a gift, and I couldn't be happier. It's so nice to add to regular workouts for an extra oomph. It's a really cute color pink and just makes me feel like I'm working out harder than I really am!" —MB
Get it from Amazon for $85+ (available in six colors).