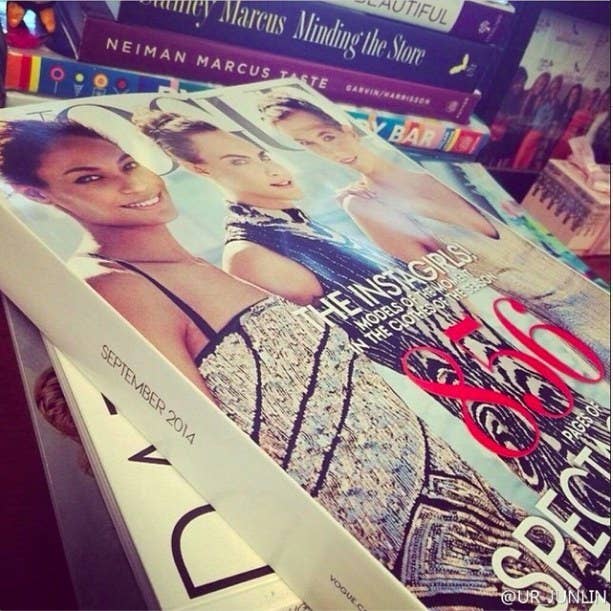 After a year ridden with controversy, (Kimye! The Lena Dunham Photoshop Incident! the PIGEON!) Vogue did perhaps the most shocking thing yet: they put models on their September cover.
And it's a big, BIG deal.
The Vogue September cover, the most anticipated of the year, is one of the highest honors a fashion "It" Girl can receive. It's so important, they made a 90 minute movie about it. In the past, September cover girls have been actresses and media darlings, including Kate Hudson, Nicole Kidman and Sarah Jessica Parker.
This year, the cover shows not one model, but THREE– Cara Delevigne, Joan Smalls and Karlie Kloss. Each of the girls has been seen in the pages of nearly every magazine from the past year, both in editorial shoots and in advertisements major, major brands (Cara is the face of Saint Laurent Paris, Karlie starred in Oscar de la Renta's Spring campaign).
So what does it all mean?
It means, in typical Anna Wintour fashion (#punny), that this season it is about the clothes– not the cover girls. By choosing models instead of actresses, Vogue is addressing controversies it has been faced with in the past year, and selling itself as what it really is: a fashion magazine.
The question remains, though: Will it work? Yes, Cara, Jourdan and Karlie all have huge media followings, but can they sell magazines the same way Rihanna and Blake Lively can?
#InAnnaWeTrust