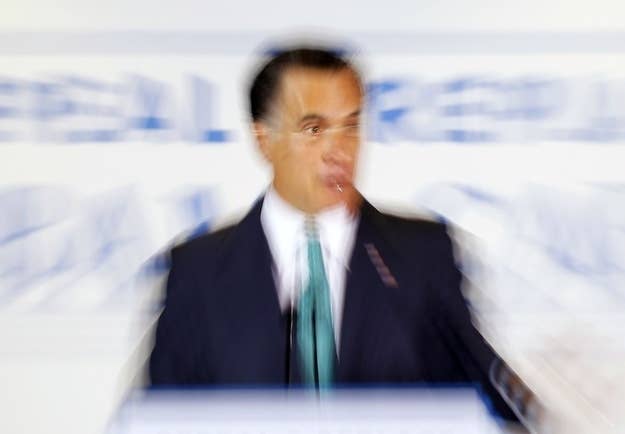 Observers of the Republican presidential primary have begun to ask a simple question: Why is this taking so long? With Mitt Romney the virtually certain nominee of his party, why can't the party leadership "coalesce," as his camp has asked around him, and get it over with?
They've done it before. George W. Bush locked up 44 Senate endorsements before the South Carolina primary, and had more than half of the House's 222 Republicans backing him by May of 1999 — well over a year before the election.
But to date, Mitt Romney has only gathered the endorsements of 91 Republican members of Congress — including just 17 senators — according to a tally by Roll Call, even though his nomination is a virtual certainty.
There are three basic reasons for this: Along with some party leaders' sense of propriety, Romney lacks the muscle to exercise party discipline; and cautious politicians see distinct down-side in endorsing candidate some members of the Republican Party base see as a soft, squishy moderate.
"You've got to take care of the first person first," former Speaker of the House and Romney endorser Dennis Hastert told BuzzFeed. "You don't want to upset your base who may be supporting other candidates."
Leadership, especially generally remains on the sidelines in order to better manage their conference, Hastert said, though House Majority Leader Eric Cantor endorsed Romney before the Virginia primary. Then-House Majority Leader Dick Armey backed Bush before the Iowa Caucuses in 2000, as did the vast majority of the House leadership.
In 2000, Hastert, like Speaker of the House John Boehner is doing now, remained on the sidelines until the primary was over because of his role as the chairman of the Republican National Convention.
Many senators like Jim DeMint and Lindsey Graham of South Carolina have declared the GOP race effectively over, but have still decided to withhold their endorsements of Romney.
On CNN on Sunday, Graham brushed off Candy Crowley's assertion that Romney was "his guy," "I haven't endorsed anybody but I think — yes, I'm very comfortable with him," Graham said.
"There just is not that much value in endorsements as before," said an aide to a Senator still on the sidelines. "Voters don't want to be told whom to vote for, so there is less benefit to sticking your neck out there."
"What will matter more is post-convention," the aide said.
And for some cultivating conservative images, there is a lot to lose if Romney turns out to pivot back to the center against President Obama.
That is a significant concern to DeMint, who is thought to have presidential aspirations of his own — he is the de facto head of Tea Partiers in Congress.
"I think he's probably better off [staying out of it]," said Hastert, adding there is only risk for him in endorsing Romney before the convention. After the convention, backing Romney is an act of party unity, providing him political cover.
The slow endorsements are in part a result of the dragging primary. Bu they are also a reason that it's dragging: Endorsements serve the mutually reinforcing role of solidifying the front-runner's appeal to the base as well as unifying the backing of the party establishment. Both of those functions have been poorly served this year, Republicans say — and there have been more than enough instances of past endorsements coming back to haunt candidates.
"Look at what they did to Santorum on the Specter endorsement," said one GOP operative, "Why would you stick your neck out for an unpopular candidate like Romney?"
And Romney lacks the juice to drag some high-profile Republicans along.
An aide to Sen. Marco Rubio, who often tops the list of likely GOP vice presidential nominees and mentioned as a potential 2016 or 2020 hopeful, said Rubio remains committed to his pledge to wait until the nomination is locked up before endorsing.
"Newt Gingrich was been really helpful to him with his book. He serves with Ron Paul's son. Romney endorsed him early on when he was running for the Senate," the aide said. "There is the personal connection he has with the candidates, and then there's also not wanting to get in the middle of it."
Likewise, Indiana Gov. Mitch Daniels, courted by many conservatives to be a late entrant into the race, is not likely to budge from his plan to only endorse after his state's primary on May 8th.