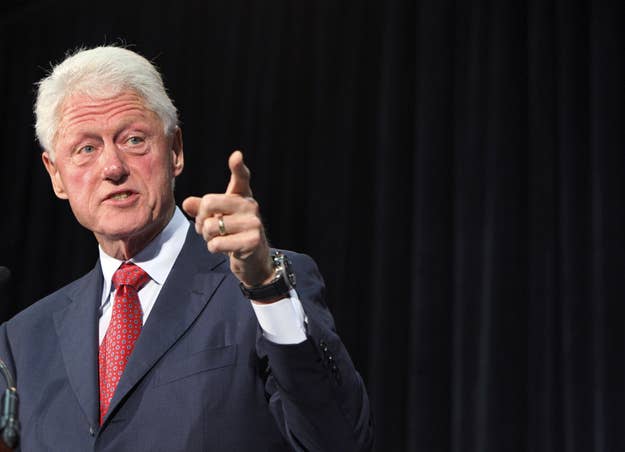 MIAMI — President Obama's central challenge is convincing voters that no other leader could have done better in stabilizing the American economy than he did, President Bill Clinton said in an impromptu interview here late Wednesday evening.
"People have to know it couldn't be fixed," he said of the economy.
Clinton, who spoke to reporters from BuzzFeed and two other outlets in a wide-ranging conversation late Tuesday at the Biltmore Hotel, was bullish on Obama's chances.
"He's doing great," Clinton said.
Clinton's speech in Charlotte last Wednesday was widely viewed as the highlight of the Democratic National Convention and a key source of Obama's post-convention momentum. Clinton revealed Tuesday that Obama had asked him to make two modifications to the speech — one on Medicare and one on welfare — but wouldn't specify what they were. He said he didn't give Obama the full text until the morning of the speech, but that he worked closely with White House officials, including National Economic Council director Gene Sperling, on his remarks.
And while Clinton visibly basked on the campaign trail before a crowd of 2,300 at Florida International University Tuesday in his place back in the center of a presidential campaign, he volunteered that he doesn't call up Obama to offer him advice.
"He knows where to find me," the forty-second president said. He also dismissed media speculation on tension between the two men as overblown.
Clinton also offered unusually warm words for his immediate successor, President George W. Bush, for devoting his all to stave off a depression in his final three months, "just like President Obama did in his first three months." He noted that he was the only person at either convention to speak nicely of Bush the younger — and revealed he's planning to catch up with President George H.W. Bush next week.
Clinton also engaged in a long discussion about congressional dysfunction, blaming lawmakers' physical exhaustion in part for the partisan tone.
He recalled calling Sen. Trent Lott after the former Senate Majority Leader referred to him as a "spoiled brat" on a Sunday show — not to yell at him, but to encourage him to get more sleep.
Clinton also discussed his golf game, which he says hasn't been the same in years. His work in Haiti, on top of his other commitments, kept him off the links for months, and he says his rhythm post-heart surgery just hasn't been the same.
But just the other day he shot an 87 at the Liberty National Golf Course overlooking the Statue of Liberty, he said, estimating that his handicap is about a +18.
Clinton recalled playing President Obama last year — a round credited with resolving their differences from the 2008 campaign — where the duffer-in-chief beat him "fair and square." Clinton offered the excuse that he had just three hours of sleep and "could hardly walk."
Clinton spoke to reporters at the hotel — a magnificent national landmark — which also hosts a world class golf course Clinton estimated he'd played a hundred times.
Clinton also recalled a moment from his youth in Arkansas being approached by two or three Mormon missionaries in Hot Springs, where they explained the Mormon view.
Clinton spoke highly of their effort, recounting the different degrees of heaven as was explained to him 50 years ago, describing it as a pyramid with many levels that put Hitler and Stalin at the very bottom, faithful Mormons on top, and everyone else in between.
Clinton, a Baptist, said the sticking point for him was leaving his friends and family out of the top level of heaven.
"I didn't want to leave all these other people behind," he said.