Welcome To Joe Biden's Second Term
The goofy, Teflon Veep becomes Obama's indispensable man. "No matter how hard we tried, they always were laughing with him."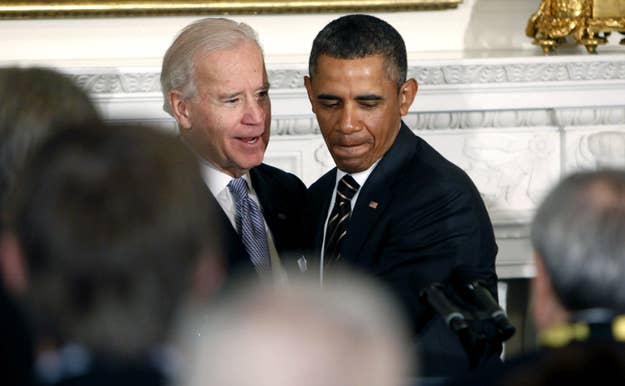 WASHINGTON — Republicans thought Joe Biden would be the weakest link in President Barack Obama's re-election campaign last year, but the gregarious Vice President proved Teflon then, and is now emerging as the Administration's unlikely, indispensable man.
Mitt Romney's campaign and allies made a target of "Uncle Joe" — casting him as a bumbling hapless counterpoint to the cool president, a man who couldn't remember which state he was in or the name of the president.
But by the time fiscal cliff talks rolled around late last year, a new Biden had emerged: One of the few people remaining in Washington who remembered how to do a bipartisan deal. Then, Republicans cheered Biden's return to the negotiating table to work out a last-ditch fiscal cliff agreement with Senate Minority Leader Mitch McConnell. And with another wave of departures from the Administration, and ties to the Hill as fragile as they've ever been, administration officials say Biden's role is only getting more central.
"He'll be more important in the second term," said one White House official. "He's proven to be invaluable to the president."
Ron Klain, chief of staff to Biden for his first two years in office and before that to Al Gore, said the alter-ego Biden is an asset that the administration frequently taps.
"It serves him equally well whether he's negotiating with members of congress, in talks with foreign leaders or with the public," he said. "What you see is what you get and lawmakers especially like that."
"He's not the principal negotiator for the administration, but when he can be helpful in terms of closing deals and being a conduit for information, that's what he's done," he added.
Biden will, in part, fill a space that often falls to the Chief of Staff: Relations with senior Senate figures. This is particularly pressing following the elevation of former Chief of Staff Jack Lew to Secretary of the Treasury and appointment of Denis McDonough as his replacement.
Though an experienced Capitol Hill hand, McDonough is a foreign policy specialist, previously serving as Obama's Deputy National Security Advisor. Top legislative aide Rob Nabors was promoted to Deputy Chief of Staff — though his relationship with Republicans has been frayed by repeated negotiating collapses.
This has, to a degree, always been Biden's role. Immediately on taking office, Biden was handed some of the most pressing administration issues — Iraq and administering the American Recovery and Reinvestment Act — and was repeatedly drawn into negotiations with congressional Republicans to craft deals when other Democrats failed. And since the massacre at Sandy Hook Elementary School in Newtown, Conn., Biden has led the administration's efforts on gun control, ambitiously pushing for a new Assault Weapons Ban, a ban on high capacity magazines, and mandatory background checks for all gun purchases.
Long-time Biden confidant Ted Kaufman, who filled Biden's Senate seat after he was sworn-in in 2009, described a meeting early in the first term between Biden aides and vice presidential scholars about Biden's potential portfolio.
Then end result, Kaufman said, was that "it isn't what he was going to do — it is what he wasn't going to do. The thing is, he doesn't have to go to school to learn about the issue."
But the earnest negotiator has always competed with the goofy, unabashed side that dominates cable news.
"I said, 'Jill, if there's ever a problem, just walk out on the balcony here. Walk out and put that double-barrel shotgun and fire two blasts outside the house,'" Biden said last week during a Facebook town hall on gun violence. "You don't need an AR-15—it's harder to aim ... It's harder to use, and in fact you don't need 30 rounds to protect yourself. Buy a shotgun! Buy a shotgun!"
This side, famously parodied by the Onion, appeared for a time to be a liability, though there's little evidence it ever dented the Veep's popularity. Now, even Obama is in on the joke, cracking Monday to a gathering of governors at the White House that while he had no problems at the White House with their dinner on Sunday night, "I can't speak for Joe's after party at the Observatory — I hear that was wild."
Indeed, Biden, is the rare politician who can straddle the divide between Washington and the American people. Democrats admit Obama has proven capable of both, but almost never at the same time.
Shortly after the election, Biden went dark, as Obama futilely tried to achieve a fiscal cliff "grand bargain" with Speaker of the House John Boehner. But as negotiations fell apart, it was Biden who came in to save the day in talks with McConnell.
"Mitch McConnell wasn't on his committees," Kaufman said, "But McConnell knew from Thurmond and Lugar that when you deal with Joe Biden, his word is golden. In Washington, that is the coin of the realm, and it's only getting more valuable."
At least one reason why Biden's clout will only increase: his longevity.
"The one thing about being Vice President is that the rest of the staff comes and goes," Klain said. "There is one person who was there on the first day and will definitely be there on the last day: Joe Biden."
Now, some are looking to Biden — on the sideline with most of his Administration colleagues — amid desultory negotiations to avert sequestration. Congressional and administration officials predict a more significant role for the vice president as the sequester rolls into talks on a new continuing resolution to fund the government after March 27th.
And the Vice President's warm relations with Republicans on Capitol Hill are why intense Republican criticism of Biden during the campaign took his confidants by surprise, though it didn't faze the vice president, according to aides.
And two former Romney aides acknowledged Biden's role as one of the Democrats' most effective communicators to swing voters.
Conceded one of the former Romney aides: "No matter how hard we tried, they always were laughing with him."