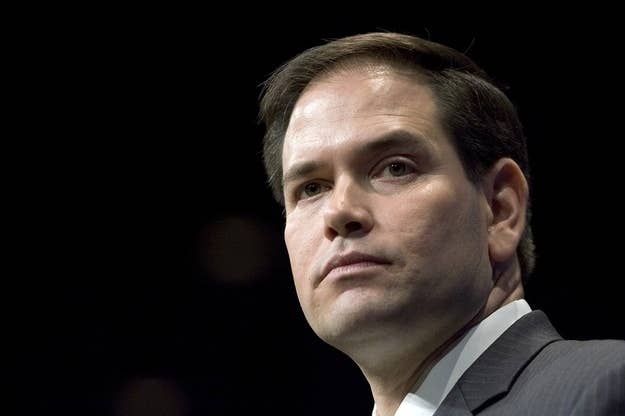 The deepening assumption that Florida Senator Marco Rubio will be his party's vice presidential nominee is beginning to put Mitt Romney candidate in a box, deepening the expectation of a Hispanic running mate and setting a trap for presumptive Republican presidential candidate should he make another choice.
"I think there could be backlash, in that Rubio is beloved by many, and Romney is not," said Javier Manjarres, the editor of the conservative Florida blog The Shark Tank. "Romney would have to try to find someone of Rubio's caliber to suffice the followers who would be disappointed that he did not pick Rubio."
Up and down the Florida state party, and among many national Republicans, Rubio is the obvious choice for Romney. They argue he's the perfect complement to the wealthy former governor of Massachusetts, noting that he his rise to prominence as the child of immigrants from Cuba embodies the American dream. He's also a popular politician in a swing state. And he answers what some see as the party's most urgent question: How can it win back some Hispanic voters?
"The fastest growing demographic in the country is Hispanics, and Republicans have been losing voting share of Hispanics at an alarming rate," John McCain's 2008 campaign manager, Steve Schmidt, told BuzzFeed. "That trend has to be arrested if the Republican Party is going to remain a national party."
That fear has become something approaching an obsession for the Washington Republican Establishment.
"Republican candidates have spent the last six months competing with one another to see who could pledge to build the longest, tallest, thickest, and most lethally electrified fence to keep Hispanics out of the country, and they have some fence-mending to do," columnist George Will quipped on ABC's "This Week" last Sunday.
All of this has conspired to establish a deep expectation in Florida that Romney will, nay must, choose Rubio.
In fact, Florida Gov. Jeb Bush has endorsed Rubio for Vice President hours after backing Romney for the top spot on the ticket.
"He is the best orator of American politics today, a good family man. He is not only a consistent conservative, but he has managed to find a way to communicate a conservative message full of hope and optimism," Bush told the Pittsburgh Tribune-Review last month.
Romney is a candidate who always makes the safe choice. But despite some worries about Rubio's time in the Florida legislature, the rising expectations may make Rubio the safest.
"If you put Marco Rubio on the ticket you lock down Florida," said Florida-based political consultant Rick Wilson, explaining the simple calculus that is certain to appeal to Romney's advisers.
Florida GOP Chair Lenny Curry made a more emotional case for Rubio, saying that he is one of the party's greatest communicators on the issue of free enterprise.
"That is what this election is going to be about," he said. "Marco has made the case that we can contrast with what President Obama is going to do."
"I can't help but think that Marco will at least be on the short-list," said Al Cardenas, the chairman of the American Conservative Union and a former State Party Chairman.
To be sure, Rubio's Cuban-American heritage doesn't necessarily win over the diverse hispanic electorate, but his allies believe he could be a powerful force in that direction.
"The trick will be while acknowledging the differences, emphasizing the similarities and shared cultural aspirations," said Florida GOP strategist and Jeb Bush adviser Ana Navarro.
Republicans who accept the logic of a Hispanic candidate have only a handful of choices: New Mexico Gov. Susanna Martinez, whose recent rise from local office conjures the specter of Gov. Sarah Palin for some; the vetted, moderate Nevada Gov. Brian Sandoval whose pro-choice views and tax compromises could infuriate the Republican base; and Rubio.
"There are three potentially viable Hispanic Republican candidates — two are governors, one's a senator from Florida," said Schmidt, who added that "because of 2008, there will be no slack given on the preparedness question."
And if he decides against selecting Rubio, there are likely to be hard feelings.
"If Gov. Romney selects another principled conservative to serve as VP, and is gracious in doing so, I think even Sen. Rubio's biggest cheerleaders will understand," said one Republican strategist close to Rubio. "But if Sen. Rubio is passed up, or not even asked, in favor of someone that is uninspiring or 'safe' I think there will be a lot of tough questions."