Supporters Faint, Collapse For Romney And Obama
Most Americans don't care, but a few are risking their lives to catch a glimpse of Romney or Obama. "I don't want to leave," mumbles a prone Floridian.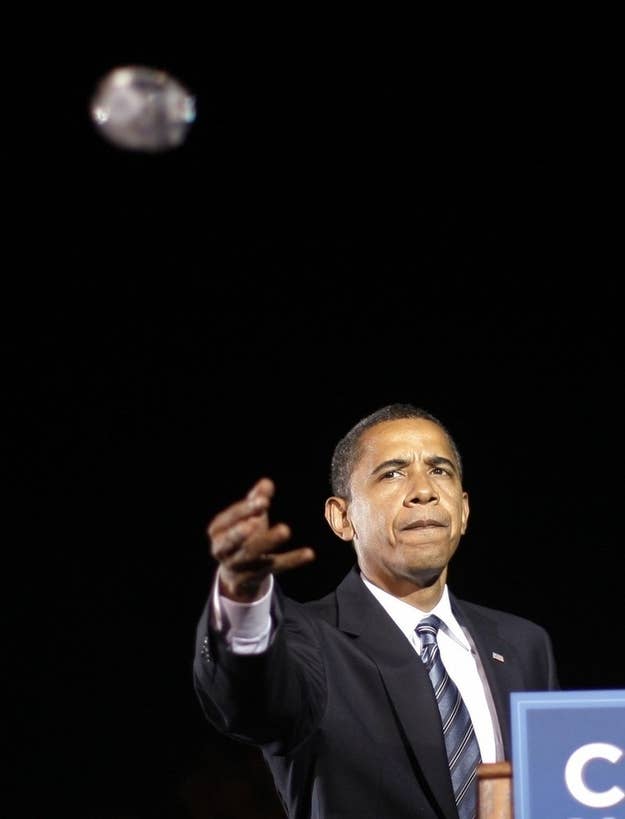 JACKSONVILLE, Fla. — "Medic!"
"Have you seen fire rescue?"
"Man down!"
Presidential campaigns spent the summer of 2012 hosting outdoor rallies across the country in oppressive heat and humidity, and the voters have been dropping like flies.
As reporters watch campaign events from ventilated tents or even air-conditioned restaurants, even the most basic comforts are denied the masses waiting for hours outdoors. Rest rooms are sometimes scarce, water bottles are hard to come by from the center of a crush of people, and shade is often a fleeting luxury. One reason: Sun-drenched crowds look better on TV.
At a Jacksonville rally on Saturday, the Romney-campaign team set up misting fans, but they were no match for the 91-degree heat and near-100 percent humidity.
One middle-aged woman collapsed just in front of reporters before the event started and was pulled out of the enclosed event space by two friends. "Raise her legs! Someone get her ice! And water too! Where are the EMTs?" they shouted.
"I don't want to leave," she mumbled back, unable to stand on her own.
At one particularly grueling Obama rally in Pittsburgh in July, at least 13 attendees were transported to the hospital, dozens more huddled at one time or another in the EMS workspace set up under two trees. Mountains of discarded water bottles littered the once-packed college green after the crowd quickly dispersed.
At a Romney-Ryan event on Friday morning in Lakeland, Florida at least three people were escorted out, one by fireman's carry, one by wheel chair, and another stumbling with the help of a police officer. Later that day at a Ryan event in Richmond, Virginia, more than a dozen people needed assistance. Hundreds more huddled taking shade in an aircraft hangar.
Together, the two campaigns are responsible for sending more than one hundred people to the hospital, according to a conservative count of events witnessed by this reporter. Hundreds more have needed to be escorted out to rest in the shade and rehydrate.
Six fell before a Romney-Ryan rally in Manassas, Virginia, on Aug. 11, three more hit the ground in High Point, North Carolina. Twenty Obama supporters sought medical treatment in Roanoke, Virginia on July 13. And even in March, before the summer heat, there were three separate fainting spells at Obama rallies.
Last month President Barack Obama raised eyebrows when he made light of someone fainting at his event in Akron, Ohio, joking "This happens to me all the time."
This has been an apathetic election cycle, with fewer Americans truly excited about either candidate than in what was, for Democrats at least, the extraordinary 2008 cycle. But the 2012 cycle has shown that a few are willing to risk bodily injury to see their favorite candidate. Whether they belong to an eternal core of political junkies and groupies, or whether one feature of political polarization is deep devotion on each political wing, they're a notable feature of the cycle. And while, in 2008, fainting at Obama rallies became something of a Republican talking point in their effort to brand the then-Illinois senator as a vacuous celebrity, in 2012 there are just as many true believers on the Republican side, judging by the casualty count. And politicians on both sides have struggled, at times, for explanations.
Even the campaigns are sometimes stumped by what compels people to brave the oppressive heat for four, sometimes five hours — before the candidate even takes the stage.
"It means I have been talking too long," the president speculated in Akron.
A Romney spokesperson said they place cooling stations with shade and water at most outdoor events, tent portions of the magnetometer lines, and provide areas for people to sit if they get tired or cannot stand. And they hire additional ambulances and EMTs to assist people passing out.
"The Obama campaign takes great consideration for the health and safety of our supporters attending campaign events from ensuring that medical personnel are on site to having water available," said a spokesperson. Obama also encourages his crowds to eat, drink water, and bend their knees during his outdoor events.
But the dehydrated, fainting faithful don't always go quietly.
"I don't want to miss him," complained one woman in Virginia before Ryan took the stage on Friday, only to be advised by EMS that she really should get treatment.
And over in the first aid area at Obama's Pittsburgh rally, a man protested to his attendants: "I need to see the president."