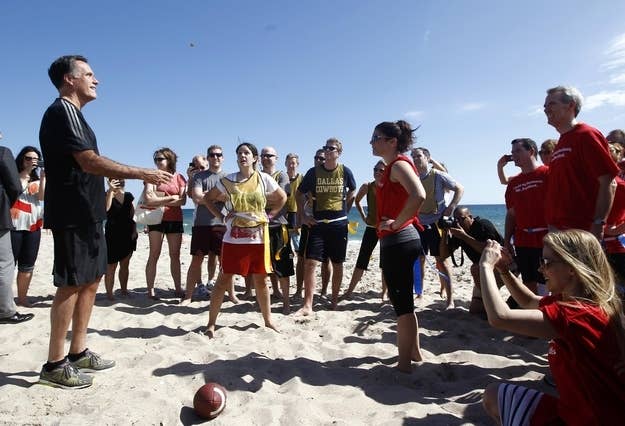 DELRAY BEACH, Fla. — Top aides to Mitt Romney faced off against his traveling press corps Sunday morning in a game of flag football, with the Republican nominee conducting the coin toss to start play.
Among the Romney aides playing: debate sparring partner Sen. Rob Portman, communications director Gail Gitcho, best friend Bob White, senior advisers Eric Fehrnstrom and Ron Kaufman, and a host of junior staffers.
The aides wore red t-shirts emblazoned with the line: "I Built My Business, Mr. President."
Romney walked down a sand path to the beach not far from the hotel where he is conducting preparations before his third and final debate with President Barack Obama Monday night for the coin toss, changing into shorts and a t-shirt after attending church Sunday morning.
After the coin toss, reporters asked Romney questions on Iran, his readiness for tomorrow night's debate, and recent polling showing him tied with Obama, but the former Massachusetts governor ducked them.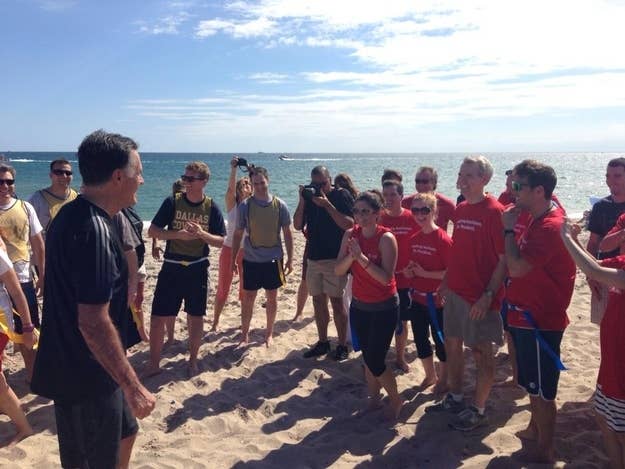 From the pool report:
"Let's see look at the captain, Gail's a captain is that right? Got a bracelet for you.This is a clear eyes full heart America can't lose. All right?" Romney said to communications adviser Gail Gitcho at the 50-yard marker on the beach, handing her a rubber bracelet with the logo.

"Ashley's a captain. There ya go look at that," Romney said to The New York Times Ashley Parker.

"There ya go shake hands, shake hands," Romney told Gitcho and Parker.

Gitcho and Parker shook hands, and then Romney asked Parker if she was going to call the flip in the air.

"You're going to call it really? You want it to hit the ground?" he asked her.

"You can catch if you want," Parker said.

Romney decided to throw it up and let it drop, and Parker called tails, and after searching for the coin in the sand, Gitcho found it and announced that it was tails.

"Tails it is! That's the last call you guys are getting," Romney said.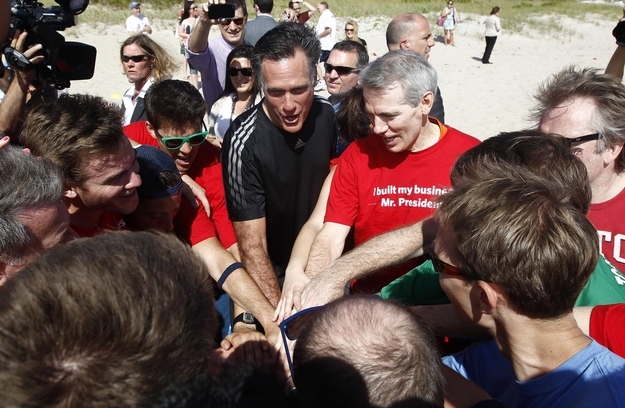 Romney asked the press "Who's the ringer over here? Who is it who is it?"
When no one replied, Romney turned to his staff, saying "Where's Chris Christie when we need him? He's our line."
Portman and Romney called the team to a huddle, joking to the group "Figure out which of their players are the best and take them out early," as the staff cracked up.
"Don't worry about injuries guys. This counts," Romney added. "Win!"
Romney then led his aides in a chant from the TV series "Friday Night Lights," shouting "Clear eyes, full heart, can't lose." The Romney team repeated the last two words with him and raised their hands and yelled to close out the huddle.
"Go get em guys," Romney said, and walked back to the sidelines to watch the opening play.
The Romney team, down a touchdown after about 20 minutes of play, received an assist from Ann Romney, who arrived with her Secret Service detail. She ran the ball up the field over the course of three downs — with an assist from a particularly bulky agent playing offensive line. Later, she fired a laser at another aide in the endzone, tying the game at 7-7.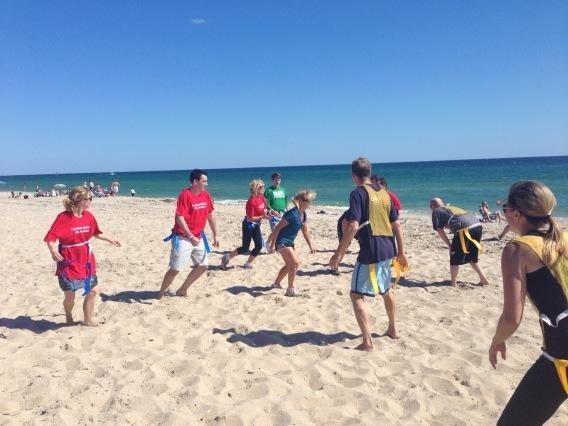 From the pool report:
While Romney waited for the game to start, members of the pool
asked him three questions.

"As president, would you be open to one on one talks with Iran?"

Jackson said, "Guys this is a football game. Come on. Are you kidding me?"

Romney said, with a laugh, "I thought you were talking about one on one talks with the president. I was about to answer."

The second question for Romney was: "How do you feel about tomorrow? Are you ready for tomorrow?"

Romney replied: "I'm ready for football."

The third question: "What about that poll this morning that shows you tied, governor?"

Romney did not respond to the third question. At this point, the game started, the press team ran its first play, an incomplete pass, and Romney looked over, apparently unable to see what had happened, and asked, "Did he drop it?"

"He dropped it," Jackson said.

"Ok," Romney said. "That's symbolic of the entire game."

"All right guys, go get em. See you later," Romney said, waving to his staff and turning to walk back to the motorcade. He shook hands with a few onlookers on his way.

"Sorry for intruding on your beach here," Romney said to them, then posed for a picture.

Romney saw CBS' Jan Crawford on his way back to the SUV.

"Jan why aren't you out there?" he asked her.

Crawford replied: "I like football as a spectator sport!"

"Your team needs you, alright, exactly," Romney said.

Portman walked back to the motorcade with Romney, and said to him, "That was fun."
The final score was 14-14.