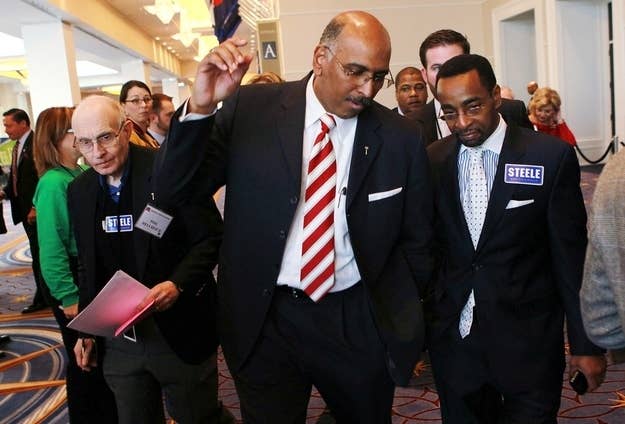 SCOTTSDALE, Ariz. — Republican Party leaders debated a series of changes to party rules on Thursday in direct response to the tumultuous and controversial leadership of former Chairman Michael Steele.
Steele, who oversaw the party from January 2009 to January 2011, is widely criticized for perceived mismanagement of the party and as responsible for a significant depletion of party resources in that period, was not a member of the Republican National Committee when he was selected to the post, something many RNC members sought to correct.
Indiana Republican Committeeman Jim Bopp introduced an amendment, nicknamed the Steele rule by at least one member of the committee, to require future chair people to be current members of the party's governing body — a move opposed by many loyalists of Mitt Romney, who argued it would limit a president's flexibility in appointing a political head of the party.
But that did not mean that there was any love offered in Steele's direction — the names of Chairman after Chairman who would have been preempted by the rule were invoked as reason for it being unwise, but Steele was conspicuously left off the list. Romney adviser Ron Kaufman, the Committeeman from Massachusetts, spoke out against the proposed on the grounds that it would limit the choices of Republican presidents.
Without the relationship between a Republican White House and the RNC, Kaufman said, "The committee cannot function in the way we all want it to."
The vote amendment was too close to call in a voice vote, and was rejected narrowly as members made their choices known by standing.
A separate amendment passed, restricting the committee on arrangements for the Republican National Convention from being formed by the RNC Chairman two calendar years before the convention passed — with members critical of mismanagement and waste in the committee selected by Steele.
Separate measures to alter the 2016 calendar by eliminating the requirement for proportionality and the allocation of delegates — which were responsible for extending the primary calendar in 2012 — were rejected by the committee, with a majority of members satisfied with the way it worked out this year.