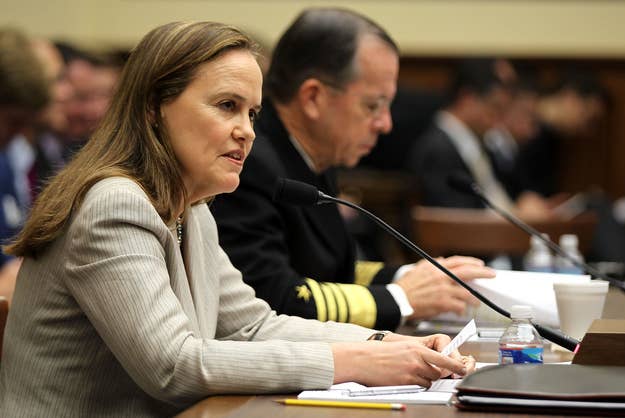 WASHINGTON — The leading figures for President Obama's top three Cabinet posts are all white men, opening the possibility of a Cabinet that looks more like 1997 than 2013 and producing new pressure to appoint a woman to one of those top jobs — likely secretary of defense.
The first black president is understandably insulated from criticism on the grounds of diversity, but the increasingly diverse American Cabinet has come to be seen as a source of, in particular, diplomatic strength: Three of the last four secretaries of state confirmed have been women, and their high profiles have been part of America's tacit case about women's rights from Africa to Afghanistan.
But the White House has signaled that the next secretary of state will be Senator John Kerry; Chief of Staff Jack Lew is widely expected to become secretary of the treasury when Tim Geithner leaves after the fiscal cliff debate.
And as a result, aides and strategists of both parties see the stock of Michèle Flournoy, the former under secretary of defense for policy, rising to replace Secretary of Defense Leon Panetta when he leaves the Pentagon — likely early next year.
"I think she's definitely getting a second look after Rice," said a longtime Democratic defense policy hand, referring to U.N. Ambassador Susan Rice's withdrawal from consideration for the post at State.
Feminist groups are also pushing the White House to appoint Flournoy.
"There is no doubt that the woman knows her business," said Marie Wilson, the founder of the White House Project, which advocates for women to take on leadership roles in all spheres.
"It's Defense — the area where we have the slowest movement of women into top positions," she said. "It would be a breakthrough."
Obama's reliance on the votes of women to defeat Mitt Romney raises the pressure on him to do more than seriously consider a woman for the top job, said one Democratic strategist.
"All the research we have right now shows that if you want to get a better decision, you want a diverse group," said Wilson, who added that she has worked with Flournoy on several projects designed to help women take on national security leadership roles.
Flournoy, the highest-ranking woman at the Pentagon until she stepped down from the post in January, is the cofounder of the Center for a New American Security, a D.C. think tank that has produced a host of Obama administration appointees. During the Clinton administration, Flournoy served as principal deputy assistant secretary of Defense for Strategy and threat reduction and deputy assistant secretary of Defense for Strategy.
Flournoy's foreign policy has been characterized as "liberal realist" and she's been a champion of Obama's rebalancing of forces with a focus on the Asia-Pacific region. She's also a strong supporter of forward-deploying U.S. troops to potential conflict regions to ensure rapid response in the event of a flare-up and to promote stability the rest of the time.
On Friday, White House Press Secretary Jay Carney addressed the loss of diversity in top Cabinet posts by Rice's decision to withdraw her name from consideration the day before.
"I think the president has always believed that in order to achieve the highest level of excellence in his Cabinet, and more broadly, in his administration, that diversity is important," Carney said.
Administration officials are tight-lipped about Obama's Cabinet plans and refuse to comment on the selection process.
Picking Flournoy would also be a smoother path through the Senate than another leading contender, former Republican Sen. Chuck Hagel, whose criticism of the "Israel lobby" has drawn criticism from Republicans and Jewish groups.
One Senate Republican foreign policy aide said while Flournoy would face scrutiny, she would likely not provoke a bitter confirmation fight.
"Where Hagel is viewed as anti-Israel, Flournoy gets to tout her credentials of expanding U.S.-Israel defense relations," the aide said, noting that Republicans tried to brand Obama as soft on Israel during the general election. "Obama responded by citing the unprecedented defense cooperation between the U.S. and Israel — and Flournoy was the lead on that agenda."
The Weekly Standard's Bill Kristol wrote Friday that the selection of Flournoy or Deputy Secretary of Defense Ash Carter would be far more amenable to Republicans.
"The Weekly Standard would expect to differ with such nominees on many issues," he wrote. "But they wouldn't be out on the fringes like Chuck Hagel."
"If the president wants a messy fight, send us Hagel; if he wants smooth sailing, send us Flournoy," the Senate Republican aide said.