Ohio Schools Chief In Hot Water Over Official Letter Bashing Governor
Democrats claim governor is trying to intimidate critics.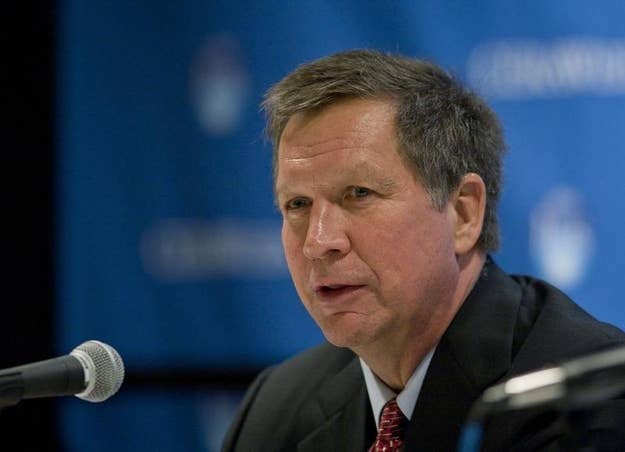 WASHINGTON — An Ohio school superintendent is under investigation by local prosecutors for potential misdoing in sending a letter to local residents blasting Gov. John Kasich for freezing his district's funding.
The letter, also posted on the Franklin City Schools' website, calls on recipients to actively work to make sure Kasich is not re-elected.
"As parents and friends of our district, I hope you will do two things: First, please join me in an active campaign to ensure that Gov. Kasich and any legislator who supports him are not re-elected," Superintendent Arnol Elam wrote.
Warren County prosecutor David Fornshell, a supporter and donor of Kasich's, is investigating Elam for using school resources for political purposes — which is prohibited under state law.
"The Warren County Prosecutor's Office has received reports that officials with the Franklin City Schools have allegedly used school resources to engage in impermissible political activities," Fornshell said in a statement. "Based upon the information provided, the Warren County Prosecutor's Office has opened an investigation into this matter."
Elam complained that his district — the poorest in the county — was receiving no additional funding this year, while nearby richer ones were seeing increases.
By every measure, we are the poorest district in Warren County. 44.66% of our students are in poverty. In contrast, Mason's figure is 6.25%. Our district's median household income is $29,900. The county's highest is Springboro at $61,271. Franklin has the highest percentage of students with a disability -- 16.1%. Despite this, Kasich's plan gives ADDITIONAL monies to Mason, Springboro and Kings.
Ohio Democrats are coming to Elam's defense, calling the investigation an attempt by Kasich to intimidate his political opponents.
"John Kasich and his cronies have sent a clear message to the people of Ohio, if you have the courage to stand up for schools, you might just find yourself on Kasich's 'Enemies List' facing revenge in the form of a criminal investigation," said Chris Redfern, the state party chairman. Democrats also called on Fornshell to turn over correspondence between his office and Kasich's to determine if the governor was behind the investigation.
The full letter is below: