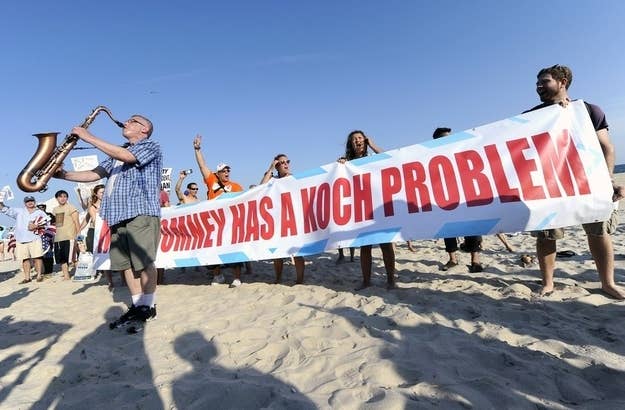 SOUTHAMPTON, N.Y. — On the way into the first of two fundraisers — including one at the home of controversial conservative donor and billionaire David Koch — Romney and his wife, Ann, grinned and looked nervously at the 10 protestors on the street.
Mostly locals representing various liberal organizations, this group was profane, indiscriminately calling donors and passersby "whores," and shouting "shame on you." As Romney's motorcade passed by, one asked to a CBS News reporter, "did you get me flipping Romney the bird?"
A Romney supporter responded in kind as he left one of the fundraisers, honking his horn and raising an outstretched middle finger at the protesters.
By the time the Romney's left, the crowd had grown to more than 100 and then ebbed to about 40. As they passed, Romney stared straight ahead, as Mrs. Romney waved at the protestors.
The protesters were bused into the tony beachside village from Manhattan to demonstrate against Romney and his host — but several made use of the free bus ride just to sit out on the beach.
"Thanks for the free beach," said one unidentified man to police officers before returning to the buses.
A plane towing a banner reading "Romney Has A Koch Problem" circled the mansion along with another for Avión, the premium tequila brand.
The Occupy protesters eventually marched on the beach toward the residence, chanting and playing instruments — including a saxophone — under the watchful gaze of State troopers and Secret Service agents.
Village Mayor Mark Epley said the municipality has a an ordinance prohibiting targeted protests in the village, which required protesters to remain at least 1,000 feet from the Koch residence or risk being cited by police.
Epley spent much of the afternoon directing local residents past police and onto the beach access roads.
"We've never had to use the law, and it doesn't look like we'll need to today," he said, as the protests petered out.
A Southampton police officer armed with a large can of pepper spray — one of nearly a dozen standing guard on the streets around the Koch compound — said the village had expected as many as 400 protesters.
Police Guard The Beach Near The Koch House