Jon Huntsman Sort Of Maybe Feeling Surge Of Momentum
Trying to keep expectations down, money up. "Best fundraising day ever," says Miller.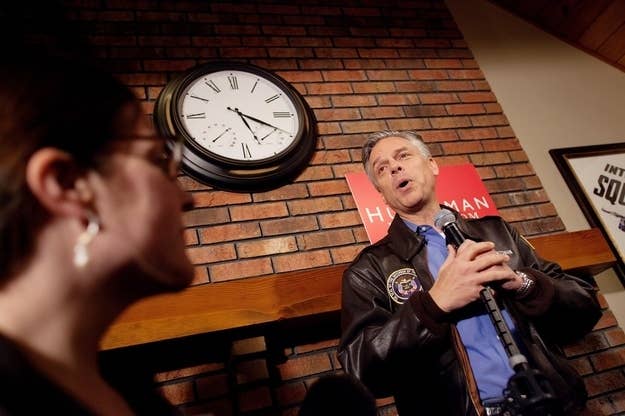 MANCHESTER, New Hampshire—Jon Huntsman is coming off his best day on the campaign trail, but aides concede that while he's moving upward in the polls, it may just not be enough.
The last poll from Suffolk University shows Mitt Romney's support fading for the fifth straight day, with Huntsman rising from 9 percent to 13 percent in the past three. Those numbers don't yet include Huntsman's standout performance in Sunday's NBC News/Facebook debate which gave Huntsman his "best fundraising day ever — by far," according to spokesman Tim Miller.
Huntsman staffers say they are encouraged by the positive trend-line, but say no poll shows them vaulting over Ron Paul's loyal 20 percent of likely Republican primary voters.
Barring a catastrophic fourth or fifth place finish, Huntsman will continue his campaign in Charleston, South Carolina on Wednesday.
Aside from a handful of staffers in South Carolina and New Hampshire, Huntsman has put all of his hopes into New Hampshire. A third place finish ahead of Santorum, Perry and Gingrich just isn't enough. Huntsman is definitely surging, but it's most likely too little, too late.