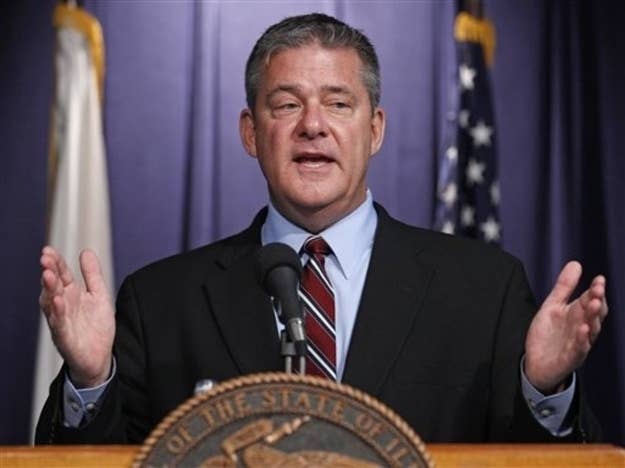 Mitt Romney could have assured himself victory months in advance in the now-crucial primary state of Illinois, but instead his Illinois campaign operation chose to allow Rick Santorum's delegates to remain on the ballot despite a failure to meet signature requirements.
Santorum, who has also failed to reach the ballot in Washington, D.C., Virginia, and parts of Ohio, fell short of the required signatures in 10 of the state's 18 congressional districts —and didn't submit any in four of them — Romney's campaign confirmed.
But Illinois Treasurer and Romney state chairman Dan Rutherford withdrew challenges in those districts, allowing Santorum the opportunity to win 30 delegates he would have missed out on.
The decision produced a quiet storm of outrage among Romney's allies in the state, who were bewildered by the decision to make a slam-dunk race competitive, and to grant an opening in the desperate scramble to reach the 1,144 delegates required for the Republican nomination.
"When there is a challenge filed because a campaign doesn't file the required number of signatures, it's pretty much a no brainer," said a senior Romney supporter in Illinois. "The conservative folks started screaming bloody murder, and Rutherford caved."
"This isn't about Romney, it's about Rutherford," he said.
Rutherford is thought to be planning to seek his party's nomination for governor in 2014, and Romney's other local allies accuse him of putting his interests above the candidate's, and ingratiating himself to Santorum-supporting conservative activists.
"Either man up or get out of this game," said another top Illinois Republican. "If Santorum picks up delegates downstate then shame on them."
Romney's local supporters say Rutherford acted on his own, but he and Romney's aides in Boston are playing down any difference of opinion.
"We decided to be spirited and let it go," Rutherford told BuzzFeed today, reached while on a day-long fly-around the state with former Speaker of the House Dennis Hastert to support Romney delegates. "The decision was a combination of ours and Boston's."
Romney campaign press secretary Andrea Saul told BuzzFeed that it was incumbent on them to force Santorum off the ballots in the states where he fell short of the required number of signatures. "We decided against doing that," she said.
Rutherford took issue with Illinois GOP Chairman Pat Brady's characterization in an interview with the Daily Herald of the agreement reached between Santorum supporters and Rutherford as a "mutual nonaggression pact."
"I would only say they we decided to let him remain on the ballot in those districts, that's it," Rutherford said. "At the get-go they are still ineligible for 12 delegates."
Rutherford also spearheaded opposition to a move by the state party last summer to award all of the state's delegates as winner-take-all, which would have helped Romney.
"He blew two opportunities that are coming back and biting campaign in the ass," said another Midwestern Republican operative.
Rutherford told BuzzFeed he wanted to make sure that delegates were awarded "the way they always have been in our state."
[This story has been updated.]