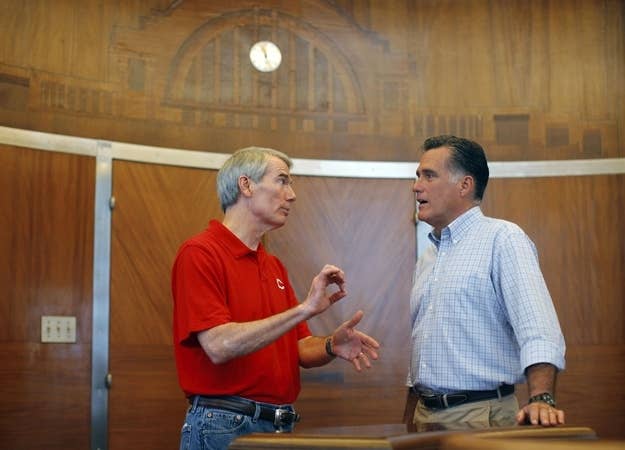 The three presidential debates, which begin in three short weeks, mark Mitt Romney's best chance to turn the 2012 election in his favor — but he may already be letting that opportunity slip from his grasp.
Barring the sort of on-stage catastrophe — a horrific gaffe like Rick Perry's "Oops," a revealing moment of impatience or irritation, or Admiral Stockdale-style brain freeze — debates are rarely won or lost on stage: They're decided by the insta-analysis on cable networks and newspapers, spin rooms and, now, Twitter. And Romney has devoted what allies and critics alike say is astonishingly little attention to the venerable expectations game that will frame that judgment.
Romney has devoted at least four days off the campaign trail since the GOP convention for official debate prep, campaign aides said, and has held ad hoc strategy and briefing sessions since shortly after becoming the nominee.
"We're going to be ready — very ready to face the president and we're going to win," one top Romney aide told BuzzFeed.
The Romney campaign has chosen simply to exude confidence about the upcoming contests — an attempt to counterbalance the gloomy mood set by Obama's post-convention polling bounce, talking at length about Romney's preparation, something the White House has done not at all.
"I just think we're being honest," a top Romney advisor, Stuart Stevens, told BuzzFeed when asked why the campaign was so open about its debate preparations. "[Romney] did what other candidates have done, which is spent some time during other side's convention to work on debates. Then did a session on Sunday."
"No big deal in our world," he added of the sessions.
Obama's campaign, by contrast, has taken a far more orthodox approach to lowering expectations, privately and publically projecting a low-grade panic that the Harvard Law-educated president could flub the coming debates. One told BuzzFeed last week that the president has the tendency to get "testy" when challenged, and that given his dislike for Romney, "who knows what can happen."
"There were some bad debates last time around," warned another.
They are, meanwhile, talking up Romney's abilities, pointing to his recent experience in 21 Republican Primary debates. "Governor Romney proved himself to be a sharp and disciplined debater during the more than 20 primary debates –his debate performances were a major reason he won the primaries," spokesman Ben LaBolt told BuzzFeed. "And he has engaged in extensive debate preparations already – the earliest formal debate preparations in recent history – taking all of last week off from the campaign trail to engage in debate prep."
Their stagy gloom has penetrated deeply into the political conversation, with public and private pronouncements that the president — windy at the best of times, cloistered by four years as the most powerful man in the world — could slip in this key forum.
And in a particular stroke of expectations-setting success by Chicago,The New York Times reported that aides are concerned about Obama's tendency to "procrastinate."
If the trend continues, Romney may need to do handstands on stage to make in impression, while the president will win simply by keeping his shirt on.