Chuck Hagel Loses Altitude
Critics say White House silence "telling."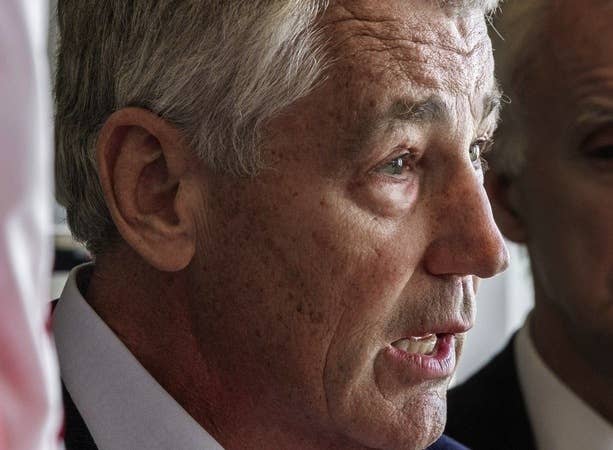 WASHINGTON — Former Sen. Chuck Hagel's chances of being Barack Obama's Secretary of Defense are quickly dimming, as critics point to the White House's silence in the face of questions about the Nebraska Republican's record.
"I think [Sunday] was Chuck Hegel's obituary on the morning shows," said senior GOP senate aide and frequent Hagel critic in reference to Democrats, including Sen. Chuck Schumer refusing to say if they would support him. "The White House got final answer that a Hagel nomination would be dead on arrival so now they move on to [Deputy Secretary of Defense Ashton] Carter or [former Under Secretary of Defense for Policy Michèle]Flournoy. Either of those two would get Republican support."
Hagel, a Republican realist skeptical of American military action in Iran and elsewhere, has drawn fierce criticism from Republican and Democratic hawks. He has faced questions, in particular, about his support for Israel, and criticism for referring to the "Jewish lobby" and a Clinton-era ambassadorial nominee as "openly aggressively gay." But the White House has offered few words of support for Hagel, an Obama administration appointee and an ally of the president's.
"What I can tell you is that Sen. Hagel fought and bled for his country," White House Press Secretary Jay Carney told reporters last week, refusing to comment on specific criticisms. "He served his country well. He was an excellent senator."
But unlike Susan Rice, who withdrew her name for consideration to head the State Department amid Republican criticism of her statements after the Benghazi attack in September, Hagel is all on his own, making an organized and forceful defense from the Obama administration even more necessary.
Other Democrats who have indicated their support for Hagel have also backed away in recent days. BuzzFeed emailed no fewer than five backers about the anemic state of the Hagel defense, all declined to comment or didn't respond.
One Democratic operative called the silence "telling."
"I've been talking with a lot of Democrats about Hagel and it's clear that the White House is not making the ask for the heavy lift on this front," the operative said. "Sounds like they're moving on and leaving the Hagel loyalists to defend their man alone."
A long time democratic insider echoed that point, saying it was clear that Obama was moving away from Hagel. White House officials refuse to comment on potential personnel moves.
"The White House was never actually all that close to naming Hagel, and to a degree feels awkward about the dust-up about him, however, they have no real interest in defending him because they don't plan to pick him and see the issues being raise as hard to defend," the insider said. "The Hagel dust-up is the best thing that could have happened for the President and the party. It nets out well, giving easy sailing to their real choice when the time comes."