This post has not been vetted or endorsed by BuzzFeed's editorial staff. BuzzFeed Community is a place where anyone can create a post or quiz.
Try making your own!
50 Adorable Pictures Of NHL Players With Kids That Are Going To Melt Your Ovaries
Does it get much cuter than big tough hockey players with cute kids? No. No it doesn't.
1.
Detroit's Henrik Zetterberg comforting a sick girl overwhelmed from meeting him.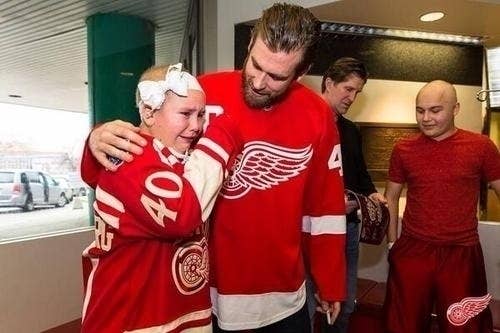 2.
Montreal's Alex Galchenyuk and this delighted little fan in his way-too-big jersey.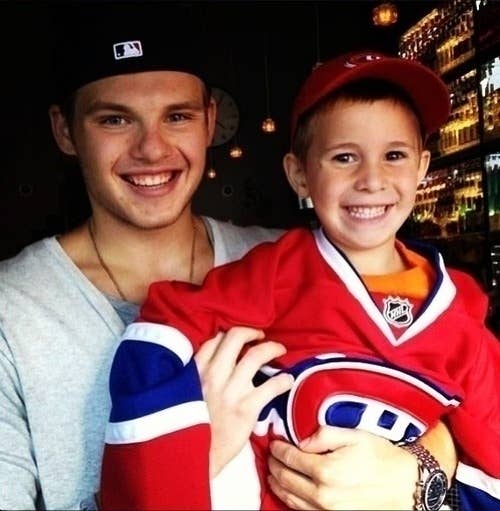 3.
Pittsburgh's Evgeni Malkin and this adorable Batman.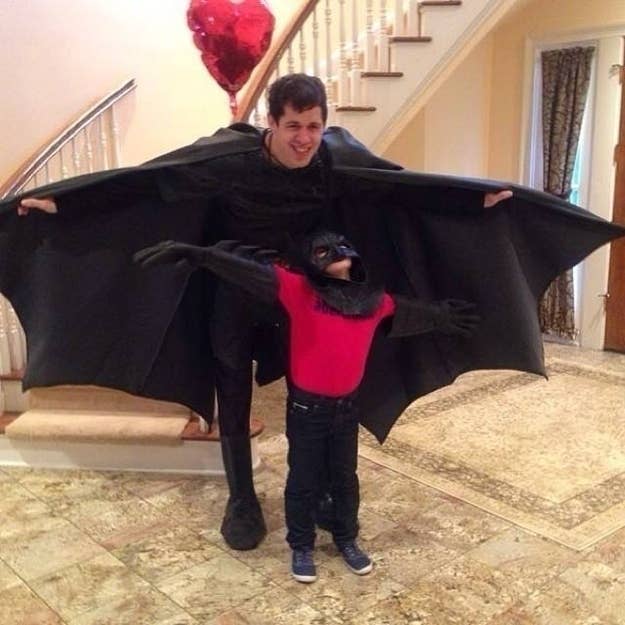 4.
LA King turned Anaheim Duck Dustin Penner gets charmed by Harper Beckham.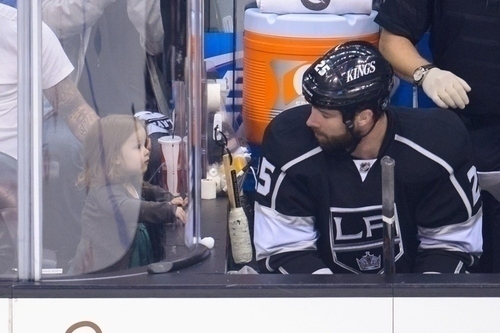 5.
New York Ranger Derek Stepan gets interviewed by his teammate's son Jacob.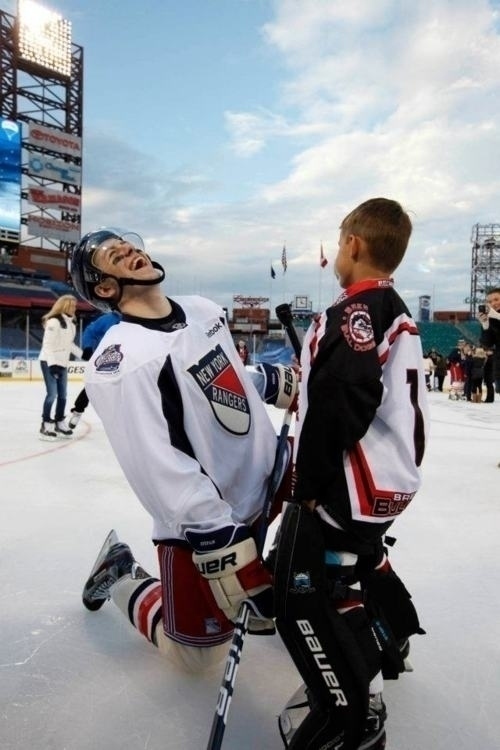 6.
Tampa Bay's Steven Stamkos enjoying some art and craft time at a local children's hospital.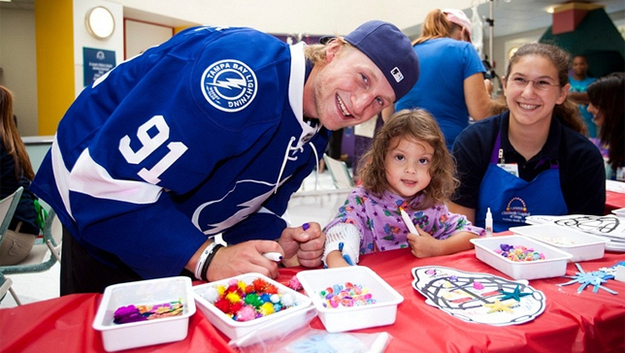 7.
Vancouver's Ryan Kesler taking an adorable selfie with daughter Makayla and son Ryker.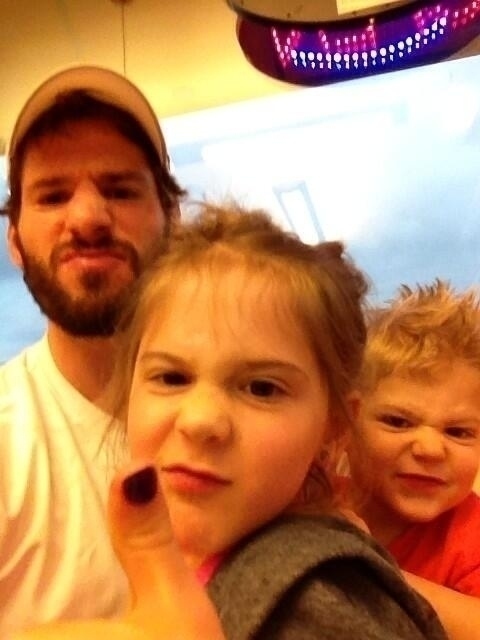 8.
Former Boston Bruin Tyler Seguin making the day of the cutest girl to ever wear his jersey.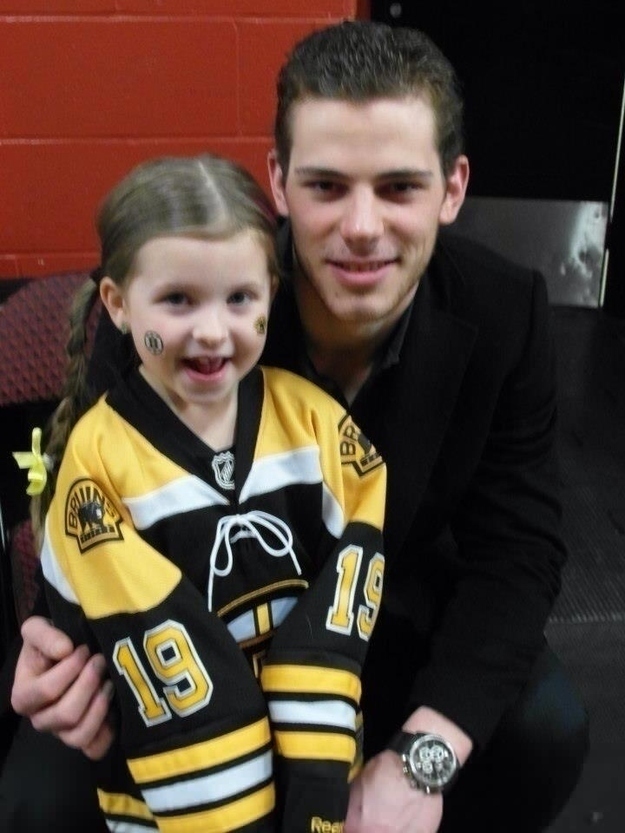 9.
Toronto's Tyler Bozak has a sweet moment with a seriously ill teen.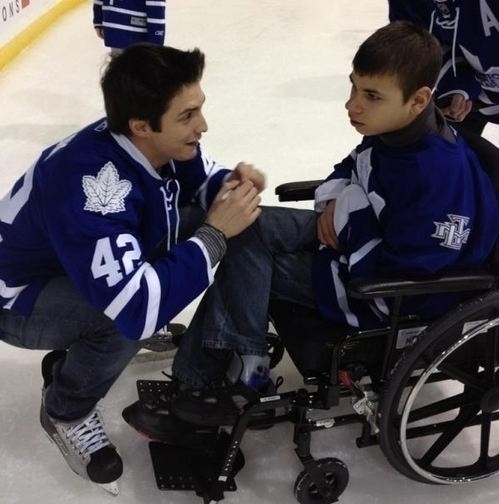 10.
Los Angeles' Star Goaltender Jonathan Quick introduces daughter Madison to Lord Stanley.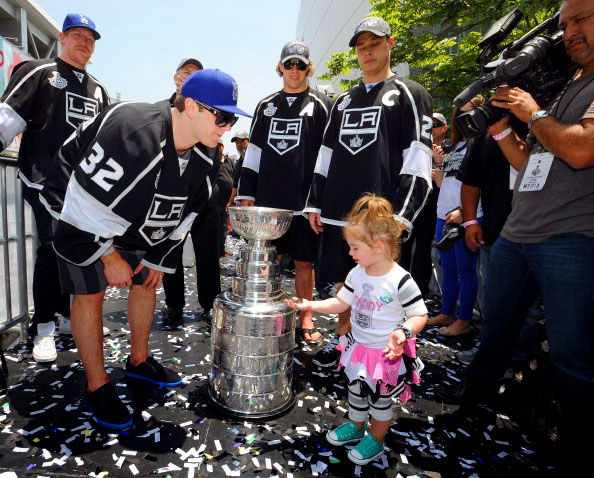 11.
Former Hab Hal Gill charming this little princess at the Montreal Children's Hospital.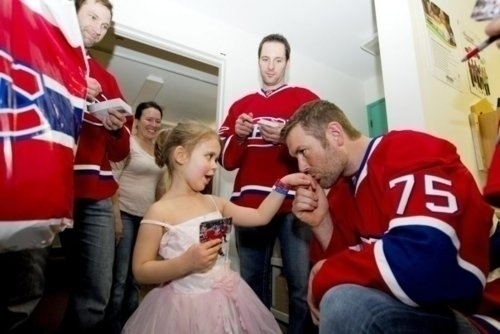 12.
New York Ranger/King of Sweden Henrik Lundqvist with his daughter Charlize.
13.
Ottawa's Bobby Ryan learns some swag from one fierce little boy.
14.
Washington's Alex Ovechkin gives the best piggy backs.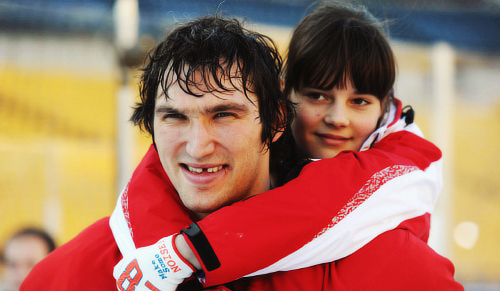 15.
This baby doesn't look impressed despite being in the arms of Ottawa's Swedish Hottie Erik Karlsson.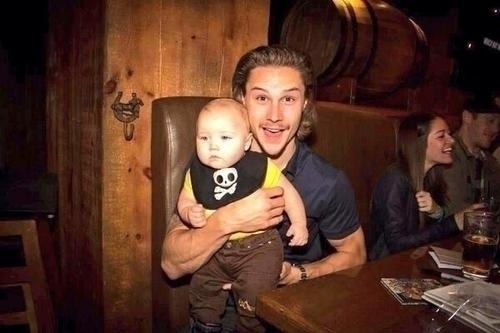 16.
New York Ranger Dan Girardi teaches his adorable son Landon to Skate.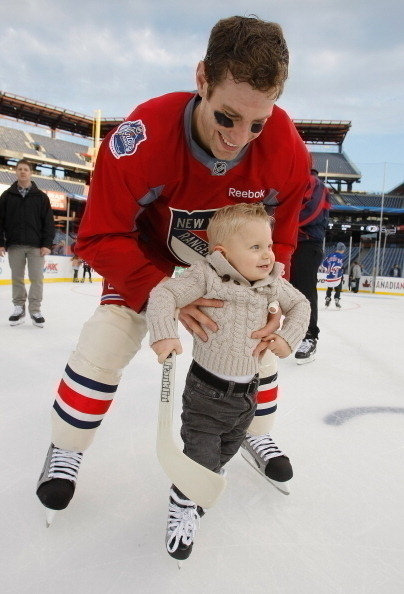 17.
Nothing makes a cast cooler than the Vancouver Canucks signing it.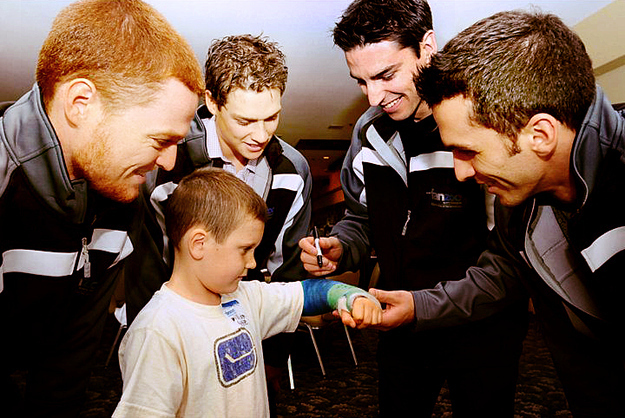 18.
Patrick Kane doing his part to create the next generation of US hockey stars.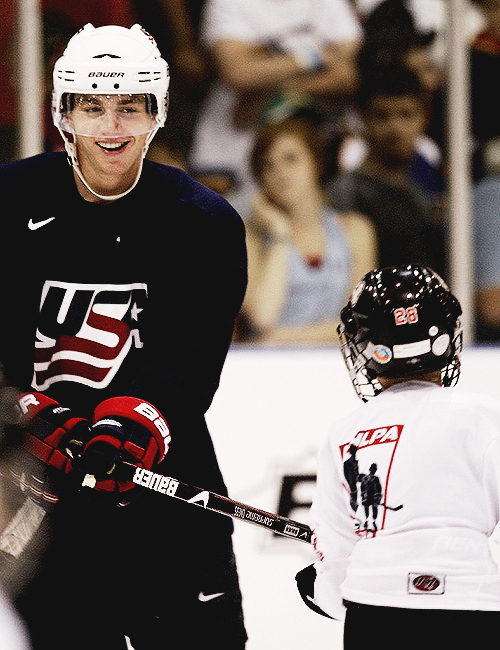 19.
Canuck Kevin Bieksa chilling with his kids Reese and Cole.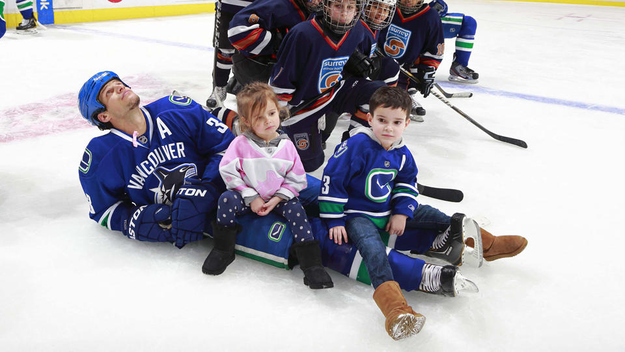 20.
Chicago's Jonathan Toews gives a lucky fan a hug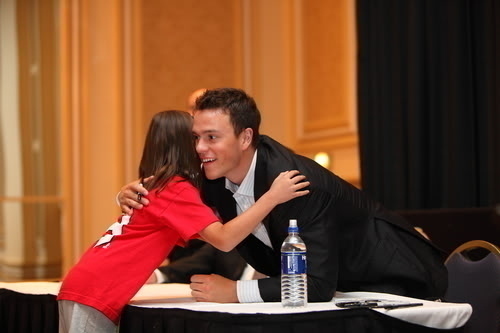 21.
Chicago's Brent Seabook with newborn son Carter.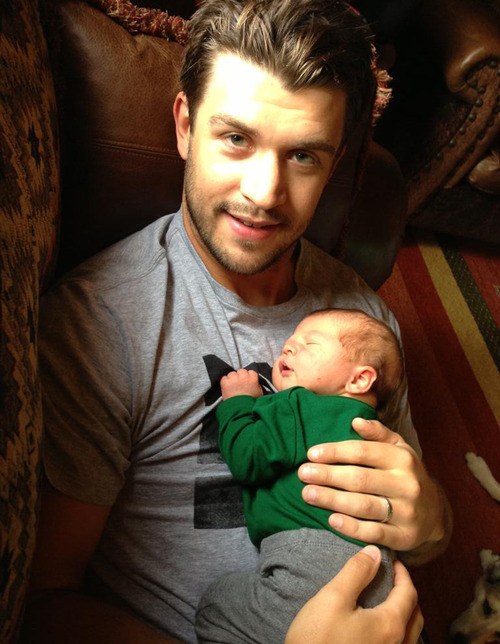 22.
Colorado's Paul Statsny and this suited up lad rock it out at a Charity Fashion Show.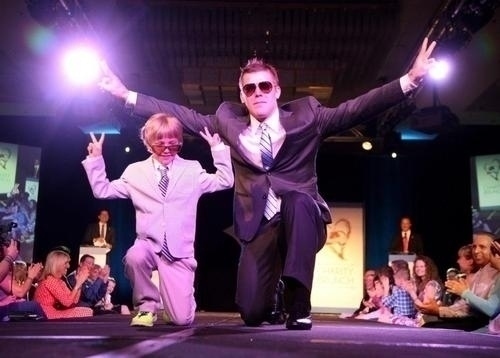 23.
Phoenix Coyote Shane Doan gets a hug from his daughter Gracie.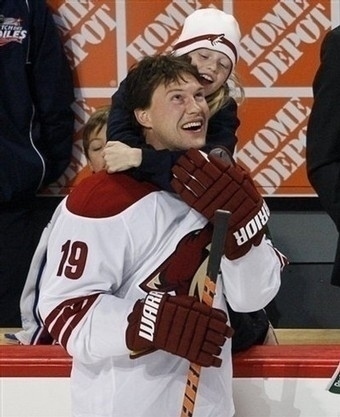 24.
Montreal's Lars Eller and his adorable converse wearing daughter.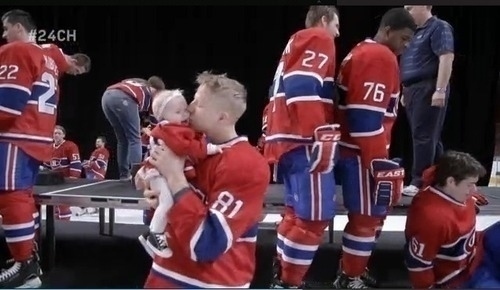 25.
Chicago's Brandon 'Fartface' Bollig kicking his niece's butt in Wii.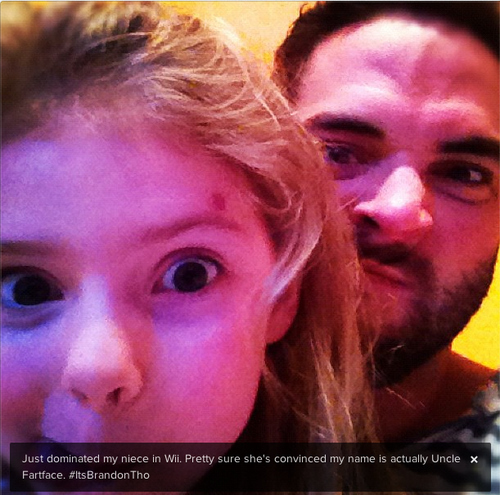 27.
Montreal's PK Subban has the kind of starpower that leaves kids a little bashful.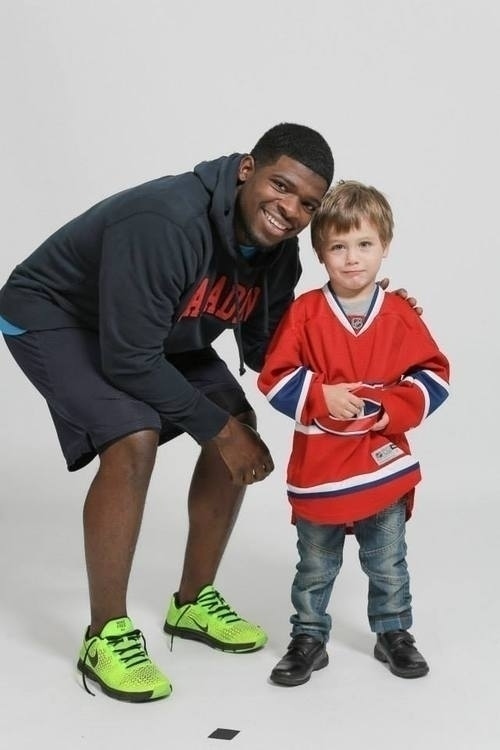 28.
Washington's Braden Holtby gives a disabled fan the chance to be a hockey player for the day.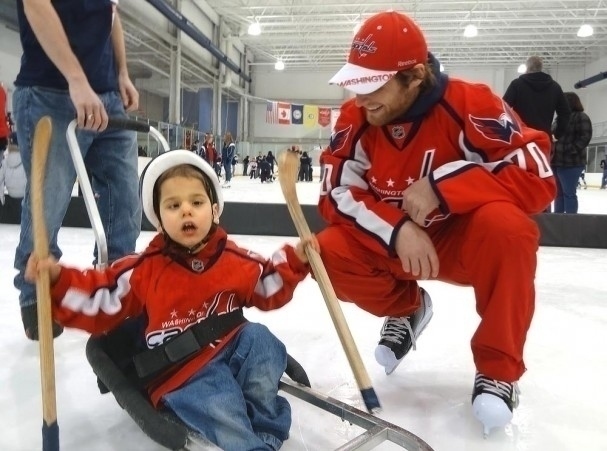 29.
Chicago's Patrick Sharp takes daughter Madelyn to the ballgame.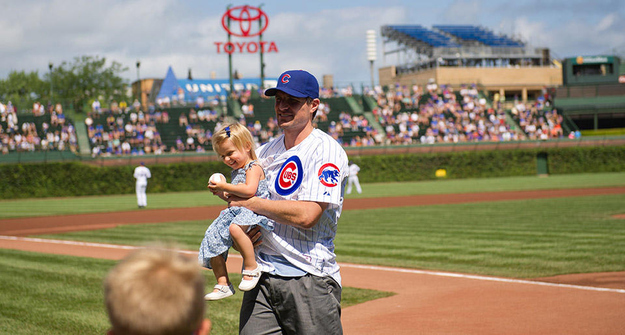 30.
Toronto Maple Leaf Mason Raymond gives son Max some early skating lessons.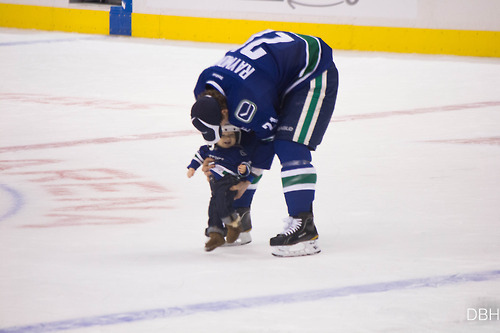 31.
New York Ranger Michael del Zotto learns some swag from these street hockey camp kids.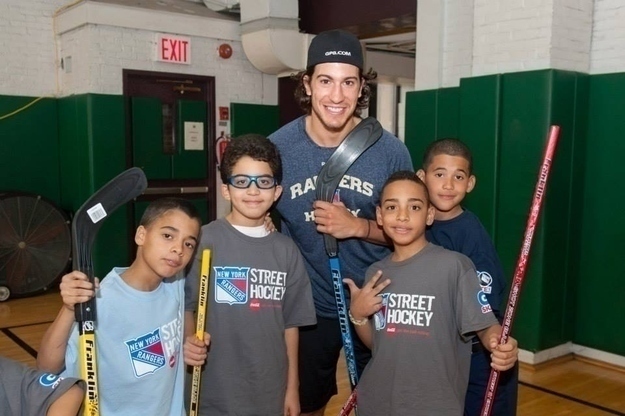 32.
Chicago's Patrick Kane takes the Stanley Cup to children's hospital, administers fistbumps.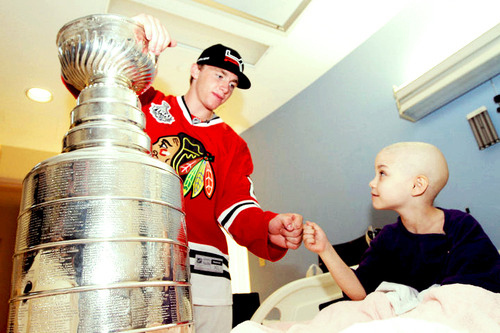 33.
Colorado's Gabriel Landeskog escorting this lovely lady down the runway.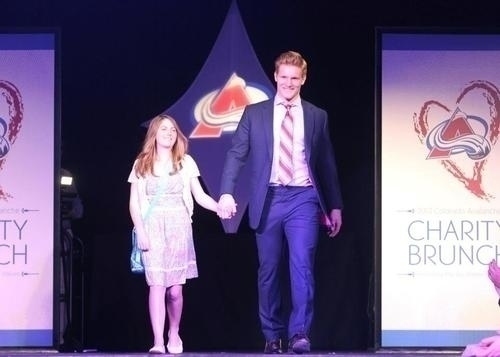 34.
Jonathan Toews and his cousin share a hug during his Stanley Cup Day.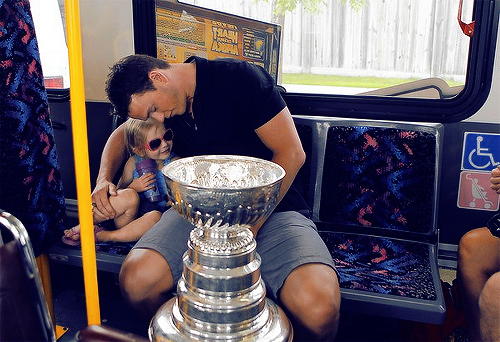 35.
Boston's Patrice Bergeron with a present for a young fan.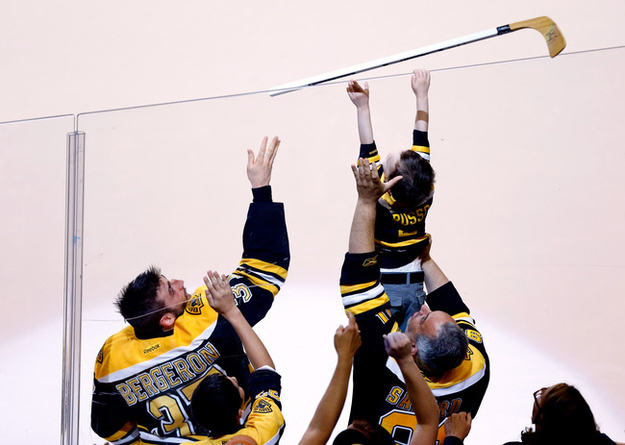 36.
Not sure who had more fun at this kid's camp: the kids or Montreal goaltender Carey Price.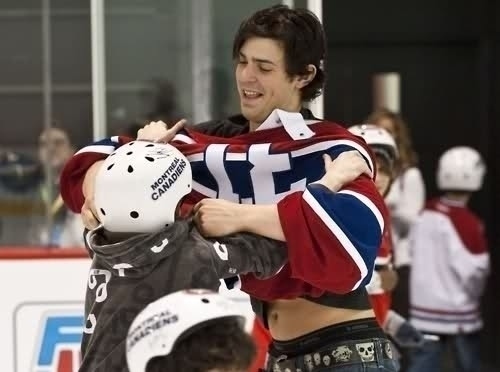 37.
Swedish Prince Gabriel Landeskog holding the luckiest girl in the world.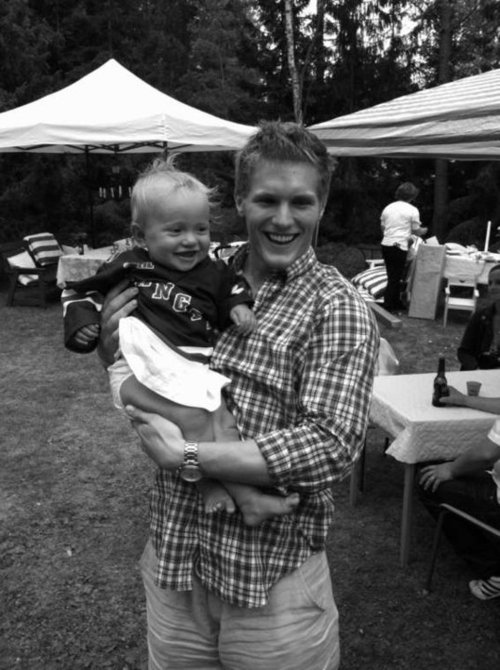 38.
Phoenix Coyote Paul Bissonnette looks excited to be holding a cute kid. The kid looks a little unsure.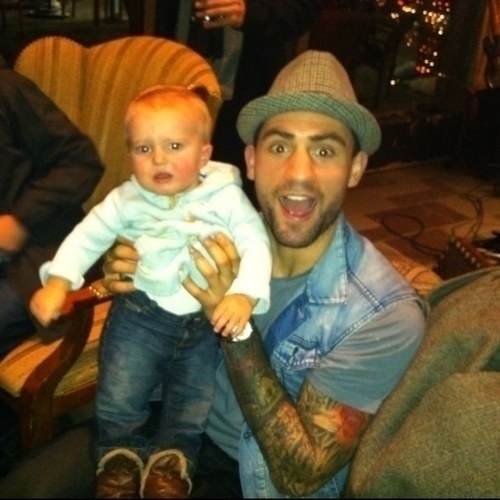 39.
The Sedin twins do their part in populating the world with the next generation of awesome Swedes.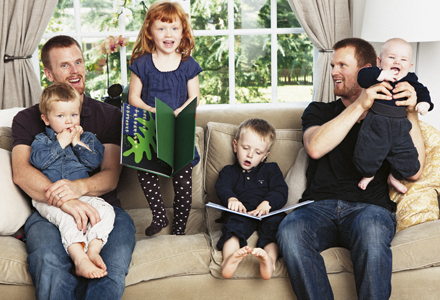 40.
Winter Classic Family skates bring the cute like none other.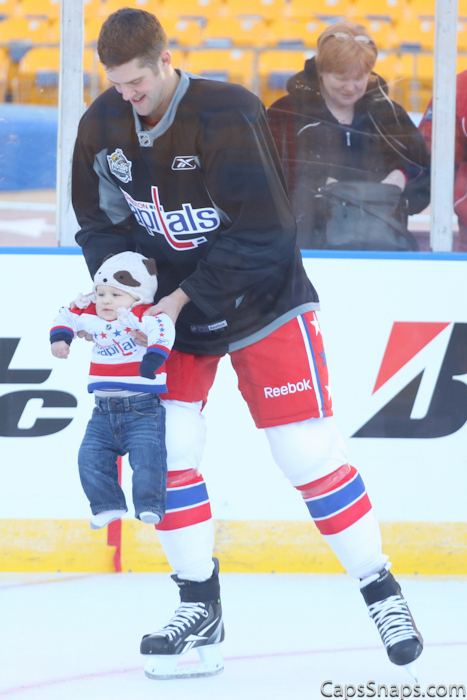 41.
Pittsburgh's Sidney Crosby spreads some Christmas Cheer to sick kids.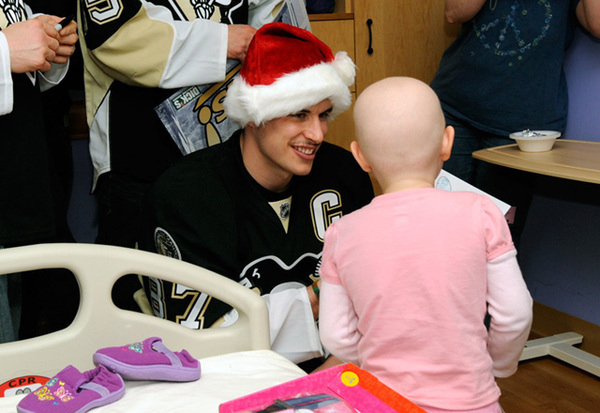 42.
Blackhawk Duncan Keith puts his newborn son Colton in the Cup.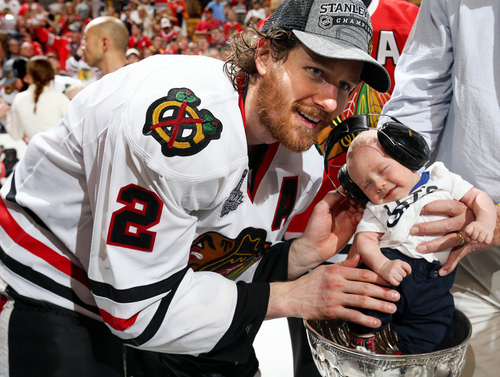 43.
Montreal's Peter Budaj and his smallest fan sleeping through all the excitement.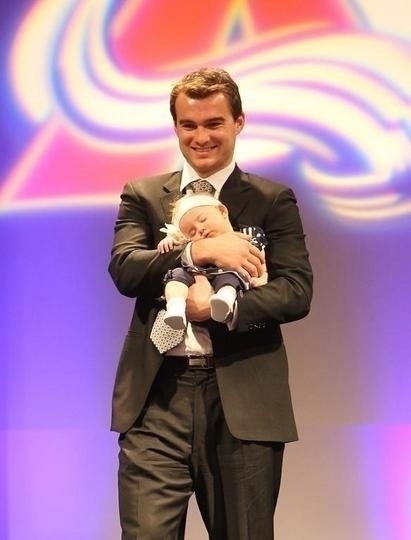 44.
Blue Jacket Nathan Horton giving his son a piggy back.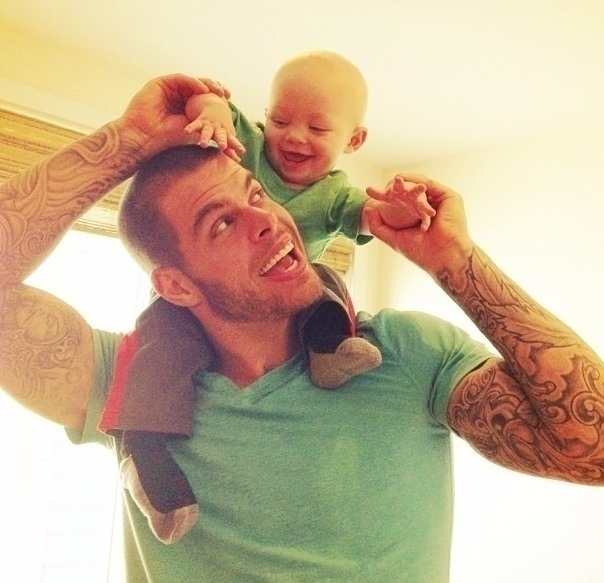 45.
Carey Price training up Montreal's next goaltender.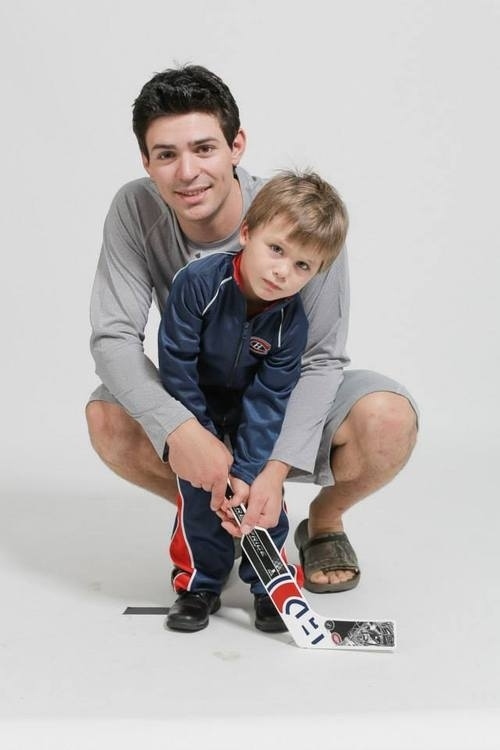 46.
Montreal's Brandon Prust knows nothing says 'get well soon' quite like a high five.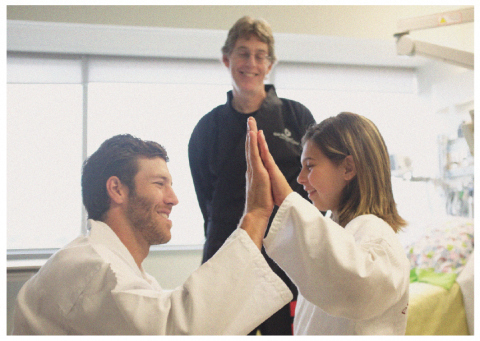 47.
Kings stars Drew Doughty and Anze Kopitar on a visit to the LA Children's Hospital.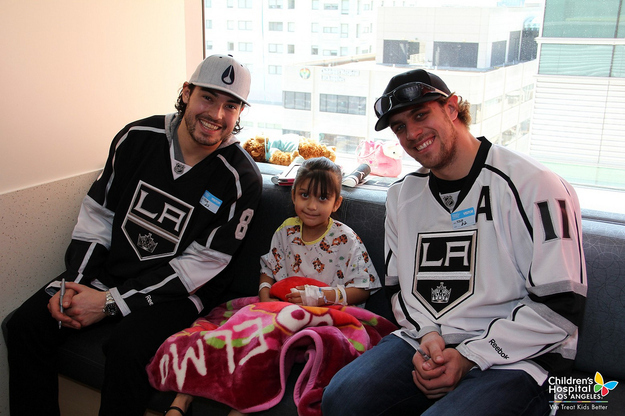 48.
This kid gets the best seat in the house.....Gabriel Landeskog's shoulders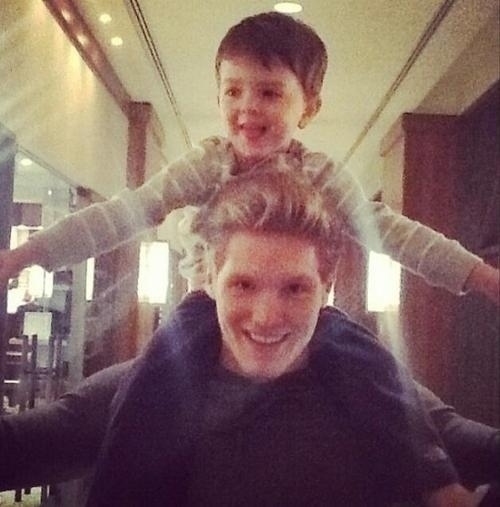 49.
Washington's Nicklas Backstrom meeting a young fan.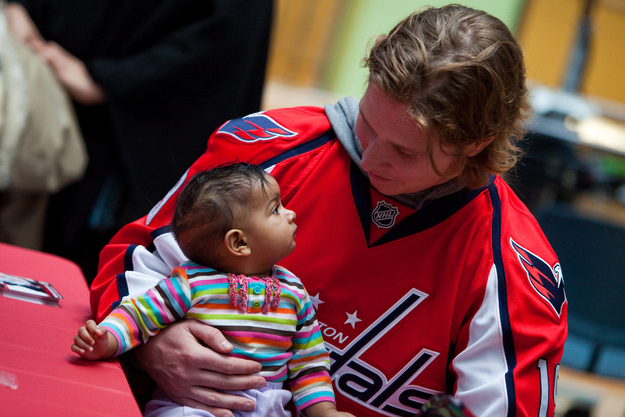 50.
New York Ranger's Captain Ryan Callahan celebrates father's day with daughter Charlotte.