If you were alive in 1999, the "Thong Song" was impossible to ignore. It was EVERYWHERE, and it was catchy as hell.
Well, I'm truly estatic to be the one to tell you that the "Thong Song" is BACK!
The thongs are still there.
And the track itself — despite being a remake of a song from 1999 — feels VERY 2017 and might be something you end up playing on repeat over and over all summer long????
So how did we get here? Sisqo explained his decision to remake his iconic song exclusively to BuzzFeed:
"I've been asked so many times over the years to make a new version of 'Thong Song' and I have declined every time until I heard the new version that JCY did. I thought it was dope and figured maybe it was time to put some new rims on the Bugatti."
And while you might be super impressed with the new music video, Sisqo explained why it's missing some of his ground-defying moves.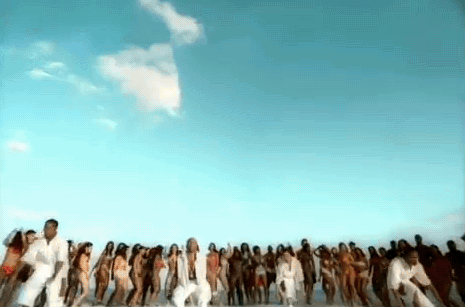 "The only problem was that, in the days leading up to the shoot, everything that could go wrong did. We experienced a devastating loss in our team and we were all pretty emotional, he said. "On top of that, I'd just done a show on the complete opposite side of the country where I dislocated three ribs. The epitome of insult to injury was the couple of hours we had to learn brand new choreography for the video right before recording it where in most cases you get a week to learn a new routine.
"Even though I had to perform in the video injured, I think it turned out pretty good."
Indeed it did. Thank you for this updated jam, Sisqo and JCY!