They decided to stop by the office and play a few games: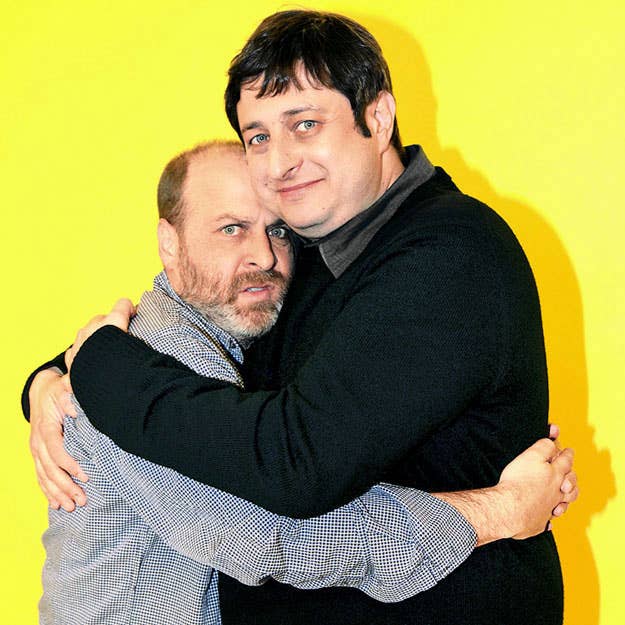 First up was the "Burger of the Day" challenge.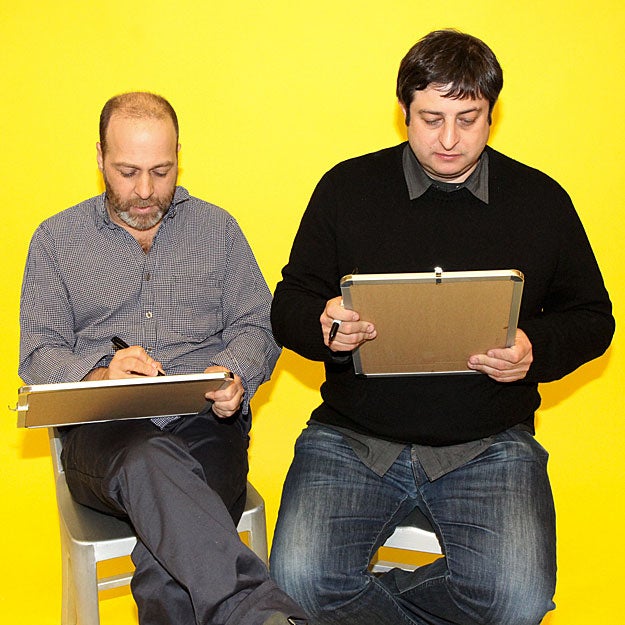 The rules: As an homage to Bob's Burgers brilliant food puns, Jon Benjamin and Eugene Mirman must come up with their own punny menu items in less than thirty seconds. GO!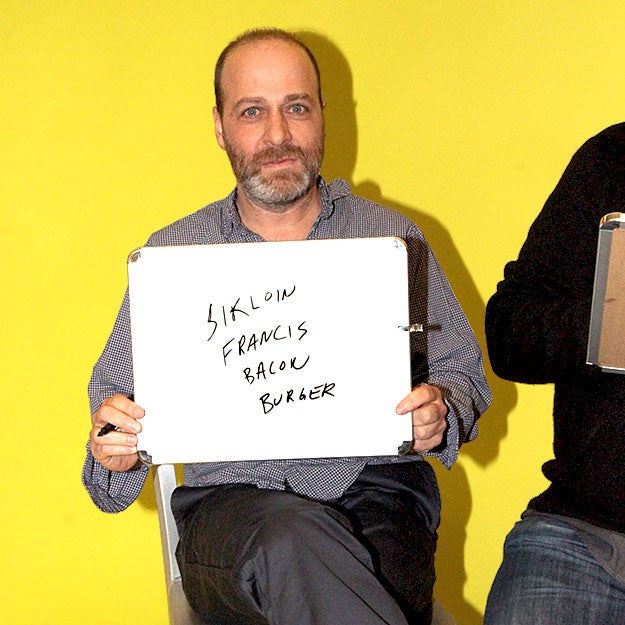 H. Jon Benjamin: Sirloin Francis Bacon Burger
Eugene Mirman: Kevin Bacon Burger (Comes With Kevin Bacon's Hair)
FOOD #2: Cronuts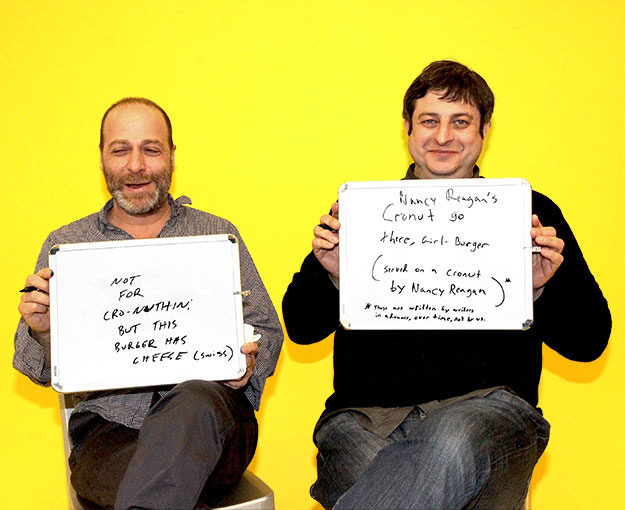 HJB: Not For Cro-Nuthin' But This Burger Has Cheese (Swiss)
EM: That's...that's not a thing.
HJB: That's at least a pun. Yours is just nonsense.
EM: Nancy Reagan's Cronut Go There, Girl Burger (Served On A Cronut By Nancy Reagan) and I wrote "These were written by writers in advance, every time, not by us" [at the bottom].
Next was the "Cartoon Battle" challenge.
The rules: Jon and Eugene must weigh the plusses and minuses of each cartoon named and pick one to stand behind.
April O'Neil or Jessica Rabbit?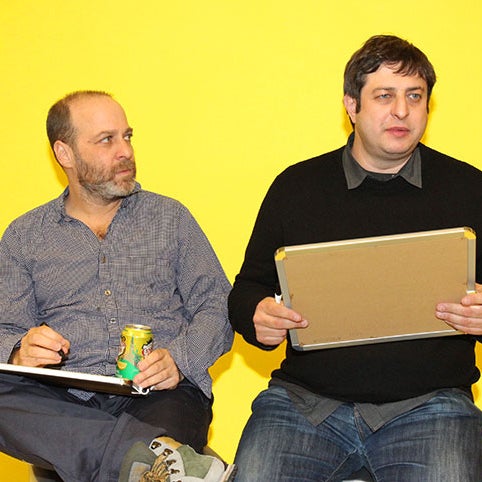 Both: Who's April O'Neil?
BuzzFeed: From Teenage Mutant Ninja Turtles, the sexy one in a yellow jumpsuit?
Both: Oh yeah!
EM: I've chosen April O'Neil, because she was in the Teenage Mutant Ninja Turtles, which I enjoyed as a young man...and also because you've forced us to pick one of two things we don't care about.
HJB: And I chose Jessica Rabbit because I didn't know who April O'Neil was.
Final answer: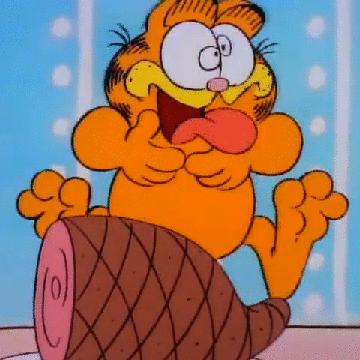 EM: Is Heathcliff a cat or a dog?
BF: He's a cat.
EM: I'm foreign, so a lot of what I ask is fine. Well, I came here when I was 4, so I'm not so foreign that I shouldn't know. Garfield likes lasagna.
HJB: They're both post-war cats.
EM: Yeah, exactly.
HJB: Heathcliff, what was his thing?
EM: He was a sexual predator.
BF: He owned the junkyard.
EM: I don't know anything about Heathcliff... OH, I'm thinking of Tomcat. Topcat?
HJB: Topcat.
EM: What's the difference between Heathcliff and Topcat?
HJB: Topcat is like the head of a gang.
EM: Yeah, a really nice gang of cats. And I'm going to say Garfield because I know who Garfield is, and all I know about Heathcliff was that he was a sexual predator.
HJB: I'm going to say Heathcliff because of Wuthering Heights.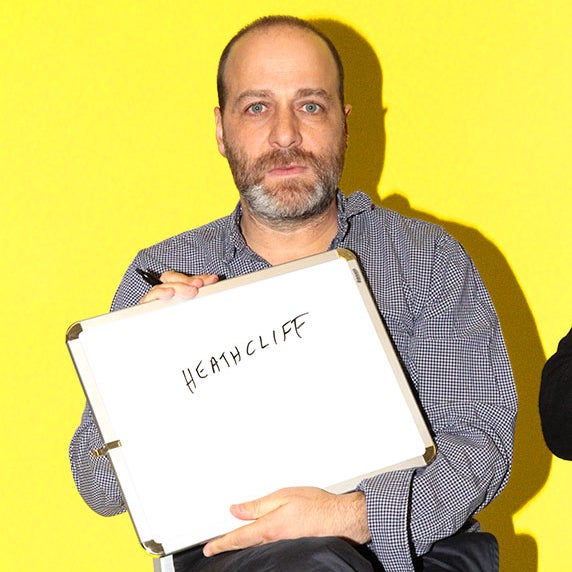 Peter Griffin or Homer Simpson?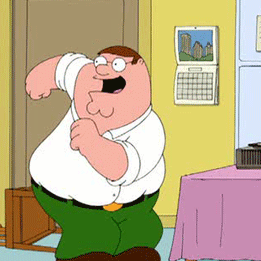 EM: The guy who started it all…
HJB: Homer Simpson.
EM: Because he's the forefather of animated dads.
HJB: Along with Jimmy Carter, the first animated dad.
Final answer: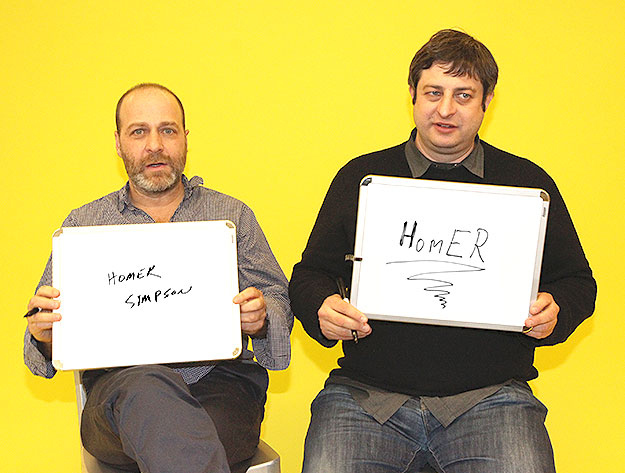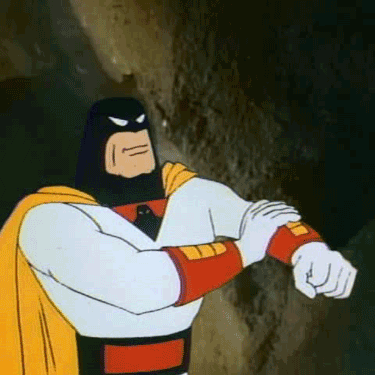 EM: The original space ghost? The original one, not the Adult Swim thing?
BF: Well, either one.
EM: Oh, but those are very different tones. I'm sorry, I'm really dragging you into this. Did Space Ghost have a friend who was also a hawk?
HJB: I think so.
EM: I'll pick the friend with the hawk... Space Ghost.
HJB: I'm going to say Gumby.
WJ: Why?
HJB: He's just...uhhh...I don't know anything about either.
EM: Well, Space Ghost had the genie and the kids who flew on the camel. It was all part of that, I think. Anyway, I'm going with Space Ghost because he was a lot of fun.
HJB: Gumby was claymation? I'll do Gumby because you got to give clay some credit.
EM: Yeah, for being -mation-y…
Final answer: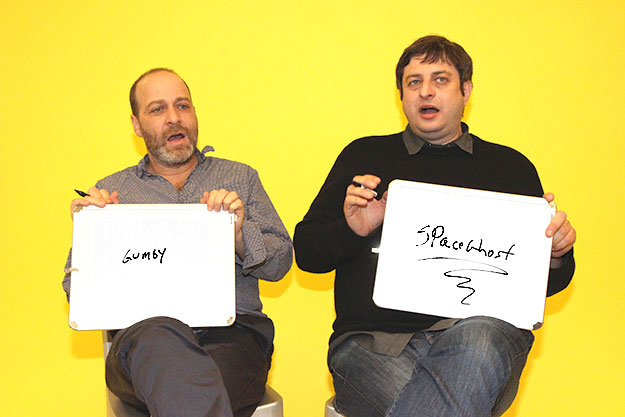 Mighty Mouse or Underdog?
HJB: It's a tough choice based on character, but I'm going to go with theme and pick Underdog.
EM: I feel like Mighty Mouse was just about a more serious, mightier mouse that really tried to get in there and help things while Underdog had a little bit of a dopiness —
HJB: Yeah, but I always root for the underdog.
EM: And in this case it's literally Underdog. What if the people who made that cartoon didn't know what the word "underdog" meant? And it was just like a happenstance?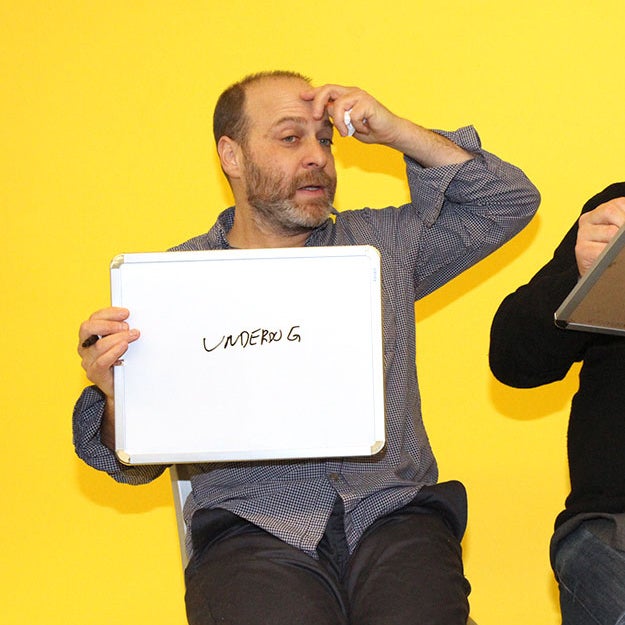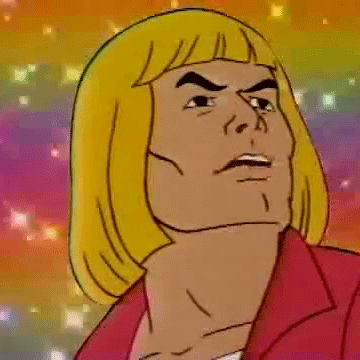 Both: He-Man.
BF: Tell me why.
EM: She-Ra was... She was fine. But they made her after.
HJB: And He-Man is my favorite name of a thing…and homoerotic, Christian right-wing cartoon character ever.
EM: He rides a tiger!
HJB: A tiger that symbolizes clearly Jews.
EM: Christians riding around on the tiger of Jews.
Final answer: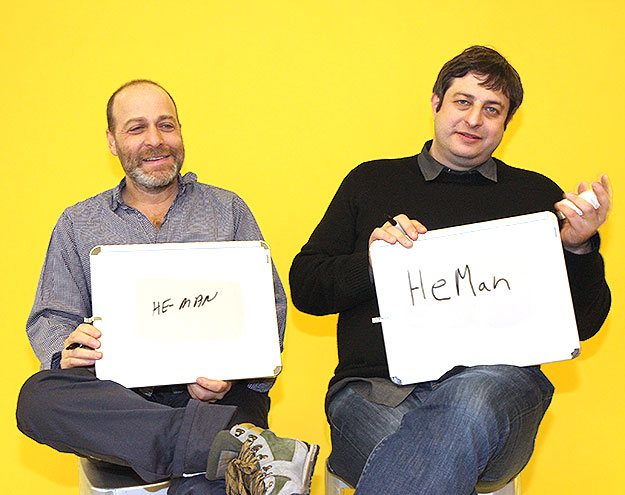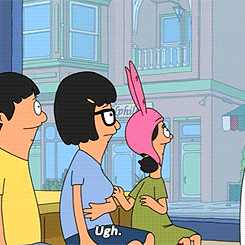 What time is Bob's Burgers moving to on FOX?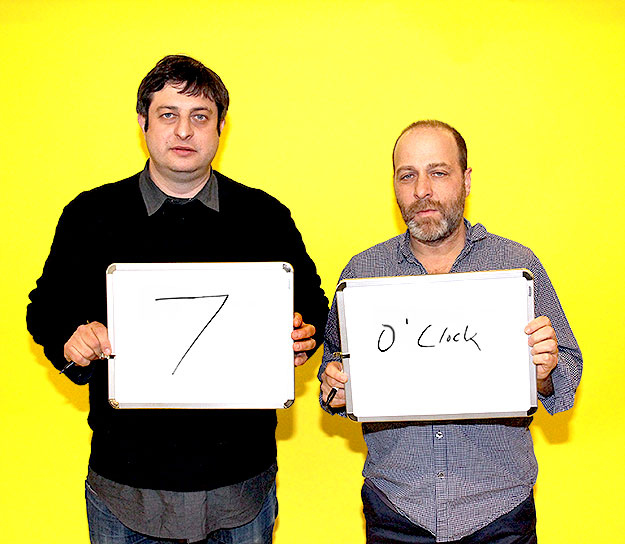 Nice job, everybody.
Bob's Burgers airs Sundays at 7pm EST on FOX starting on March 9.