If you missed HBO's 7 Days In Hell this weekend, SORRY! You really missed out. For two reasons.
1. It's 42 minutes of comedy gold filled with ludicrous situations and spit-out-your-drink, laugh-out-loud moments.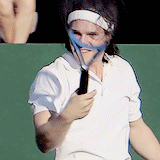 And 2. Jon Snow's abs on display.
I repeat, 🚨 JON SNOW'S ABS ON DISPLAY. 🚨
Same, Michael Sheen. Same.