It's late Sunday night, and I'm in a van with my Boo Crew. There's a huge stuffed dog in the backseat, and we're tired and delirious. Eventually, when we get back to Williamsburg, Brooklyn, we'll have to find a parking spot and say goodbye. But for now, we're telling ghost stories until we scream and stuffing our faces with beef jerky.
Let me back up a bit.
A few weeks ago, three of my co-workers invited me along on a road trip from Williamsburg, Brooklyn, to Williamsburg, Virginia. The mission: to travel from one Williamsburg to the other, in search of America's history and to learn more about Williamsburg, Virginia, along the way.
Of the four of us, I was the only one who'd been to the VA 'burg. I'd gone twice in middle school, but hadn't been back since.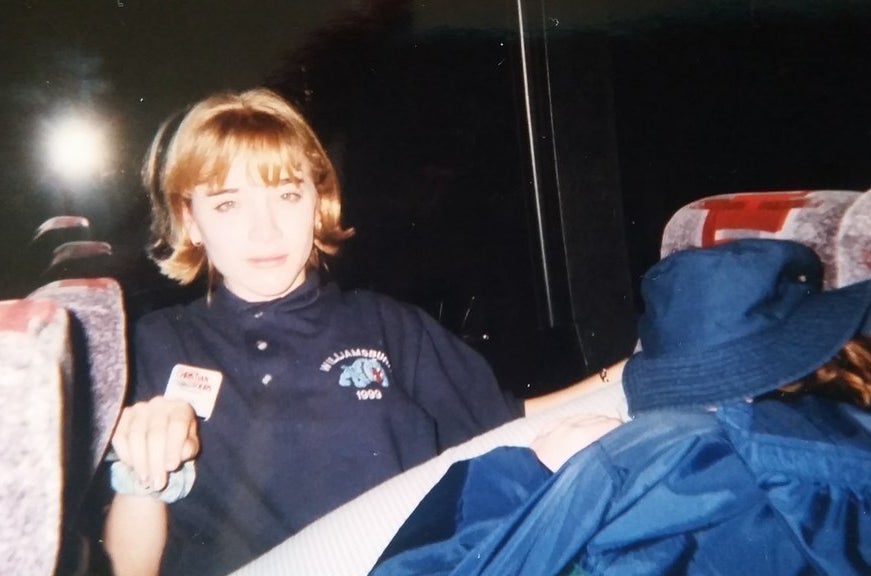 So I said YES to their invite. I was excited to return, not just because this was a prime opportunity to get to know my co-workers and eat road-trip snacks but because I wanted to know if Williamsburg was the same as when I'd last visited, or if, like me, it had grown up.

We met in Brooklyn on a Thursday afternoon, at a location that was fittingly situated between a pizza place and a building of renovated warehouse apartments. Already our trip was feeling very Williamsburg, Brooklyn.

Jason volunteered to drive, and we hit the road in a champagne van we named Kiki (then later renamed Eleanor). As we drove, memories of re-enactors in Colonial garb, roller coasters, and masses of pubescent middle schoolers flooded my brain.
Aside from a late dinner at a general store and a stop for gas in New Jersey where the attendant asked us "which flavor of gas" we wanted, the easy trip down was pretty uneventful.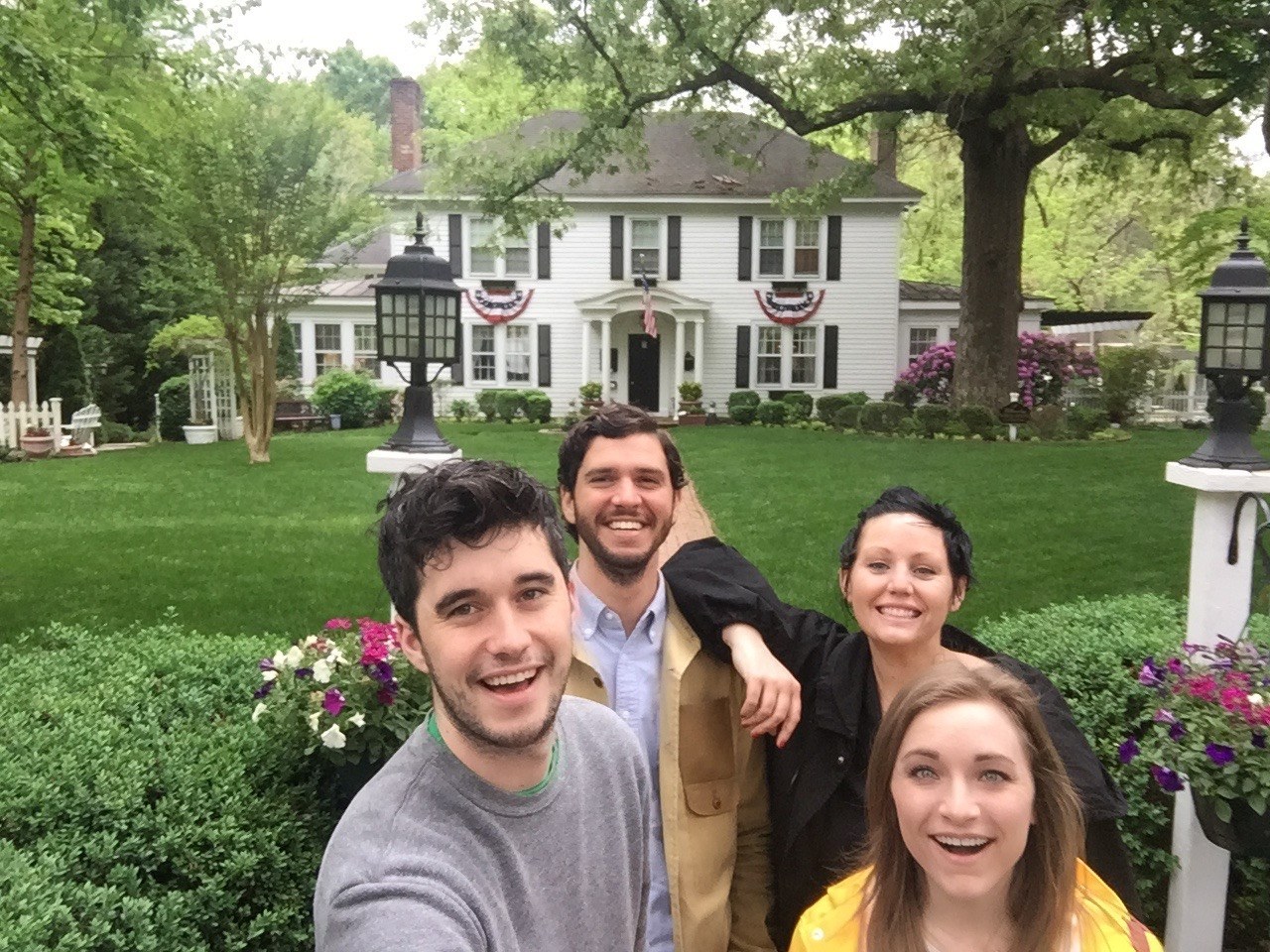 When we woke up Friday at The Williamsburg White House Inn, I momentarily forgot where I was. Looking around the Presidential room, I felt like I was Eleanor Roosevelt. Our suite was an ode to America's history and the perfect place to start our day.
We made our way to the Jamestown Rediscovery Foundation, aka Historic Jamestowne.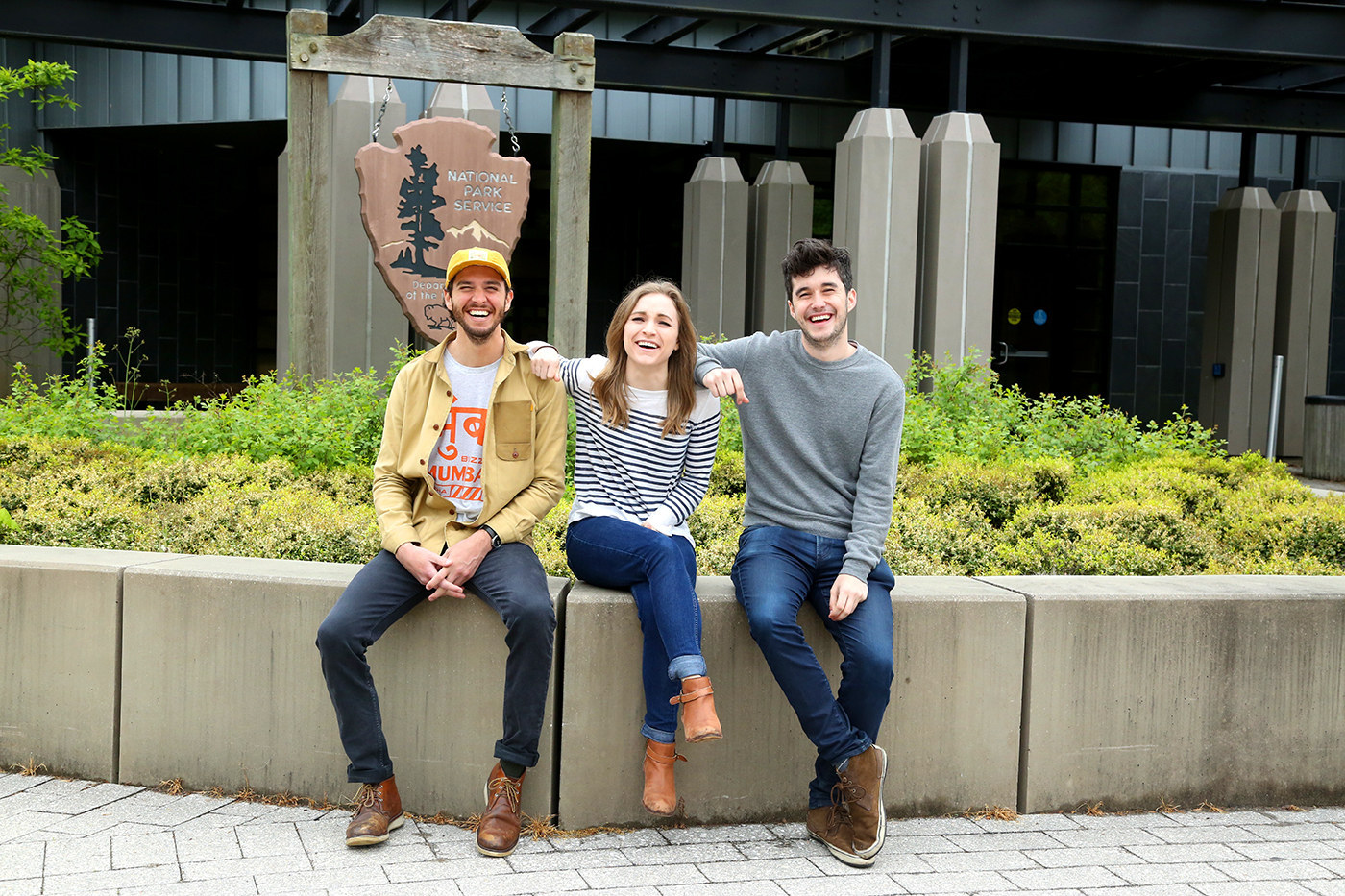 I'd definitely been here before, but I couldn't remember much. I suspected that Pocahontas was a major player here, but held my tongue for fear I might be wrong.
I WASN'T WRONG. The daughter of the local Powhatan chief, Pocahontas had lived here. In fact, we stood just feet from the church where she married John Rolfe. Led by Danny, one of the Foundation's enthusiastic archaeologists and our new best friend, we learned all about James Fort, Captain John Smith, and those first English settlers. It was FASCINATING. There was famine, there was cannibalism, and looking out at the James River, it was easy to imagine the settlers arriving and struggling to build their lives here.
(On a personal note, during our visit, I wondered if perhaps my late great-uncle Stanley, who had been an archaeologist, had ever worked there. I asked Danny if the name Stanley South was familiar. It was. He knew of Stanley and mentioned they had even posted a tribute to him. It was a special moment I won't soon forget.)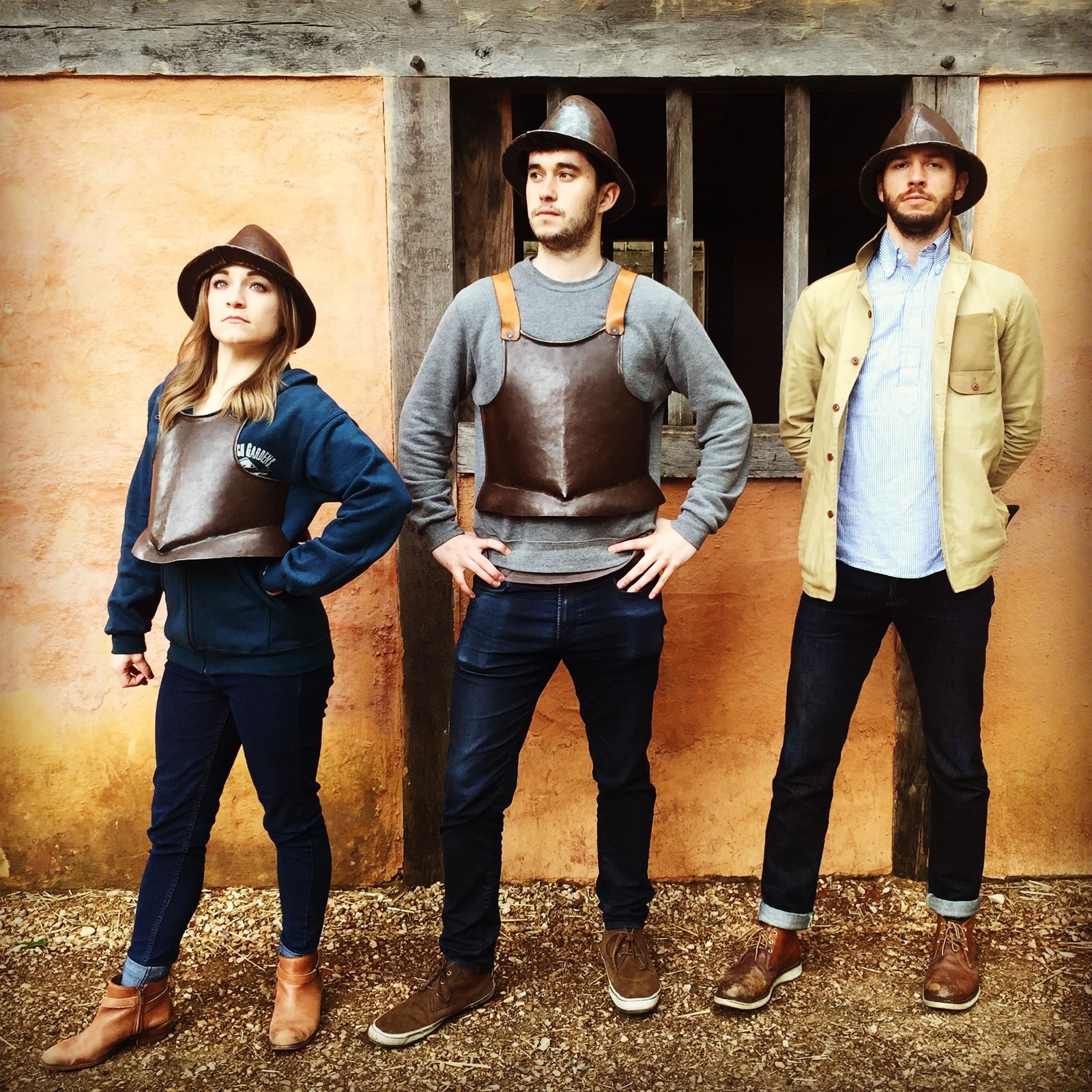 Not to be confused with Jamestowne with an E, we also visited Jamestown Settlement. Now this I remembered from middle school. Jamestown Settlement allows you the opportunity not only to imagine life as a historic settler at James Fort but to relive it. Andrew, Jason, Aubree, and I learned about Powhatan cooking methods, canoe-making, and how the Powhatan built and maintained their homes.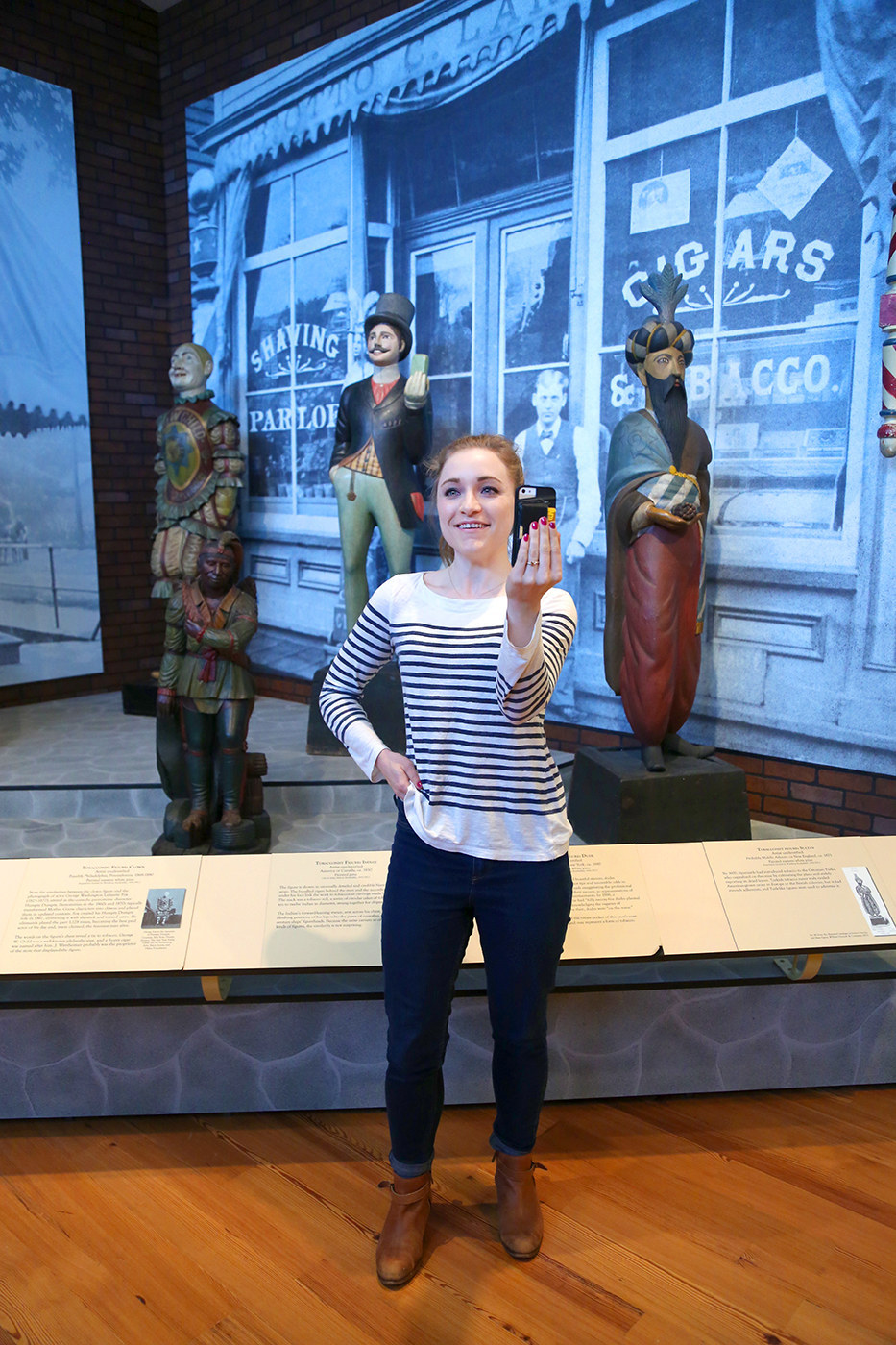 We tried on armor similar to what the settlers would have worn and played their version of bowling called Nine Pins (I won, of course!). We even tried our hand at loading cargo. No wonder I'd had fun in Williamsburg as a kid. Without a hint of hipster irony, we were having the time of our lives living in the past! And we wanted more.
Naturally, that led us to Colonial Williamsburg. We toured the DeWitt Wallace Decorative Arts Museum and the Abby Aldrich Rockefeller Folk Art Museum, marveling at a collection of insanely detailed dollhouses and agreeing that a young George Washington would fit right in in hipster Williamsburg. We checked out some folk art, rare artifacts, and learned Martha Washington was married before she and George got hitched. Who knew?!

When our time at the museum ended, we walked over to the Spa of Colonial Williamsburg, where services are inspired by treatments of the past. The whole place smelled like a lavender dream, and I wanted very badly to retreat to one of the private rooms to live out the rest of my days. But dinner was calling, and I was afraid my co-workers might be Hangry People, so we made moves to Christiana Campbell's Tavern, supposedly George Washington's preferred spot for seafood. Re-enactors filled the place, and we received quite the history lesson from "Christiana Campbell" herself. ;)
When we left a couple hours later, it was hard to tell if everything seemed foggy from the weather or the drinks we'd had. Now, I'm not saying ghosts are real, but I'm not not saying that either. And when you're in a town known for its history, and it's dark outside, and the weather is gloomy, YOU TAKE A GHOST TOUR.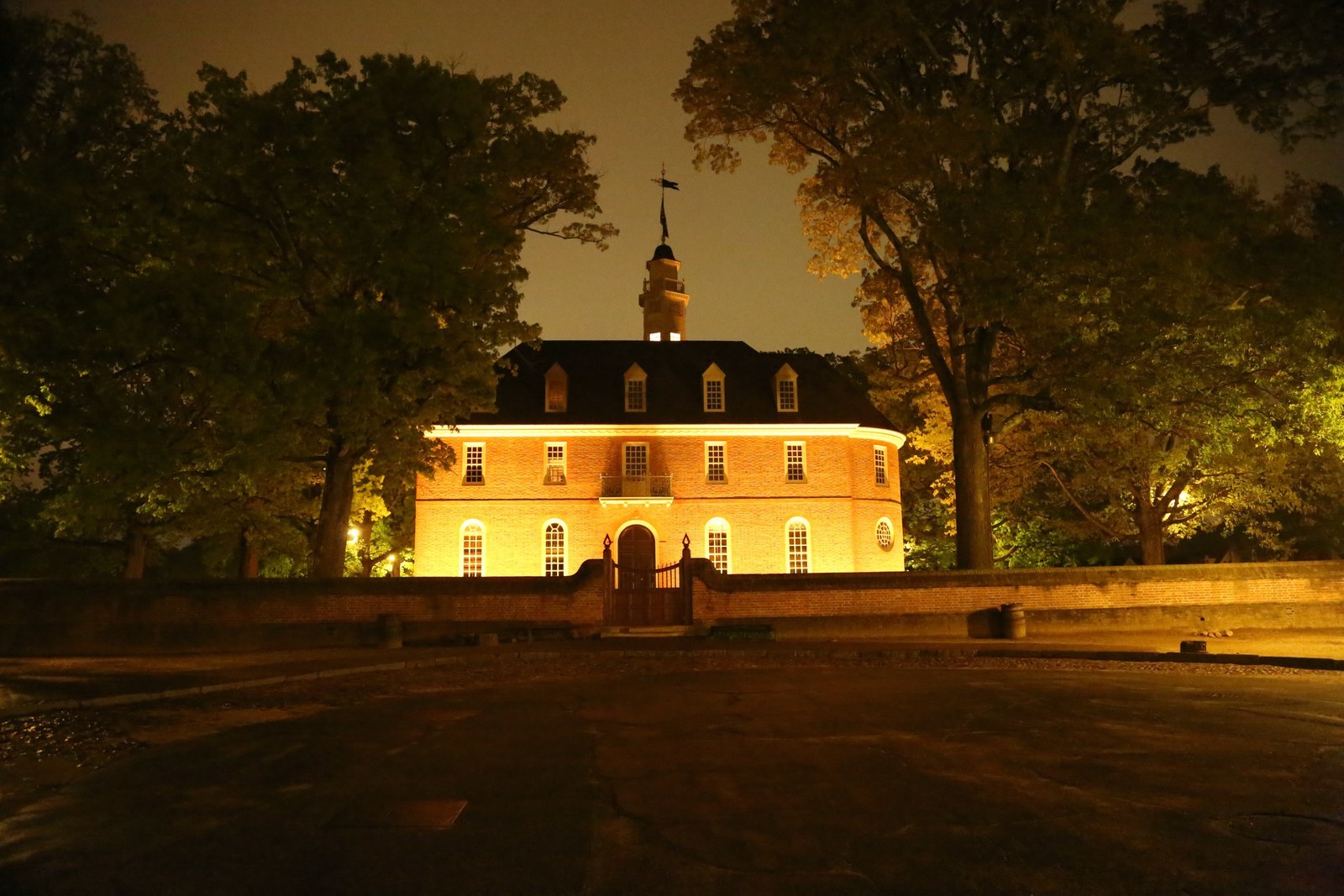 We chose the Official Colonial Williamsburg Ghost Walk, and listen, I can't really relay the stories to you because (1) that would take too much time, and (2) I wouldn't be able to tell them nearly as well as our guide did, but if it helps, it was after this tour that we changed our group text name from "Williamsburg" to "Boo Crew." And also we definitely slept with all of our doors open so we could check on each other to make sure none of us went missing in the night.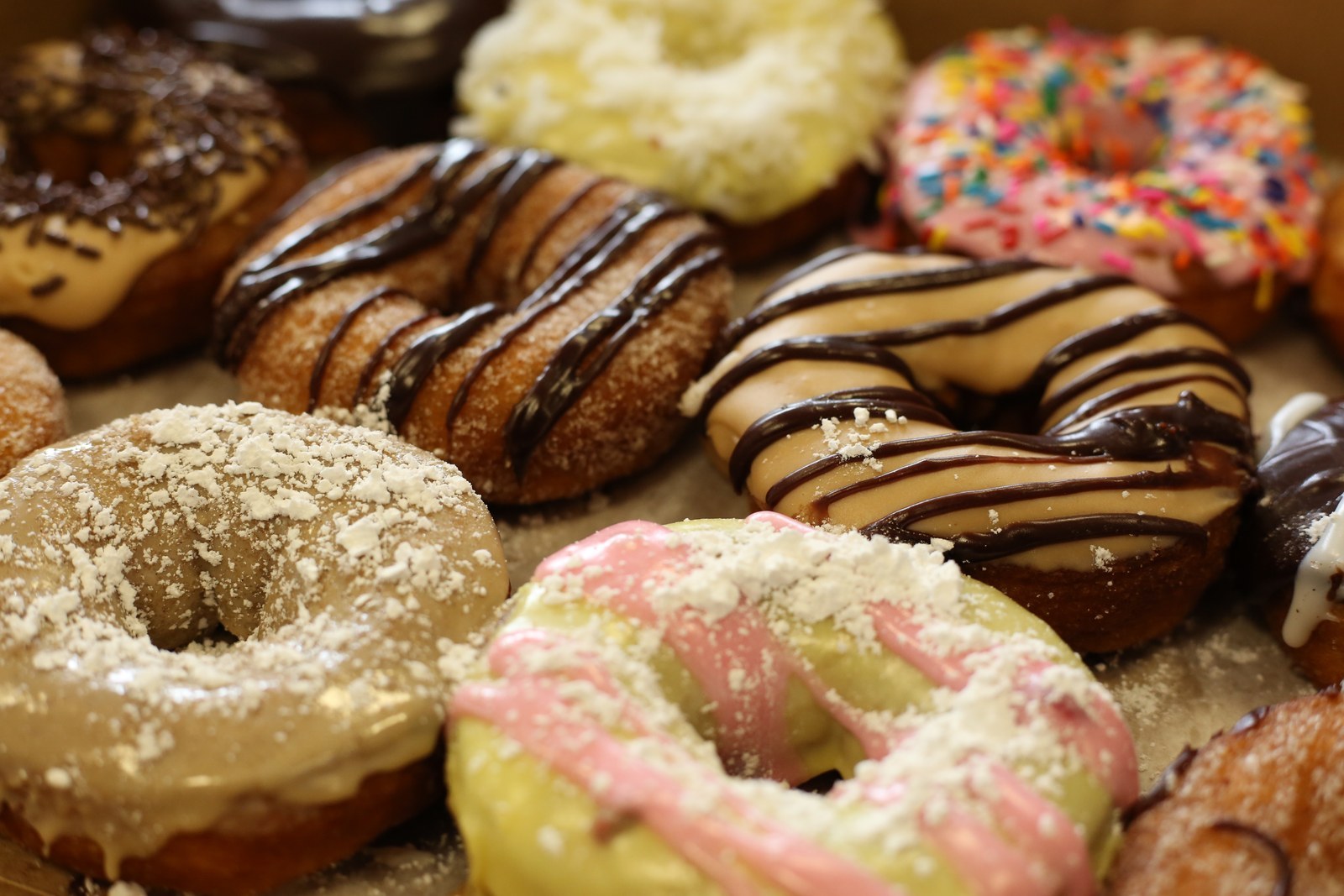 Saturday began the way every day should: with doughnuts, cheese, and the farmers market. Duck Donuts is famous along the East Coast, and for good reason. The caky concoctions are served warm and made to order with crazy glazes and toppings. We were treated to a bucket (aka 18 doughnuts) in flavors such as strawberry lemonade, French toast, peanut butter chocolate, blueberry, maple bacon, and I'm drooling, how about you?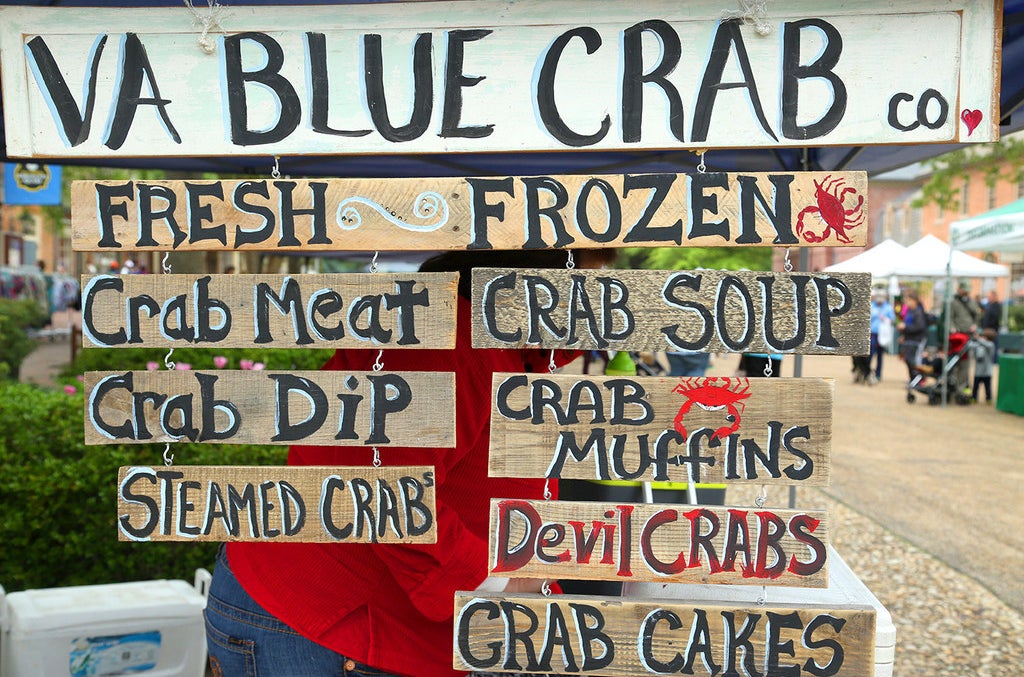 Like true Americans, we weren't going to let 18 doughnuts hold us back. We stopped by The Cheese Shop, famous for its sandwiches, house dressing, and (duh) cheese selection. With plans for a picnic in Yorktown later, we stocked up on cheese and grabbed a few essentials from the farmers market just steps away. Fun thing about Williamsburg: There are a lot of GOOD DOGS. Friendly dogs, tail-wagging dogs, dogs dressed like strawberries. If you're a dog fan, go to Williamsburg. I don't know what it is, but I'm adding it to the reasons why Williamsburg is awesome.
Anyway, our next stop was Busch Gardens. I'd been looking forward to this part of the trip in particular because I LOVE THEME PARKS! I went to Busch Gardens in eighth grade for a band competition. I was just OK at clarinet, and I can't even remember if we did well, but I do remember running around the park in a shapeless plastic poncho, riding rides, and making fun of my friend Momo for not wanting to ride Apollo's Chariot (sorry, Momo!).
"I feel so comfortable here." Jason said that as we entered the park and snapped a selfie. The FUN was to begin here...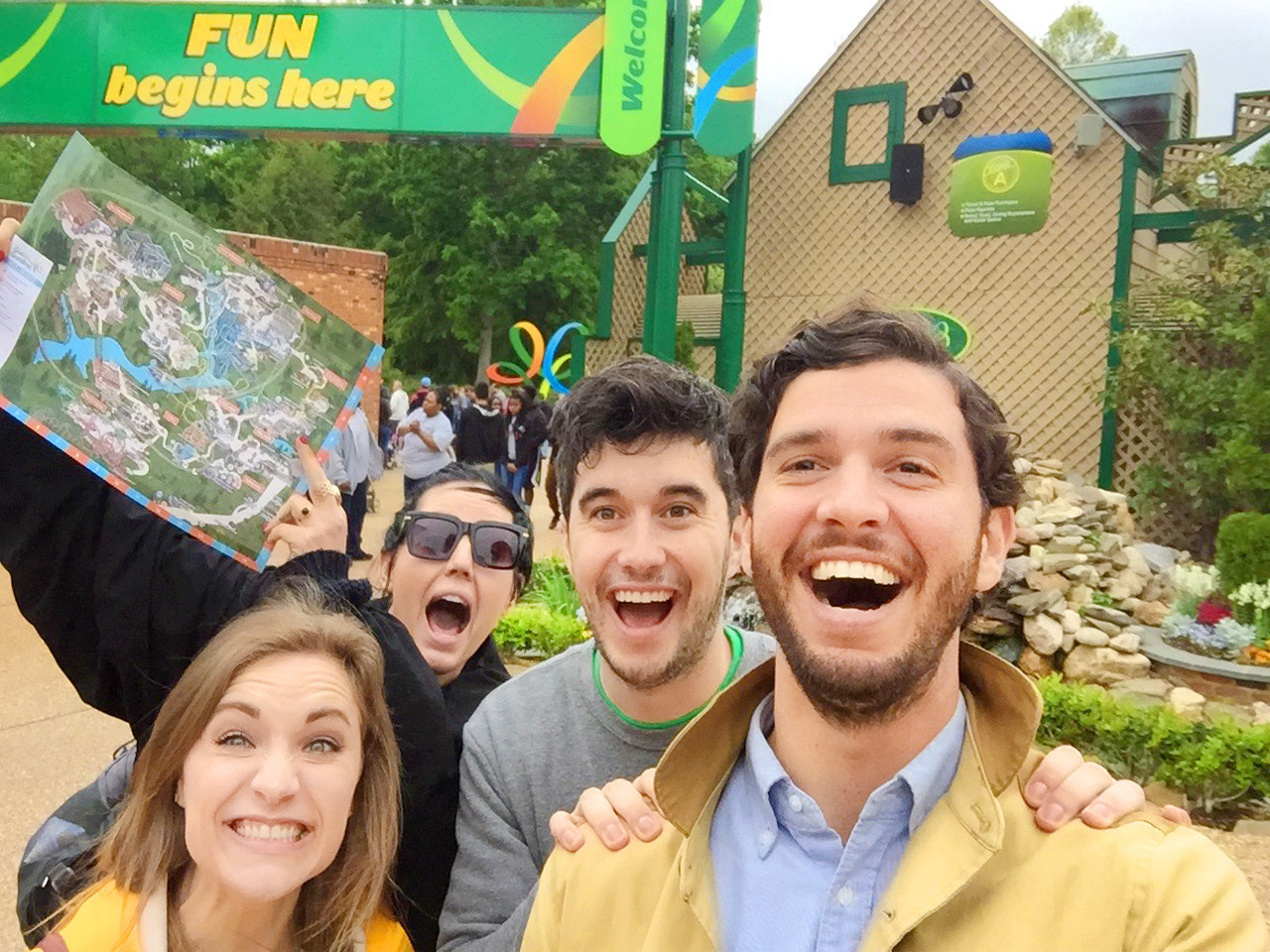 ...AND BOY DID WE HAVE FUN! We went to a real, live, behind-the-scenes wolf training where we met a wolf named Odin and another named Kitchi. We learned how they're trained, we howled with them, and we even got to ask them to perform a behavior for us. It was magical and unlike anything we'd ever done before! We got our faces painted. We rode in the front row of a new ride called the Griffon that has a 90-degree vertical drop and incredible views. We lost our voices from screaming so much. I bought a Busch Gardens sweatshirt. We got a caricature made and immediately posted it to Instagram. Jason won a giant stuffed dog, and we named it after Danny from Jamestowne with an E. Then he caught seven pretzel bites in his mouth IN A ROW! SEVEN!!!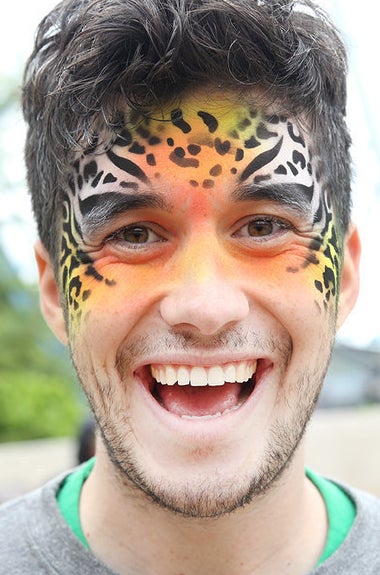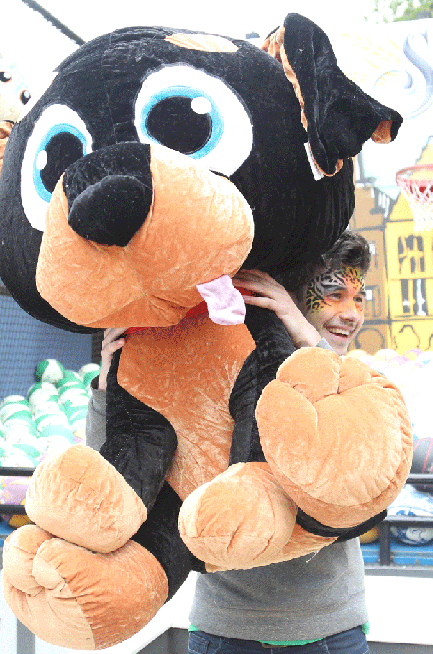 Busch Gardens was even better than I'd remembered. There's a reason it's been named the World's Most Beautiful Theme Park every year since 1990. Children and their parents and students and their chaperones and friends and families alike were thrilled to be there. But after six or so hours, it was time for us to leave.
The rest of our night was spent on a whirlwind tour of the Williamsburg nightlife. Dinner was at Blue Talon Bistro, a bright brasserie offering amazing French-American fare and chocolate mousse that arrives with a "say-when" delivery! We filled up on craft beers at the newly opened, used-to-be-an-auto-body-shop Virginia Beer Company. The space now boasts a well-lit brewery/taproom/beer garden with fire pits for added value, and I'd be lying if I said we didn't wonder for a moment if we were back in Williamsburg, Brooklyn.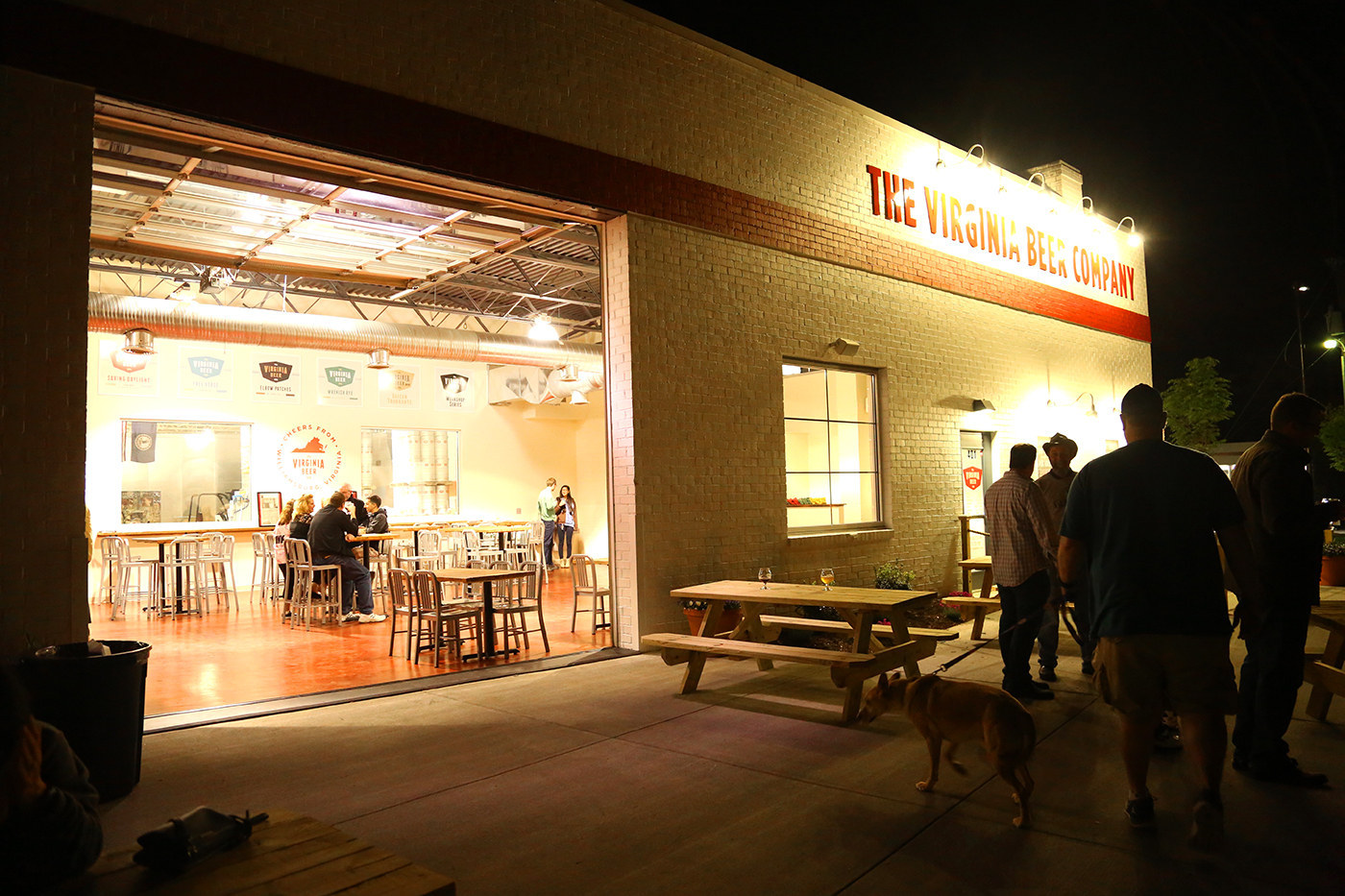 Though Chris and Robby (the v. cool owners) offered us a couch to crash on, we had more drinking to do — except for Jason, who was DDing like a hero — so we moved on to the DoG Bottle Shop, a unique pub and bottle shop offering hundreds of craft beers (and sodas) from all over Virginia and beyond.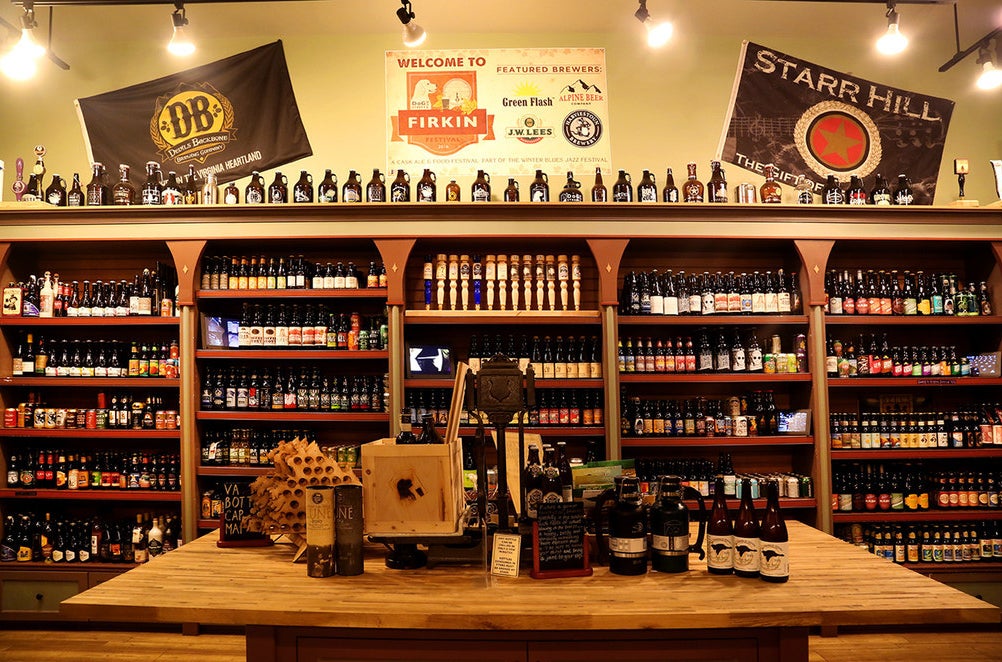 Our final stop of the night took us to Hound's Tale, a bar and restaurant downtown serving popcorn and decorated with literary dog portraits. We ordered a few nightcaps, including their signature drink, the Ophea, named after and inspired by the owners' bulldog. ADORABLE!
The next morning, we were desperately in need of...something. So we packed up our cheese and farmers market finds and headed to Yorktown, where the build-your-own Bloody Mary bar and food at Water Street Grille SAVED OUR SOULS. Honestly, we were goners until then.
Unfortunately, as soon as we left, it started pouring. Biking the awesome Yorktown trails and our idyllic picnic would not come to be. We were bummed, but we made a quick stop at the historic battlefield to ease the pain. We'd been having such a great time living the modern side of Williamsburg that the battlefield was a welcome reminder of how much interesting history fills the Greater Williamsburg area.
We took the fun back inside with a stop at Alewerks Brewing Company. With live music playing, the taproom filled up fast with families and groups of friends, eager to do something fun on a Sunday afternoon. After a tour of the brewery, we said goodbye and went next to Silver Hand Meadery. Glenn Lavender, the owner and operator, had just recently opened the place after years of touring as a musician. He was tattooed and friendly (he'd fit in perfectly in the other 'burg) and his wife hosted tastings behind us as we learned more about mead. Carrying on, we stopped by Williamsburg Winery for an awesome tour, wine tasting, and much needed lunch. Finally, we headed to Opus 9 Steakhouse for a few cocktails. We shared a few sweet cosmos and called it a day.

Just as the sun broke through the clouds, it was time for us to head home. It was kind of poetic, actually. With Danny the Dog in the backseat and our fancy cheeses safe in a cooler, we made our way back up I-95. When it got dark, we read scary stories from online, and when we needed more snacks, we found rest stops. We were exhausted, and truthfully, a little disappointed to be returning to the Brooklyn Williamsburg.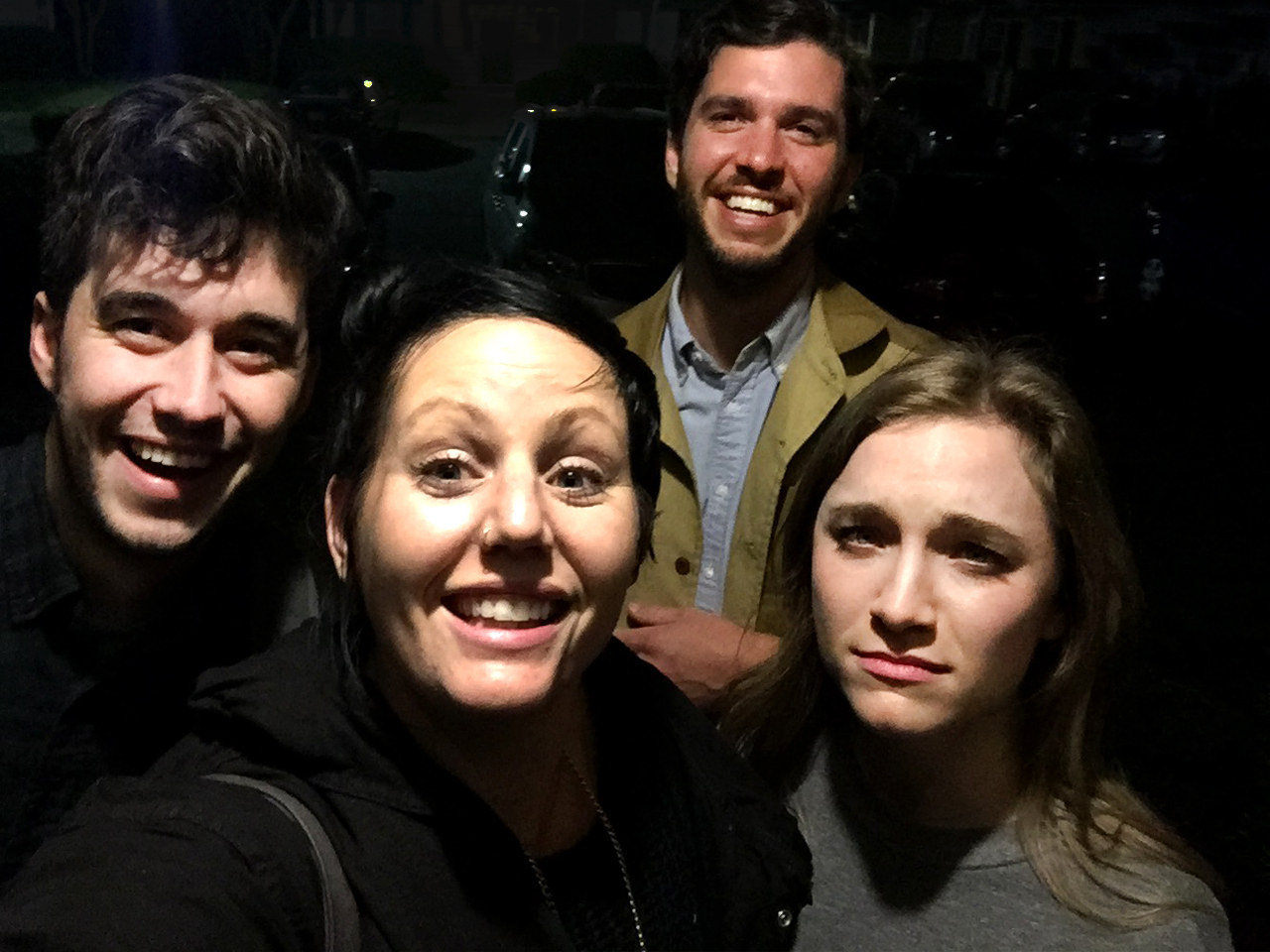 Over a fast and furious three days, we'd seen so much of what Williamsburg has to offer, and truthfully, there's a lot we didn't even get to see. Each place we visited felt unique to the area, and it was clear they all operated with a united goal: to make Williamsburg awesome. In the meantime, we'd gone from co-workers to friends to the Boo Crew, and — I'm being totally honest here — we loved every minute of it.
Williamsburg, Brooklyn, you've got a lot to live up to now.


Me too.

Plan your own unforgettable road trip to Williamsburg, Virginia. You won't regret it.

Unless otherwise noted, all photography by Aubree Lennon / © BuzzFeed.

Illustrations by Dan Blaushild for BuzzFeed.