The Supreme Court speaks out
On December 10, the Supreme Court of the Russian Federation issued an update on case 5-D13-67, ordering the Moscow city court to investigate the legality of the verdict that sent Pussy Riot's Nadezhda Tolokonnikova, Mariya Alyokhina, and Ekaterina Samutsevich to prison. (Samutsevich was subsequently released.)
The news took Pussy Riot's supporters by surprise, though it's precisely what the women's lawyers have been fighting for. Irina Khrunova, Nadezhda Tolokonnikova's attorney who works for the human rights NGO Agora, says the motivation and basis for the Supreme Court's decisions remain unclear as the lawyers have not seen the text of the decision and are only aware of its favorable outcome. The Court may have cited technicalities or disagreements over punishment or the material substance of Pussy Riot's "crime."
Yet even without the statement from the Supreme Court, we have a confirmation that Irina Khrunova's supervisory appeal was accepted and sent to Moscow's city court, which should soon set a date for a hearing where Pussy Riot's lawyers will be present. Irina Khrunova warns that the decision doesn't imply that the verdict will be annulled, yet it's a good sign that Russia's highest judicial body is disagreeing with the verdict that sent her clients to penal colonies.

Vladimir Putin's amnesty bill
On Monday, Vladimir Putin submitted an amnesty bill to the Russian parliament. Though it doesn't name names, the bill offers more hope to Nadezhda Tolokonnikova and Mariya Alyokhina who could be freed because they committed no violent crimes and both have small children.
The bill is still a long shot, and lawyer Irina Khrunova is particularly cautious about its future, after all it must first be passed by the parliament. Khrunova told ITAR-Tass they could fall under amnesty but that it would only be clear after it is passed by parliament.
"I very much hope so," said Irina Khrunova when asked whether she believed Nadezhda Tolokonnikova - due for release in March - would be free by January 1. "If the prison authorities drag this out, we will take measures."
Time for clemency?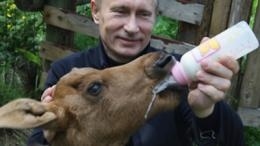 Will it work?
Nadezhda Tolokonnikova's and Mariya Alyokhina's families want nothing else but to celebrate New Year's in their company, at home. Will Vladimir Putin allow it? It's unclear even though you'd think Russia's unpredictable leader has plenty of reasons to improve his global image by signing off on a broad amnesty plan.
Ironically, the amnesty will mark the anniversary of the adoption of Russia's post-Communist constitution in 1993, an event many argue eventually led to the creation of a presidential republic with an executive branch that consolidated power in its hands, making the parliament irrelevant and instilling 'legal nihilism' in courts.
The roots of Vladimir Putin's proposed amnesty: the constitutional crisis of 1993.