When you think about cereal box prizes, things like bobbleheads, toys, and CDs probably come to mind.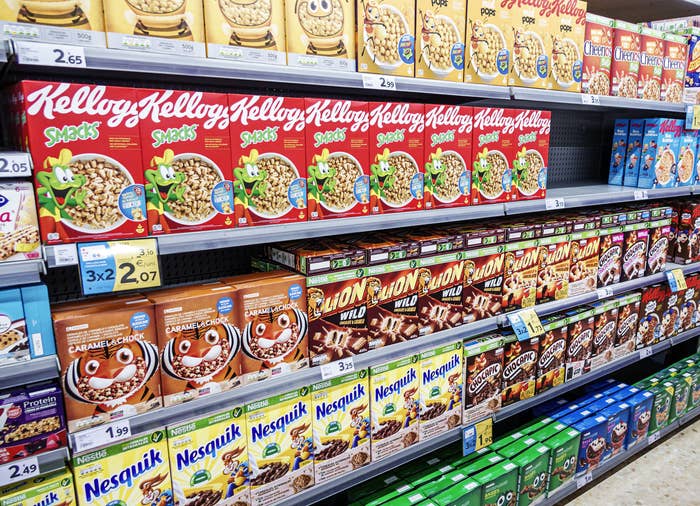 But what about period products? Loopholes, launched this year on International Women's Day, offers just that. In every Loopholes cereal box, there are a total of five tampons and pads.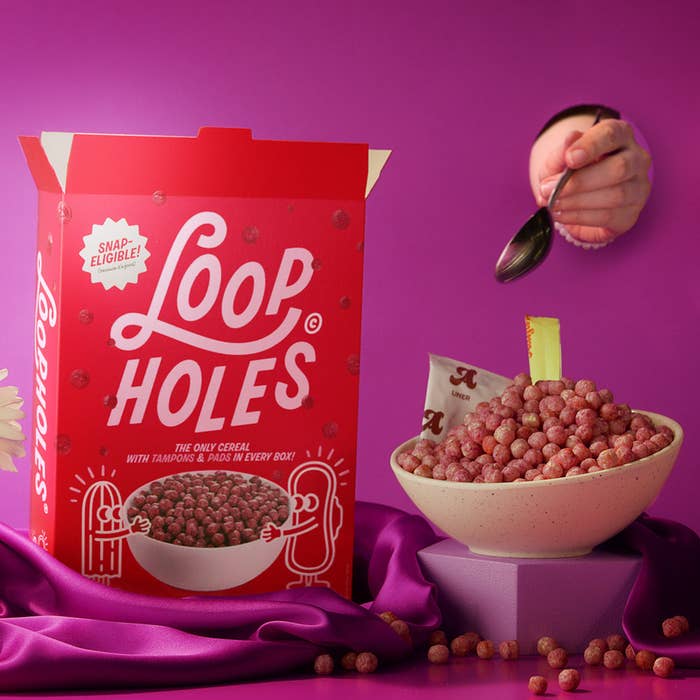 Now, your first thought might be, Why? Well, 1 in 4 teenagers who menstruate in the US don't have access to period products, and federal programs don't cover them. However, they do cover foods. So, Loopholes merged cereal and period products to create "one glorious, technically federally-funded, SNAP-eligible breakfast." It is, quite literally, a loophole. Just check out their catchy ad:
Your next thought might be, Why don't federal programs cover period products? Though the FDA classifies period products as "medical products," SNAP and WIC classify them as "luxury products." So as luxury products, they're excluded from coverage. For reference, luxury products also include pet food, alcohol, and cigarettes. Likewise, 27 states tax tampons as luxury items, further contributing to menstrual inequity and period poverty.
In 2018, a New York Times article pointed out the frequent refrain: "Why are tampons taxed when Viagra is not?" On the flip side, studies predict the "global feminine hygiene products market" will reach more than $51 billion by 2027.
There's only one catch: Loopholes aren't real. The fictional cereal was launched by creative agency 72andSunny New York. The plant-based, gluten-free, organic cereal itself is actually OffLimits Sparks Cereal, and the period product "prizes" come from August, a period care company that makes 100% organic cotton and fully biodegradable period products. While the cereal brand may be fake, it aims to raise awareness of the very real crisis of period poverty and the Menstrual Equity For All Act (ME4ALL).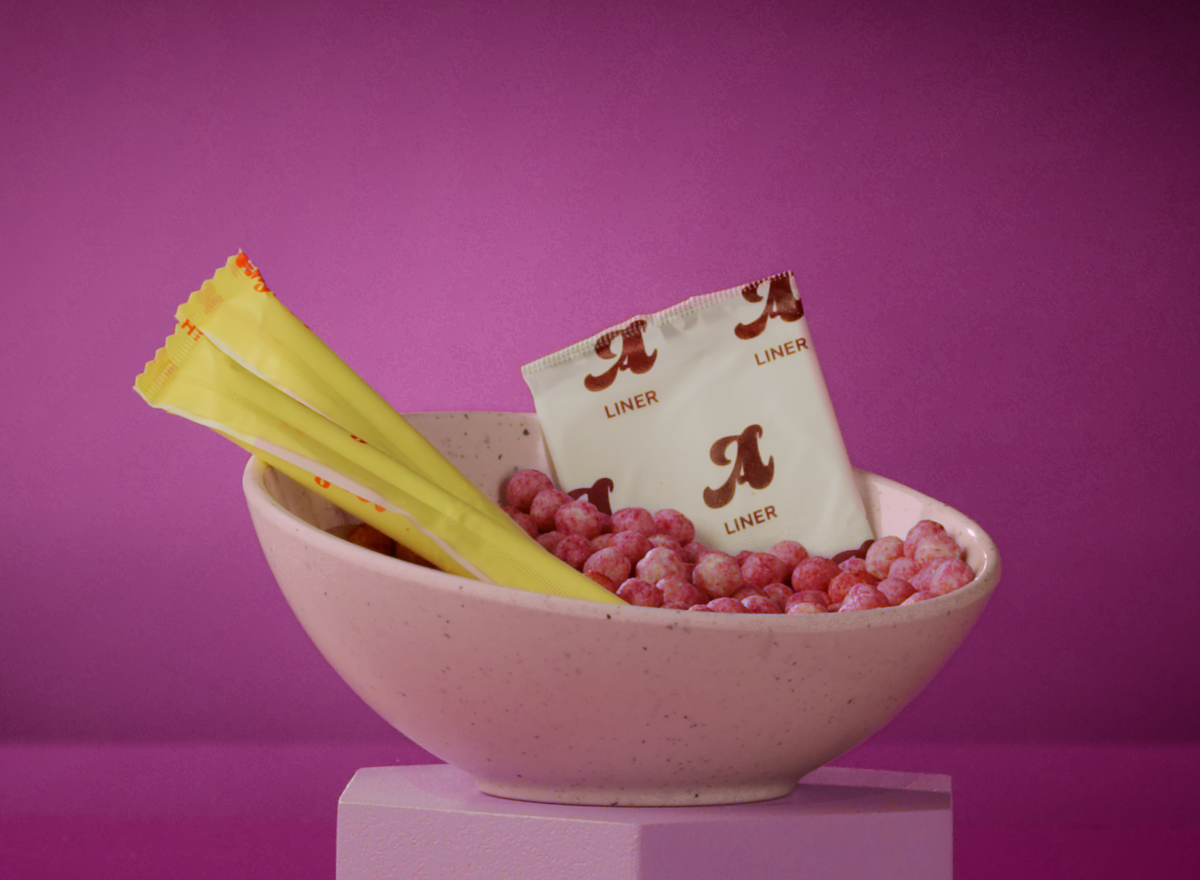 Introduced in 2021 by US Rep. Grace Meng (D-NY), the Menstrual Equity For All Act is a comprehensive bill that seeks to address period poverty and help people who menstruate afford and access needed period products. To support ME4ALL, the back of the Loopholes box has a punch-out postcard that consumers could ideally send to their representatives, urging them to sign the bill.
Despite its lack of visibility, period poverty is a public health crisis. Nearly 1 in 4 US students have experienced period poverty. During the COVID-19 pandemic, 16% of US students have had to choose period products over food or clothes. Period poverty and menstrual inequity also affect incarcerated individuals and detainees, as many prisons charge for and restrict period product access, forcing many individuals to reuse single-use period products.
To directly combat these inequities, ME4ALL aims to provide students — in schools, colleges, and universities — with free menstrual products; ensure incarcerated individuals and detainees have access to free menstrual products; and allow homeless assistance providers to use grant funds that cover shelter necessities to purchase menstrual products.
Other components of the bill include requiring Medicaid to cover menstrual products; directing large employers with more than 100 employees to provide free menstrual products in the workplace; and requiring public federal buildings to provide free menstrual products in restrooms.
To learn more about Loopholes, BuzzFeed spoke with Nadya Okamoto, the co-founder of August, the period care company that provided the period product prizes. "It was a perfect fit," Nadya, who's worked in the period advocacy space for eight years, said of the partnership. "We're strong advocates of menstrual equity and have talked on social [media] about the ME4ALL Act before. We were not only excited to be a content partner but more than ready to donate the tampons and pads to bring this campaign to life."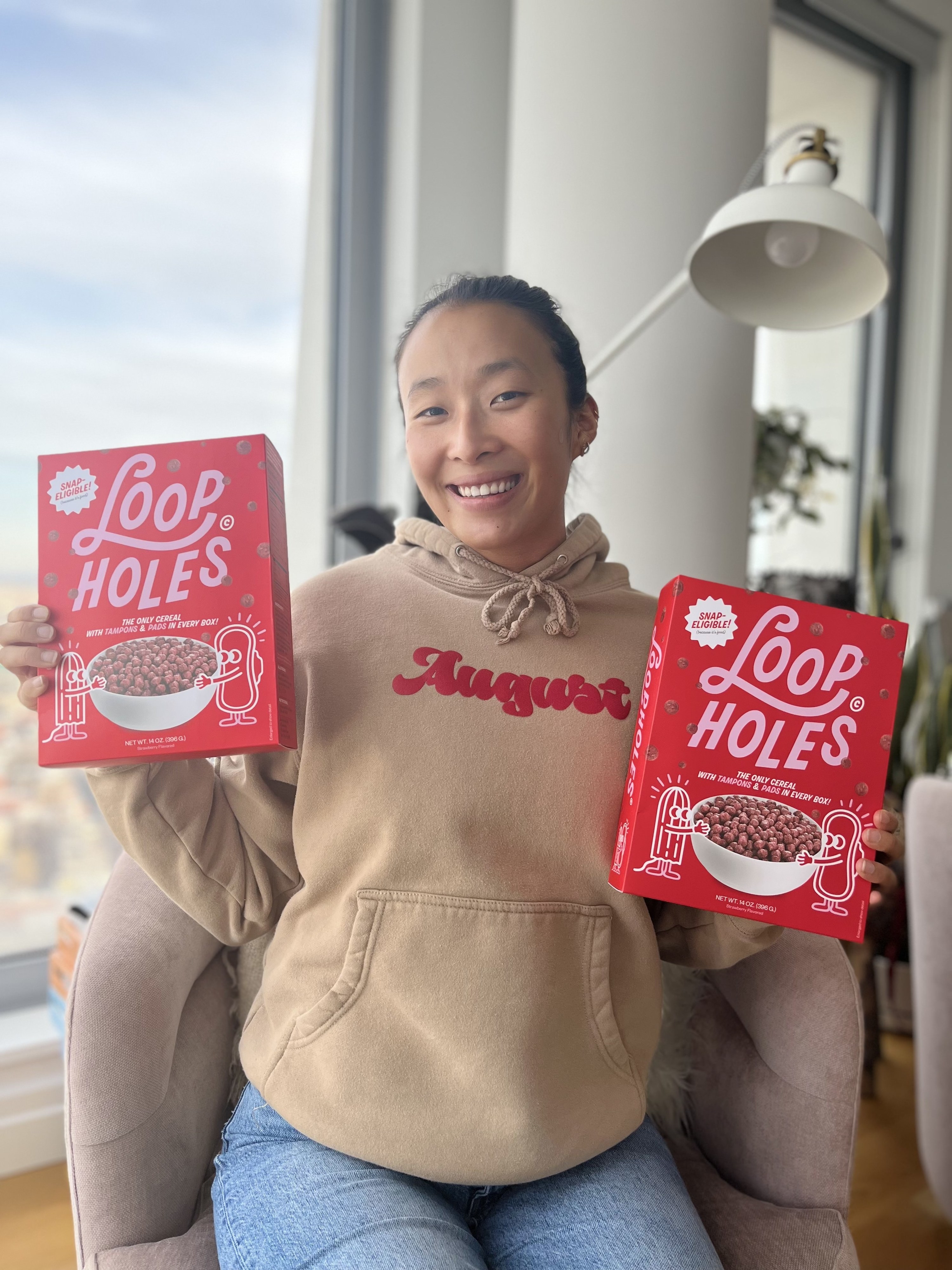 Nadya described Loopholes as a statement on period poverty, underscoring how federal programs cover cereal but not period products, a necessity for anyone who menstruates. When discussing how ME4ALL would make period products more accessible in schools, shelters, and prisons, Nadya pointed out, "Period products should be free to people at these places, just like toilet paper is available."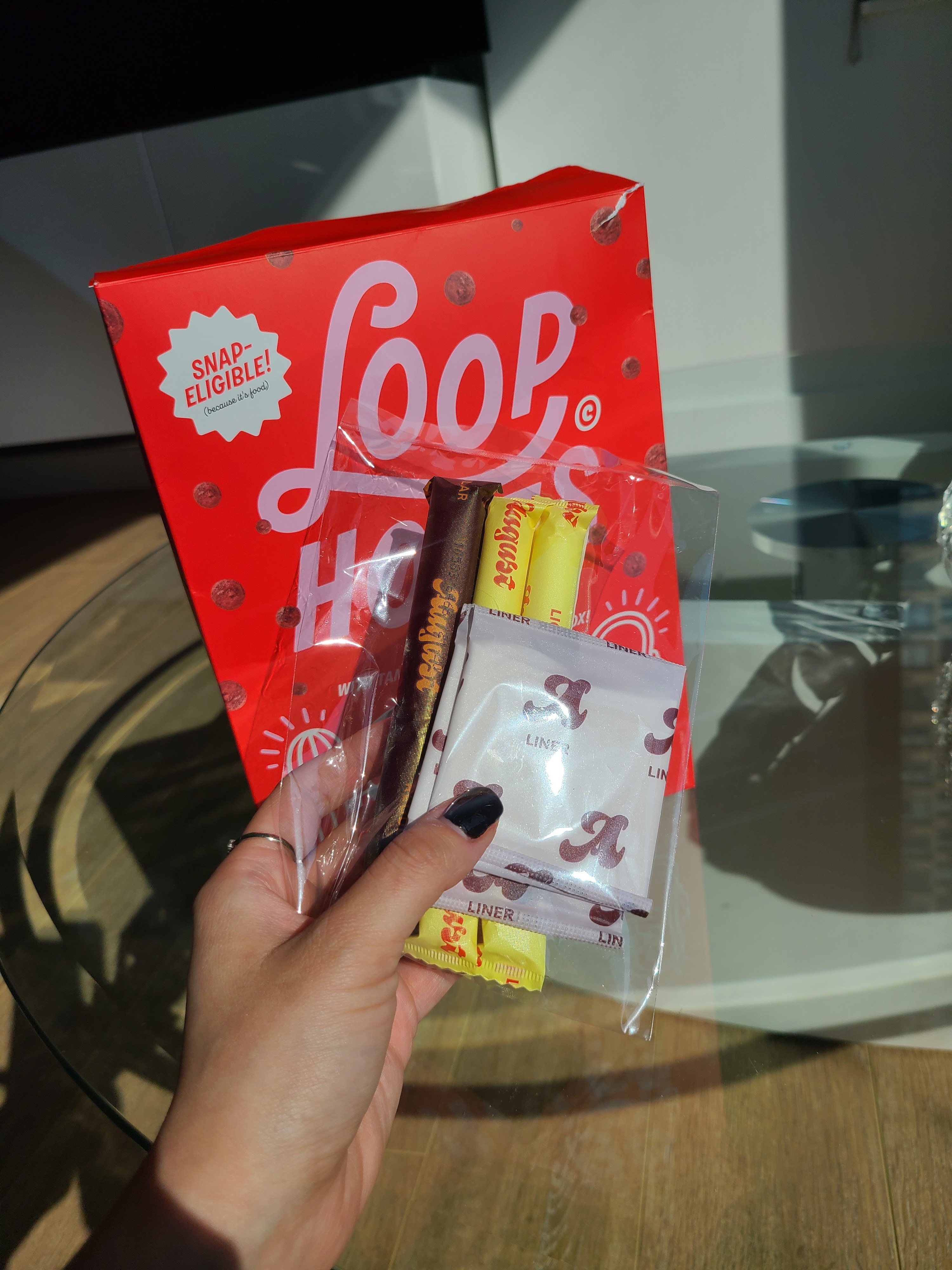 "It's a sad reality that still so many people are unaware of the period poverty issue, and we've been really excited to see [Loopholes'] traction," Nadya shared. "Our only hope is to shed some more light on the issue and encourage people to get involved in the movement."
To learn more about Loopholes Cereal and ME4ALL, visit their website. If you want to recreate your own Loopholes Cereal, you can find OffLimits Cereal here, and August period products here.
To learn more about and support the nonprofit organizations dedicated to fighting menstrual inequity and period poverty, see the following (or visit Loopholes' Partner Page):
Did you know that period products weren't covered by any federal programs and about period poverty? What's your experience with period care? Let us know in the comments below.