We hope you love the products we recommend! All of them were independently selected by our editors. Some may have been sent as samples, but all opinions and reviews are our own. Just so you know, BuzzFeed may collect a share of sales or other compensation from the links on this page if you decide to shop from them. Oh, and FYI — prices are accurate and items in stock as of time of publication.
With the rise and fall and re-emergence of instant film, it was only a matter of time before companies blended the worlds of digital and analog photography. Today's instant cameras are a wonderful, of-the-moment contradiction: We want the instant gratification of digital photos but the nostalgia of something we can print, share, and prize IRL.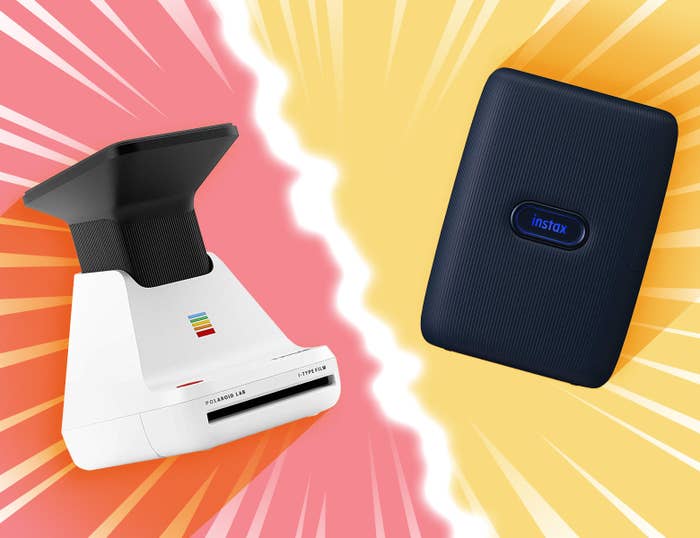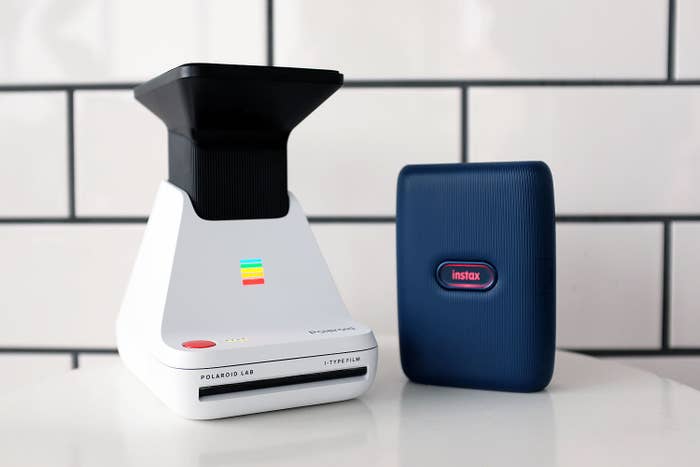 The Build
POLAROID LAB: The Lab flaunts a retro-modern aesthetic that'll please anyone looking to scratch the "vintage"-film itch. With a white body and a black mount for your phone, the kit houses three lenses for a true analog(ish) experience. It accepts full-size 600 or i-Type film (print area of 3" x 3"), which can get rather expensive; an eight-pack of color film can cost upwards of $2 a shot. And though it's lightweight (less than 2 pounds) and stands no taller than 6 inches, it's not exactly travel-friendly, so don't expect to be able to lug it around easily.
FUJIFILM INSTAX MINI LINK: The Mini Link passes on the old-school charm for modern appeal. Available in three colors, the handheld printer weighs a bit more than half a pound and is sturdy enough to take on the go. When it comes to film, the Mini Link prints only on credit card–sized Instax Mini film (print area of 1.8" x 2.4"), which is smaller than Polaroid's iconic square film, but cheaper and more widely available.
How It Works
POLAROID LAB: Simply stated: It takes a photo of a photo on a phone screen, relying on real film-processing chemistry to turn digital snaps into instant prints. This may sound strangely backwards, but it lends to the Lab's interactive "instant" film experience.
Once you download the Polaroid Originals app, printing is pretty straightforward: Pick a photo, place your phone facedown, align it on the Lab's lens mount (you'll hear a chime when you're good to go), and press the red button. That's it! Speaking of the app, it's where you select your film type and color, and adjust the exposure and color saturation, which may or may not frustrate you, but more on that later.
FUJIFILM INSTAX MINI LINK: Whereas the Lab offers "100% real film chemistry," the Instax Mini Link receives photos digitally via Bluetooth. You still get an analog print, of course, but there's just less tinkering. There's a single button and it does everything from printing to turning the device on and off.
On the digital side, the Mini Link makes it easy. It displays helpful info like how much film and battery are left, and standard print mode allows you to add basic filters (monochrome, sepia, or auto) and correct the brightness, contrast, and saturation levels. Once everything looks good, ya hit a button on your screen and the print rolls out of the printer.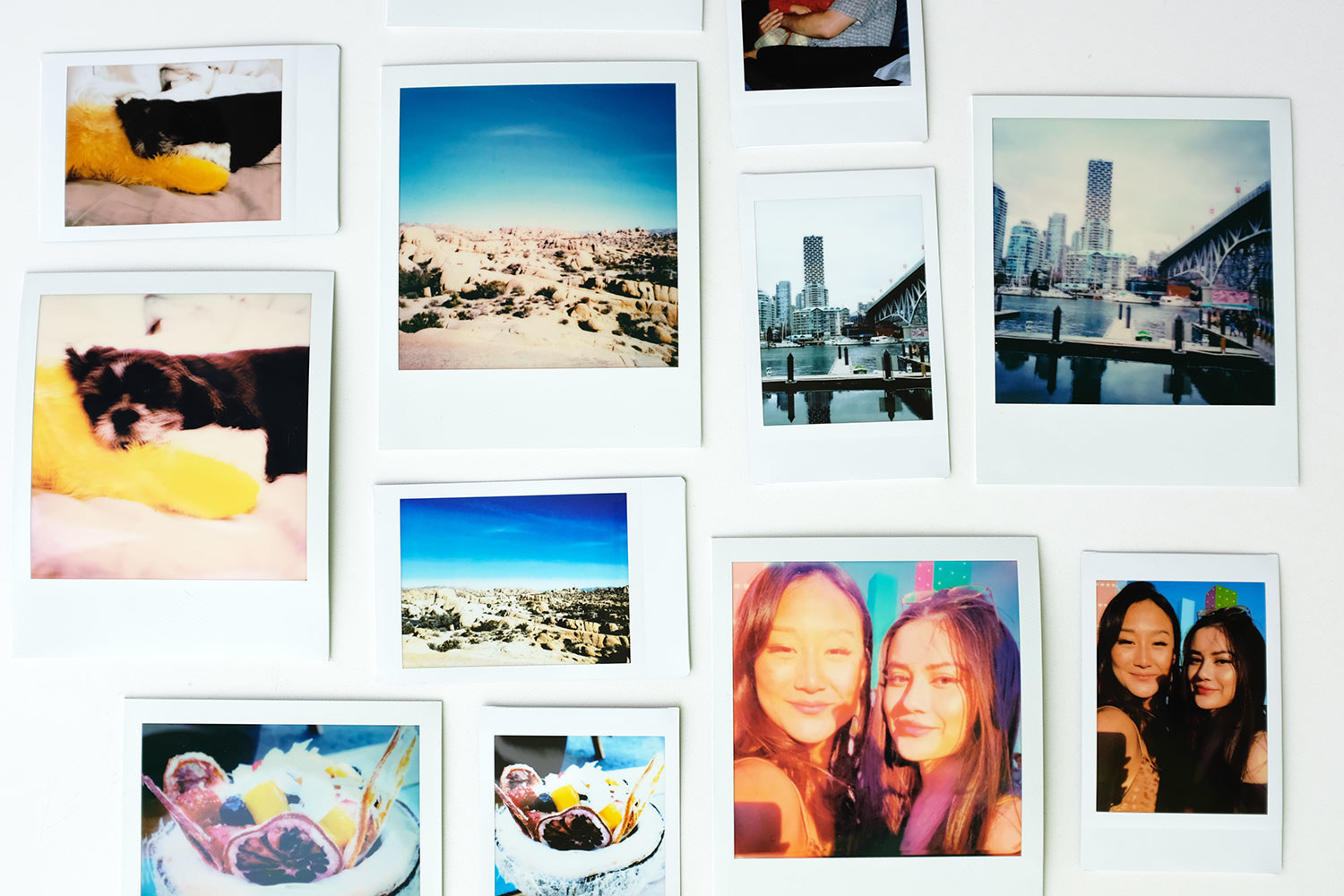 How It Performs
POLAROID LAB: Tough to say because we tested it to inconsistent results. Even though the Lab provides visual and aural aids so you know exactly where to place your phone, properly positioning it on the mount can be tricky.
Then there's the issue of color balance, which can be affected by your phone display (pro tip: turn the brightness to 100% and turn off any color temperature settings). Remember, the Lab literally takes a picture of your phone screen, so getting all the settings right is crucial. Otherwise, you'll end up with oversaturated photos and wasted film.
We printed a bunch of different photos ('90s throwback pics, selfies, landscapes, an açai bowl), and while some developed to our liking, others were fuzzy, misaligned, or downright orange — and not in a charming way. That said, the Lab does capture the spontaneous effects you'd expect from Polaroid cameras. Once we got the hang of it, the prints gave off mad nostalgic vibes we were looking for.
FUJIFILM INSTAX MINI LINK: The Mini Link prints instantaneously with a 12-second print time and 90-second developing time. The photos printed were exceptionally rich in color. Brown hair or dark blue skies may look black, but overall the color balance is consistent. Since the Mini Link process is all digital, the film develops pretty true to the original image — so you know what you're gonna get.
What About Extras?
POLAROID LAB: "Live Polaroid" gives you a little taste of augmented reality. A small barcode can be printed onto a print, allowing you to choose an overlaid video to play when viewed through the app's AR viewer. So, say, a picture of you in the ocean can reveal a video of you swimming, which is a pretty rad way to make videos tangible — but also requires whoever wants to view the video to download the app.
A simpler but equally useful feature is collage print. You can create mosaics of up to nine images, printing photos beyond the dimensions of a single sheet of film. This is great because you don't have to individually crop and align the photos yourself if you want to be creative.
FUJIFILM INSTAX MINI LINK: Fuji seemed to have parties in mind. Between Print and Fun Mode, you get features from basic to wacky. Fun Mode is exactly what it sounds like, allowing you to add filters (think early Snapchat) and create collages with different layouts. Your friends can even share photos to your Mini Link without the app.
But where the Mini Link really breaks away from the norm is in its motion sensors: Point the device up or lay it flat and the print modes adjust in the app in real time. And if you use the Instax Camera Mode in the app, you can use the Mini Link as a remote control. It's pretty intuitive. Tilt the Mini Link face down to zoom in and face up to zoom out — especially useful for group shots. Then click the button to snap your photo. These entertaining extras, coupled with the Mini Link's portability, make it lighthearted fun for the whole gang.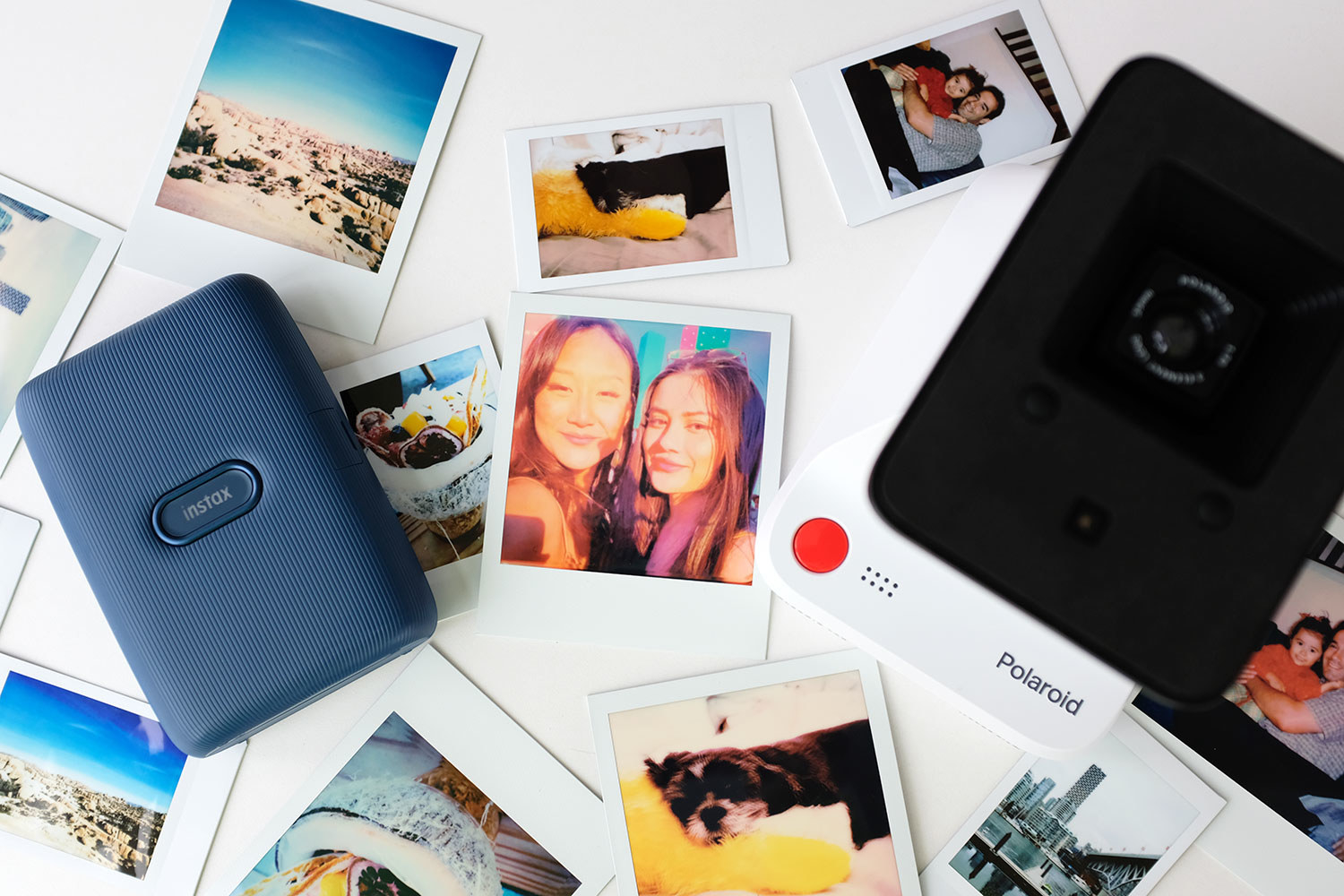 The Verdict
If you're a film photography stan and analog is life (or you prefer the 3" x 3" image), then the Polaroid Lab is for you. It can be a fun experiment, but the results can sometimes be disappointing — which sort of defeats the purpose of buying an instant photo printer in the first place. Otherwise, you're better off with the Instax Mini Link. It's portable, durable, and easy to use, plus it functions as a remote. Qualitatively, there's also less of a learning curve for properly colorizing your photos. On a whole, it's fun for everyone, and half the fun of photos are the memory of making them. So if you want a simple way to turn your digital pictures into instant film, we say FujiFilm's Instax Mini Link is the way to go.