This Young Labour Politician Was Targeted By Racist Trolls After Her Speech On Refugees Went Viral
When an old video of Newham councillor Seyi Akiwowo resurfaced it triggered a wave of vile abuse.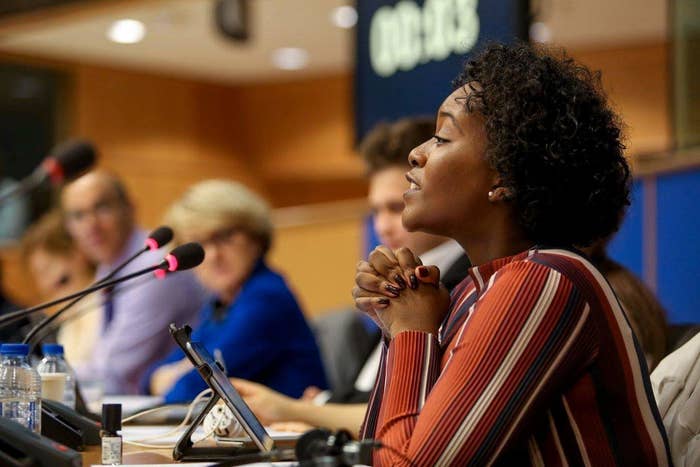 An east London councillor was subjected to hundreds of hate-filled comments when an old video of her speaking at a European parliament youth event went viral last week.
Seyi Akiwowo, 26, was left shocked by the volume of the racist hate speech, which included comments telling her to "lynch herself" and crude references to FGM and STDs. The stream of abuse began after a short speech she made at the annual European Youth Event (EYE) in May 2016 resurfaced.
Comments included "Who's this monkey?", "When are you going to die from an STD?", and "Harambe's cousin".
"The worst one was telling me to 'slit my clit' and that is an obvious reference to FGM – something that's big in the BME community – and the lynching one was horrible," Akiwowo said.
The Newham councillor, who has been involved in politics for more than 10 years, said she is aware of the disproportionate amount of abuse levelled at female politicians, particularly black MPs like Diane Abbott and Dawn Butler, which she says is "scary, and I just think what are we going to do?"
"We have seen the death of [Labour MP] Jo Cox a year ago from hate... How are we going to protect people in our community?" she said.
Akiwowo told BuzzFeed News her remarks in the video were in response to a man who she felt was being bullied. She was moved to stand up after hearing someone in the parliament shout at him that "all refuges should go back home".
"I put my hand up. I didn't know what I was going to say," Akiwowo said. "I wanted this man to know he had allies in this room. I didn't want him to be bullied. I hate people being bullied."
In the video, Akiwoko can be heard saying "May I continue?" as she is heckled and booed by one corner of the chamber. Referring to former colonial nations like Britain, France, and Italy, she then adds: "What do you think about members of ... former empires ensuring there is economic and political stability in these former colonised countries? So then we won't have to migrate here to cold countries – and I mean that by temperature and also the lack of welcoming to these people."
To a chorus of more boos, she says: "Then – I'm almost finished – then we can stay in our countries and rebuild after you've destroyed these countries. Thank you."
Once the video started gaining attention on Twitter and YouTube, Akiwowo said she "received hundreds and hundreds of vile tweets and YouTube comments" over the course of two days.
"I spent over two hours reporting over 70-odd comments and I was so annoyed, I sent a tweet about it. I wanted something to be done," Akiwowo said.
The video of Akiwowo was shared on 31 January by culture writer Danielle Dash. Her tweet praising Akiwowo's performance in the EU parliament gained over 1,100 likes and 850 retweets. Inititally, the response from others was positive.
Dash, 27, from London, told BuzzFeed News that she also started to receive racial abuse after sharing the video. "I received everything from 'I hate monkeys' to 'Trump will make England English again. You will go.'"
She said: "I learned last summer from [actor] Leslie Jones' racist attacks that these people are laying in wait for an opportune moment to unleash their venom on whoever's standing up to white supremacy."
Dash said that she initially shared the video on Twitter after her mother sent it to her on WhatsApp. "Her friend actually thought Seyi was me," she said. "I was so flattered and also in awe of how powerful her message and resilience [was] in the face of the booing. I wanted everyone to see her fearlessness and take note of her message."
When asked about the backlash to the video, Dash said she was "apathetic". "When you're an outspoken woman on social media but in this case, specifically a black woman, backlash meets you at the intersection of sexism and racism and after nearly a decade on Twitter, I know this game all too well."
Alongside the abuse, there has been an outpouring of support from other black women in solidarity with Akiwowo. "The black women particularly have been great," she said. "Some have that said I have inspired them and I've also received messages like 'Thank you for advocating for us.'
"We do need more great UK black role models who speak out. We have Jamelia, who speaks about natural hair. We need to make sure we have more of that in different fields. There's a real thirst for that and I really appreciate the love."
Akiwowo was also grateful to receive support from beyond the black community: "Black women have been amazing, but also allies as well – white men and white women – which is great because it shows the far-right do not represent all white people."

BuzzFeed News understands the racist comments directed at Akiwowo and Dash on Twitter and YouTube have now been deleted.
Dash said: "I was also surprised by how quickly Twitter shut down the racist trolls' accounts. It shows we have their support and after the Milo Yiannopoulos controversy they've been forced to no longer pay lip service to protecting those targeted by hate but actually take action."
When BuzzFeed News spoke to Twitter, a spokesperson said: "We prohibit hateful conduct on our platform – it's a violation of the Twitter Rules. In November, we announced a more direct way to report this type of conduct. We will continue to rigorously improve and strengthen a culture of collective support on Twitter."
A spokesperson for YouTube said: "Hate speech has no place on the YouTube platform and we remove hateful content and comments when they're flagged to us."