People Are Criticising Urban Outfitters For Its One-Year Unpaid Placement
The company is advertising a one-year unpaid placement that only covers travel expenses in zones 1 and 2 in London.
When Yinka, a 22-year-old student at Kent University was on the search for a new summer internship, she stumbled upon a one-year unpaid placement for Urban Outfitters on a job site called fashionworkie. She then decided to share it on Twitter.
The womenswear-buying placement advertised by Urban Outfitters is a one-year unpaid placement that only covers travel expenses in zones 1 and 2 in London.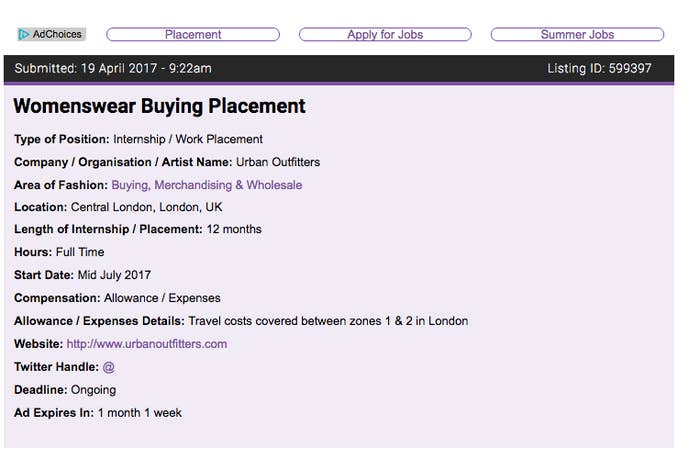 Yinka, who declined to give her last name for this article, told BuzzFeed News she has done unpaid work in the past but thought that this particular advert was "unfair".
"I think [unpaid placements are] very common, especially in fashion, but I think it's extremely cheeky for such a huge company with so many resources to expect free labour for a whole entire year and only cover the cost of travel for only a tiny bit of London," she said.
She said the placement wasn't feasible for everyone: "It instantly rules out those from a low social economic background even if they have the educational attainment necessary for the role ... because they can't afford to actually do the job. It would actually cost them. It'll only be useful for those with enough income or savings to work for free for a whole year."
A spokesperson for Urban Outfitters told BuzzFeed News: "Unpaid internships are legal under UK law, as long as the intern is a student at an accredited college or university and will be receiving academic credit for the internship. Our UO Europe internships are designed to conform to applicable laws in that they are only offered in partnership with universities and offer substantial learning opportunities."
According to the government, an intern is entitled to the national minimum wage if they count as a worker. However, it says, "students required to do an internship for less than one year as part of a UK-based further or higher education course aren't entitled to the National Minimum Wage".