An Exeter school that prompted a group of boys to wear skirts in protest at a uniform policy that forbade shorts has decided to relax the rules from the next academic year.
The ISCA came to national attention during this week's heatwave when the boys borrowed skirts from friends and turned up to school, to make the point that shorts should be allowed.
The school said in an update on its site on Friday: "Shorts are not currently part of our school uniform for boys. Contrary to news reports, we have not banned shorts; shorts are simply not part of our school uniform.
"However, as summers are becoming hotter, shorts will be introduced as part of our school uniform next year having first consulted with students and parents. We feel that introducing a change in uniform part way through this year would put undue pressure on some of our families."
Earlier this week, some of the students spoke on a livestream that was watched over 500,000 times, from Colleen Smith at Devon Live. One boy claimed he was told off for wearing shorts because his "legs are hairy".
Devon Live said there were around 50 to 70 young boys wearing skirts due to the hot weather. Wednesday was said said to be the hottest June day in 41 years, reaching 34°C.
"We are doing this because it's too hot," some of the pupils told Devon Live.
One boy added: "I'm not in sitting lessons in the boiling weather in trousers." He questioned why girls have two options, skirts or trousers, and boys only have one. "Boys and girls should have the same rights anywhere in the word," he said.
A number of boys who wore shorts yesterday claimed they were sent to isolation. "I didn't think that was fair, so I walked out," one said.
When asked about the situation, the girls said the skirts suited the boys.
Thirty-year-old Claire Reeves, whose son attends the academy, told Devon Live on Tuesday: "I have called the school several times and they have told me that if I send my son to school in shorts then he will be sent to the isolation room all day and if I keep him off school then it'll be an unauthorised absence."
The school's website, previously stated that "uniform is strictly monitored at ISCA Academy and we ask that parents and students stick to the following items".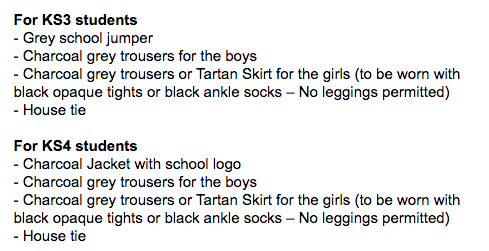 So far the boys have attracted a lot of attention on social media.
Many people praised the boys for taking action against the school rules.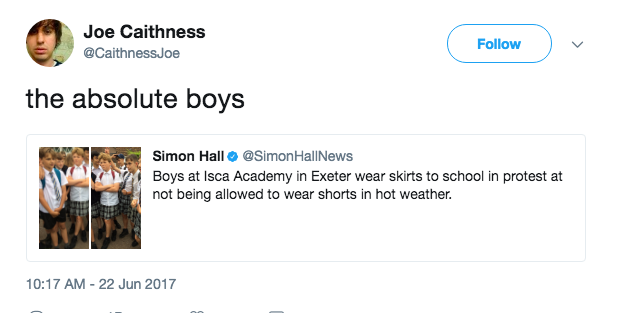 Viewers of the livestream also expressed disappointment with the school's uniform policy.