Fifth Harmony's Normani Kordei Leaves Twitter After Being Subjected To Racist Abuse Online
The singer wrote an open letter on Twitter in which she said: "I can't subject myself any longer to hate."
Fifth Harmony member Normani Kordei announced on Sunday that she will be taking a break from Twitter after facing a stream of racist abuse.
In an open letter she posted on Twitter yesterday, the singer wrote: "I've been racially cyber bullied with tweets and pictures so horrific and racially charged that I can't subject myself any longer to hate."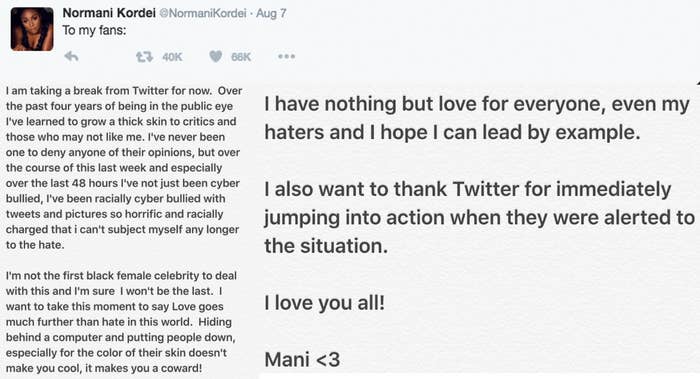 Normani added, "I'm not the first black female celebrity to deal with this and I'm sure I won't be the last." Ghostbusters star Leslie Jones took a hiatus from Twitter last month after she was targeted by racists.
Normani thanked Twitter in her letter for "immediately jumping into action when they were alerted to the situation".
The social network has been trying to be more proactive in dealing with racism on its platform. Recently, it permanently suspended the conservative writer Milo Yiannopoulos as a result of the racist and demeaning tweets that Jones received.
Her bandmates have all tweeted supportive messages towards Normani. "I won't tolerate on my timeline any kind of hate, racism, or discrimination towards anyone," said Camila Cabello.
Since she announced her departure, two hashtags – #IStandWithNormani and #WeLoveYouNormani – were filled with supportive messages for the singer.
"Keep on smiling," one user said.
Another user shared a video from a Fifth Harmony concert where fans held "black is beautiful" posters. ❤️