Channel 4's Chewing Gum won't be returning for a third series any time soon, the show's creator has confirmed.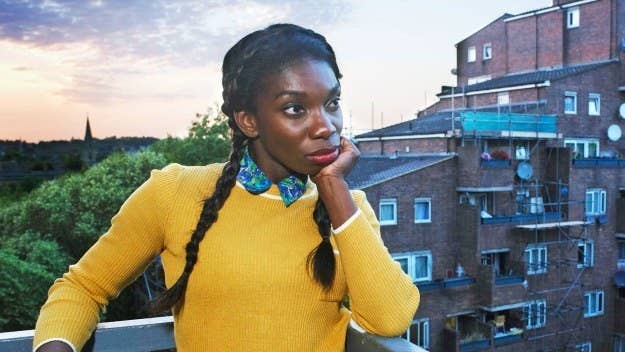 The news that BAFTA-winning actor Michaela Coel was calling time on her TV show was reported by Broadcast Monday evening.
Coel later tweeted to confirm the news, saying she has more stories to tell.
The British sitcom was written by the 29-year-old, who also played the lead character, Tracey Gordon, who's on a quest to lose her virginity. It was based on a 15-minute monologue Coel performed at The Shed at The National.
In a statement, Channel 4 told BuzzFeed News: "Chewing Gum is a vibrant, hilarious and unique comedy of which we are incredibly proud. Though there currently aren't any plans for a third series, we hope to work with the hugely talented Michaela Coel again soon."
Coel won BAFTAs for Best Female Performance in a Comedy Programme and Breakthrough Talent for the show in 2016.
In an Instagram post on Tuesday morning, Coel further explained her decision to focus on other projects.
Of course, many are gutted that the show is coming to an end. It was one of the few TV shows in Britain with a black female lead.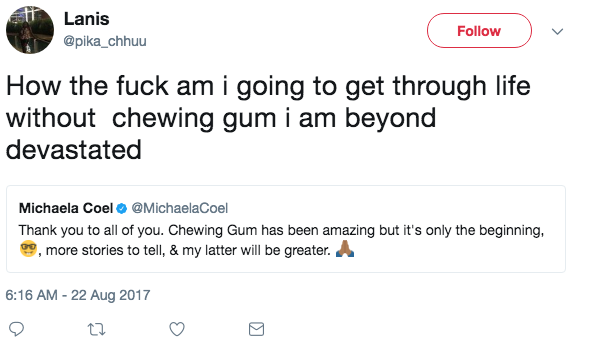 The show was praised by many, especially when Netflix acquired it in October 2016. American stars such as Kid Fury from The Read and Jada Pinkett Smith have also applauded Coel.
The good news is that Coel has not ruled out bringing the show back in the future, according to her rep.
A spokesperson told BuzzFeed News: "Michaela is not currently writing a third series of Chewing Gum as she is focusing on some other projects but is not closing the door to the possibility in the future."