Anti-FGM Campaigner Calls For Cancellation Of "Cruel" Sky News Report
"Why treat FGM differently to child abuse?" Hibo Wardere said.
A campaigner against female genital mutilation (FGM) has called on Sky News not to air a film on the practice in Somalia, which it is expected to broadcast this week.
On 3 June, in a video posted to Twitter, activist Hibo Wardere urged the broadcaster to cancel the planned broadcast because of a segment that shows a young girl being mutilated.
In the video, Wardere said: "I'm talking to you directly, Sky News, because you're going to show a video of [the] mutilation of a young girl.
"This is going to traumatise us survivors... would you show any other type of child abuse happening?"
The 46-year-old Londoner, who fled Somalia's civil war having survived FGM herself, told BuzzFeed News that the report will feature "extremely depressing" footage for which she said there was "no justification".
Although the film doesn't show the procedure in close-up, Wardere said the girl's face is shown, displaying all her "struggles". She added: "You can see when they take out the blade, and when she takes out the thread to stitch."
She described the process of filming the procedure, which is outlawed by Somalia's constitution but still widely carried out, as "a crime against that child".
She said she was particularly outraged because, as a child, the girl featured in the footage could not have given Sky News her own consent to be filmed.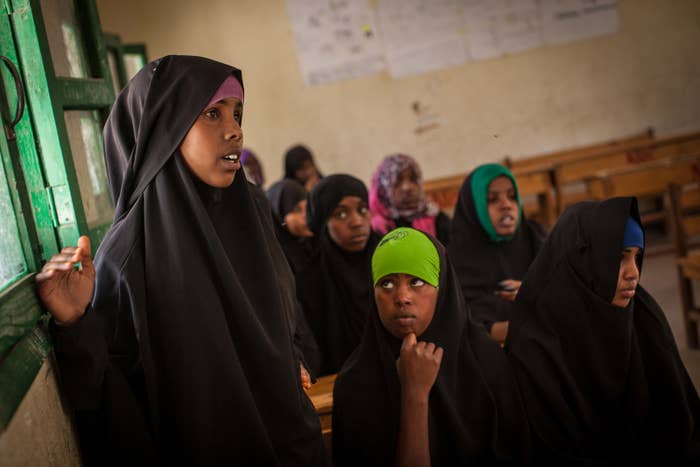 Wardere told BuzzFeed News that members of an organisation called Equality Now, which deals with violence against women, were recently shown a preview of programme. They warned Wardere about it and she said they felt "quite distressed" after watching it.
"What disturbed all the survivors is that they stood by and stuck a camera on [the girl's] face, while she [was] suffering," she explained. "This is cruel beyond belief."
Wardere has herself been interviewed by Sky News regarding her own story, and has also dealt with the fight against FGM in a book. She told BuzzFeed News that in general the "UK is doing well on educating people on FGM".
A spokesperson for Sky News confirmed the film would air: "This week Sky News will broadcast a powerful report from Somalia which sheds new light on the subject of FGM."
Sky said the report would help viewers to understand the issues surrounding FGM and "its social and cultural acceptability in some parts of the world".
"Our award-winning correspondent, Alex Crawford, captures the stark reality of this widespread practice, handling this difficult subject with the sensitivity you would expect from an experienced broadcast journalist," the spokesperson said.