Here's The Awesome Impact Black Representation At The Olympics Has On Kids
Representation is important.
Black Olympic stars have made a great impression on the young black and brown kids who watched the Games in Rio.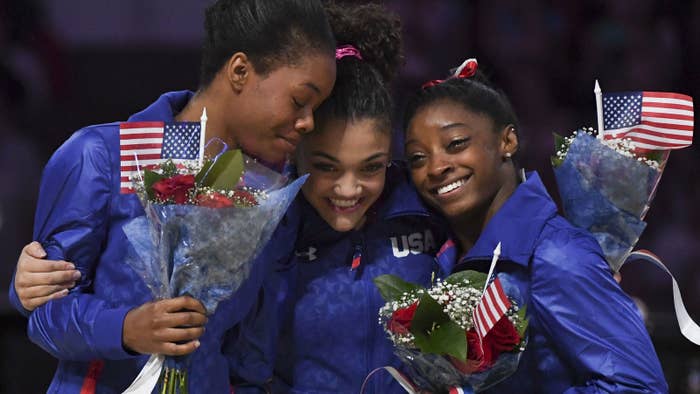 1.
This is 2-year-old Layla from Fort Worth, Texas. Her mother, Lynetria High, told BuzzFeed that when they were watching gold medalist Simone Manuel compete, Layla "stood in front of the television on her tiptoes holding up the number one. I noticed it and had to get the picture. I asked her, 'Pooh-Pooh, you next?' She replied, 'Yep, I next!'"
High, 33, said it was an "awesome moment".
"It is important for her to see a representation of herself on TV. You can be told all your life that you can do something, but it doesn't become real until you are able to see yourself in someone who is accomplishing what you hope to."
2.
This is 9-year-old Keziah from Fort Lauderdale, Florida. Her father, Nathaniel Robinson, told BuzzFeed his daughter was so inspired by Simone Biles' picture with her medals that she was compelled to recreate it.
Robinson, 35, said it is important for his daughter to have black role models in the sporting world, "because people don't think our culture matters and can do that stuff. It's nice to see black people win gold and [set] world records."
He also said that Keziah is a fan of Gabby Douglas and Allyson Felix.
"Last year was her first year running track and she cleaned house," Robinson said. "She wins first place every time she compete[s] and in every event. She even beat the boys in a couple meets."
3.
This is Alora, 2, from Saint Kitts and Nevis. Her father, Delé, told BuzzFeed that after they watched Manuel winning gold Alora "bugged" her parents to blow up their swimming pool.
"It's important for her to see others who look like her as early as possible, because like the hashtag says, #RepresentationMatters," he said.
"It lets her know that she can achieve damn near anything, without feeling boxed in by social and racial boundaries set by a white/male-dominated media."
Delé said that his daughter is a "water baby".
"We go to the beach and she doesn't want to come out of the water," he explained – although he is disappointed that Saint Kitts and Nevis doesn't have a swimming pool. "I'd like to see that change," he said.
4.
This is 4-year-old Kennedy from Virginia. Her father, Bobby Rascoe, told BuzzFeed that Kennedy "immediately smiled when she saw Gabby Douglas win gold".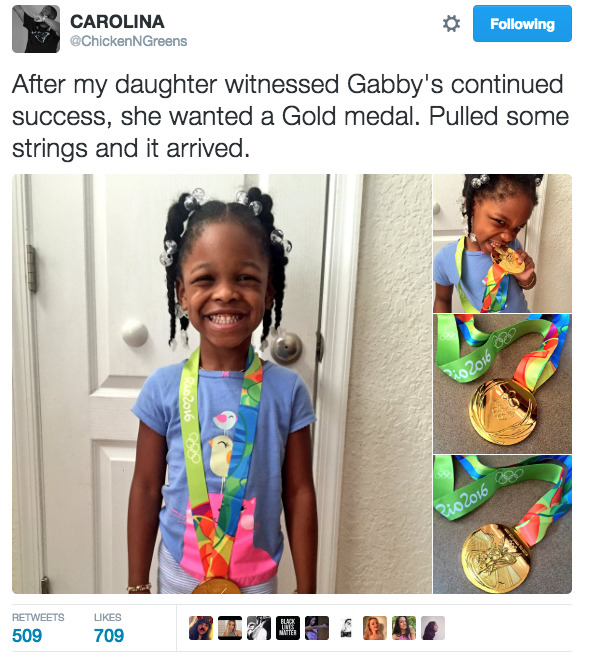 Rascoe, 31, said when he got her a replica media she declared: "I have a gold medal like Gabby!" and hasn't put it down since.
"She loves watching her [Douglas] on television, including her reality show," he said.
He said "it means the world to her" to see black Olympians on television. Rascoe added that it's important for Kennedy to "see someone that looks like her, involved with success instead of something negative. She smiles and mimics them in joy and that means the world to me."
5.
This is 2-year-old Avangeline (her parents call her Ava) from San Antonio, Texas. Her mother, Alexia, told BuzzFeed: "We were at her grandma's house, watching Simone Biles on the balance beam. Then my daughter found this random pole that her grandma had in her house, and tried to copy Simone by walking on it."
Alexia, 20, who declined to give her last name, said: "That's when I rushed to take the picture, because we all thought it was hilarious."
She said that black Olympians winning in Rio means everything to Ava. "She has someone to look up too. I mean of course she'll see the other ones but it's more personal. She gets to see people like her, going to these big and great things. And wants to follow in their footsteps."
Alexia said she was surprised that her 2-year-old was copying Biles. "I can only imagine what she'll want to do when she gets older. It makes me happy, to see her look up to such young and talented people," she said.
6.
This is 9-year-old Savannah. Her mother, Shellisa, told BuzzFeed: "We were watching gymnastics. She wore her leotard every day they competed."
Shellisa, who also declined to give her last name, said while the Olympians where competing her daughter copied all their moves and cheered them on.
"Seeing brown girls always helps. That's who she can most immediately relate to. She is only brown girl in her gymnastics class, so it makes an impact," Shellisa said.
7.
This is 4-year-old Sofia from Lewisburg, Tennessee. Her father, Quentin Campbell, told BuzzFeed Sofia has been watching the gymnastics and decided to copy it, which scared half of the family to death.
Campbell, 37, said his daughter has been watching gymnasts since the age of 2. He describes her moves as "amazing".
He said Sofia looks up to Gabby Douglas, Simone Biles, and Laurie Hernandez "tremendously" and when she sees them on television she says: "That's me."