This Is What It's Like To Be On Call For Disaster
When catastrophe strikes, who you gonna call? Turns out, there are teams of people across the country, ready and willing to head straight into the arms of the next destructive event.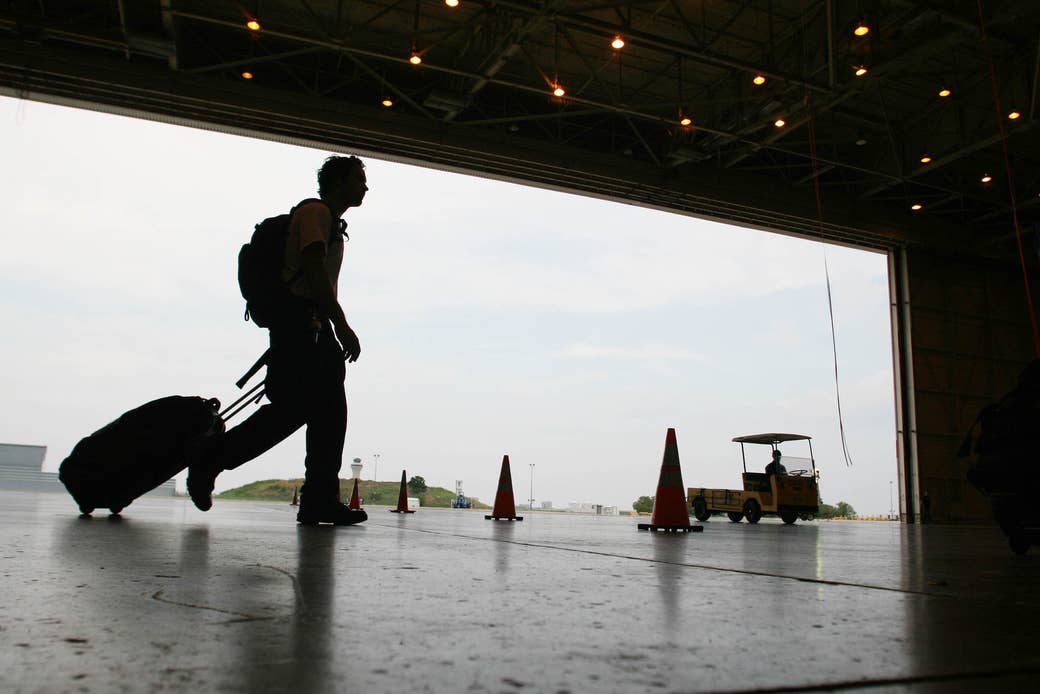 He has no idea when his next work trip might be, but Danny McPhaul's suitcase is already packed. "I've got a 'go' bag. It's got my uniforms, MREs [ready-to-eat meals], lots of clean socks and underwear," he said. "Oh — an extension cord! You always need an extension cord."
Extension cords come in handy when setting up a field hospital, which is a large part of McPhaul's side gig, as Deputy Commander of a Disaster Medical Assistance Team (DMAT). In some cases, DMATs deploy to provide disaster relief in the event that an incident occurs. A team will travel to D.C. for the State of the Union, or to whichever city is hosting the Super Bowl.
But DMATs primarily assist state and local resources in responding to events that lead to a medical surge. "If you fill up a cooler of water, and put too much water in, it'll overflow — that's kind of like a medical surge," McPhaul told BuzzFeed. "If a hospital typically sees 100 patients a day, and all of a sudden they're seeing 1,000, DMAT is used to decompress that medical situation."
Most people would find it unusual to sit around, waiting for disaster. As a full-time firefighter, McPhaul is used to waiting for the unthinkable. But he admits he finds himself checking the weather report, and scanning headlines, more than the average person.
"I'm a news junkie," McPhaul said. "Especially this time of year, especially living in Florida," he added, in a nod to hurricane season.
"You always need an extension cord."
The word "disaster" encompasses a whole number of events: hurricanes, tornados, chemical spills, terrorist attacks. Each one is unique in terms of the number of injured, mortally wounded, and displaced, but they do share at least one commonality: Because they happen suddenly (and often with no warning) disasters are difficult to plan for. So when catastrophe strikes, who you gonna call? Turns out, there are teams of people across the country, ready and willing to head straight into the arms of the next destructive event.
There are a lot of acronyms involved with disaster assistance in the U.S. Let's start with the NDMS, or National Disaster Medical System, a federally coordinated healthcare system and partnership of the Departments of Health and Human Services, Homeland Security, Defense, and Veterans Affairs. The NDMS works to support state and local authorities following emergencies, by supplementing health and medical systems as needed. They do so through the deployment of disaster assistance teams, of which there are several types: Disaster Medical Assistance Teams (DMATs) provide moderate medical care; the Surgical Response Teams provide surgical and critical care support; the National Veterinary Response Team supplies veterinary care; and Disaster Mortuary Operational Response teams provide victim identification and mortuary services.
"We have approximately 5,500 DMS federal intermittent employees [i.e. not full-time federal employees, and only available when the government requires them to be]," Ron Miller, the Acting Director of NDMS, told BuzzFeed. "There are 72 total teams: one for victim identification, one vet team, three trauma teams, 10 mortuary teams, and 57 DMATs."
The DMATs are "the workhorses of the disaster system in the U.S.," Dr. Selim Suner, the team leader for the Rhode Island DMAT and an international expert in emergency preparedness and disaster medicine, told BuzzFeed. "When deployed, they travel with about 30 people and equipment and supplies. It's completely self-contained."
If the team is traveling just a few hours away, they'll drive. Any farther, and they fly. "Typically, if we're traveling nearby, we'll rent Tahoes or other SUVs and drive in a convoy to the affected area," said McPhaul. "If it's further, we'll connect with the HR department in DC and they'll set us up with airline ticket."
Once team members arrive at a destination, they'll "stage" (i.e. wait for the rest of the team to arrive) and then head to wherever they need to go — for Superstorm Sandy, they took a bus to an area in which they could set up a field hospital.
Though they pack their own personal belongings, larger pieces of equipment (tents, medical appliances, etc.) typically arrive separately.
"NDMS has caches of equipment at hospitals all around the country," McPhaul said, "but, if it's not enough for the amount of time we'll be somewhere, an NDMS employee will fly up as needed to deliver more equipment. Our base of operations is self-sufficient up to 72 hours before we need new equipment brought to us."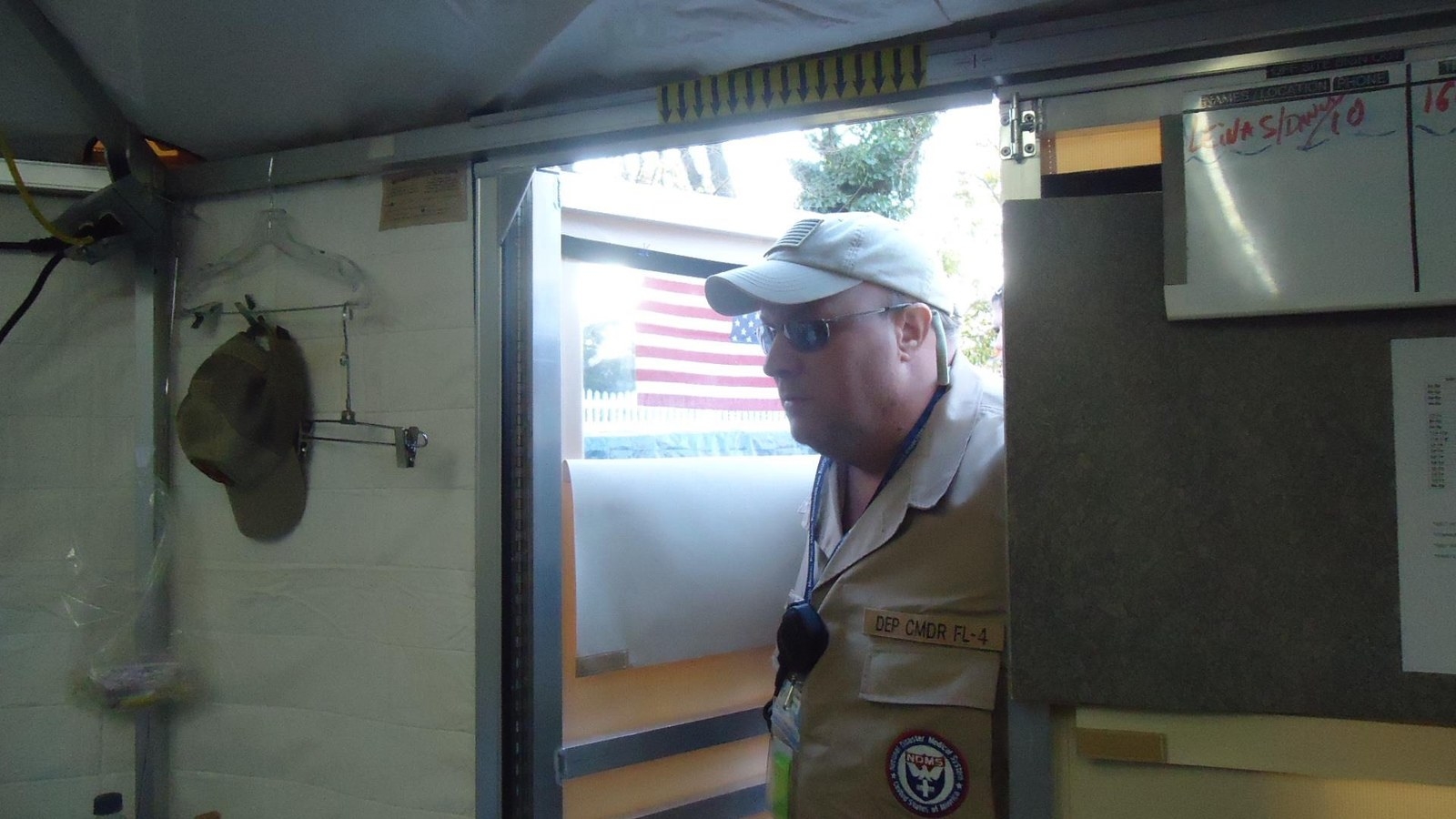 At any given time, there are at least 15 DMAT teams on call throughout the U.S. "So that means if something happens, a team would be called and respond within 24 hours," Suner said. In some cases, teams get advance notice that they'll be deploying. Before Hurricane Katrina made landfall, for instance, teams were deployed to the area, to ensure quick response times.
"Our first ever deployment was in 1989, during Hurricane Andrew," Miller said. In the years since, they've responded to a whole host of disasters. Suner himself has led a team of disaster specialists to provide support in the wake of the September 11th terrorist attacks, Hurricane Katrina in New Orleans and Mississippi, and the anthrax attacks in New York City.
Each case is different. The anthrax response, for instance, was primarily focused on providing education and antibiotics to postal workers who may have been affected. "We set up a system where all the postal workers would come into a room, we would medically screen them, give them prophylactic antibiotics and educate them," Suner said. "There were a couple of patients we did send to the hospital, out of an abundance of caution."
Many members of the team (all of whom have to apply for the job through the federal government) have medical backgrounds as doctors, nurses, or EMTs. But those medical professionals are supported by a cadre of decidedly civilian administrative staff. "We have information technology, communications, safety, and security professionals on all the teams as well," Miller said. "Employees on NDMS range from a race car driver to a greeter at Walmart to doctors who own private practices."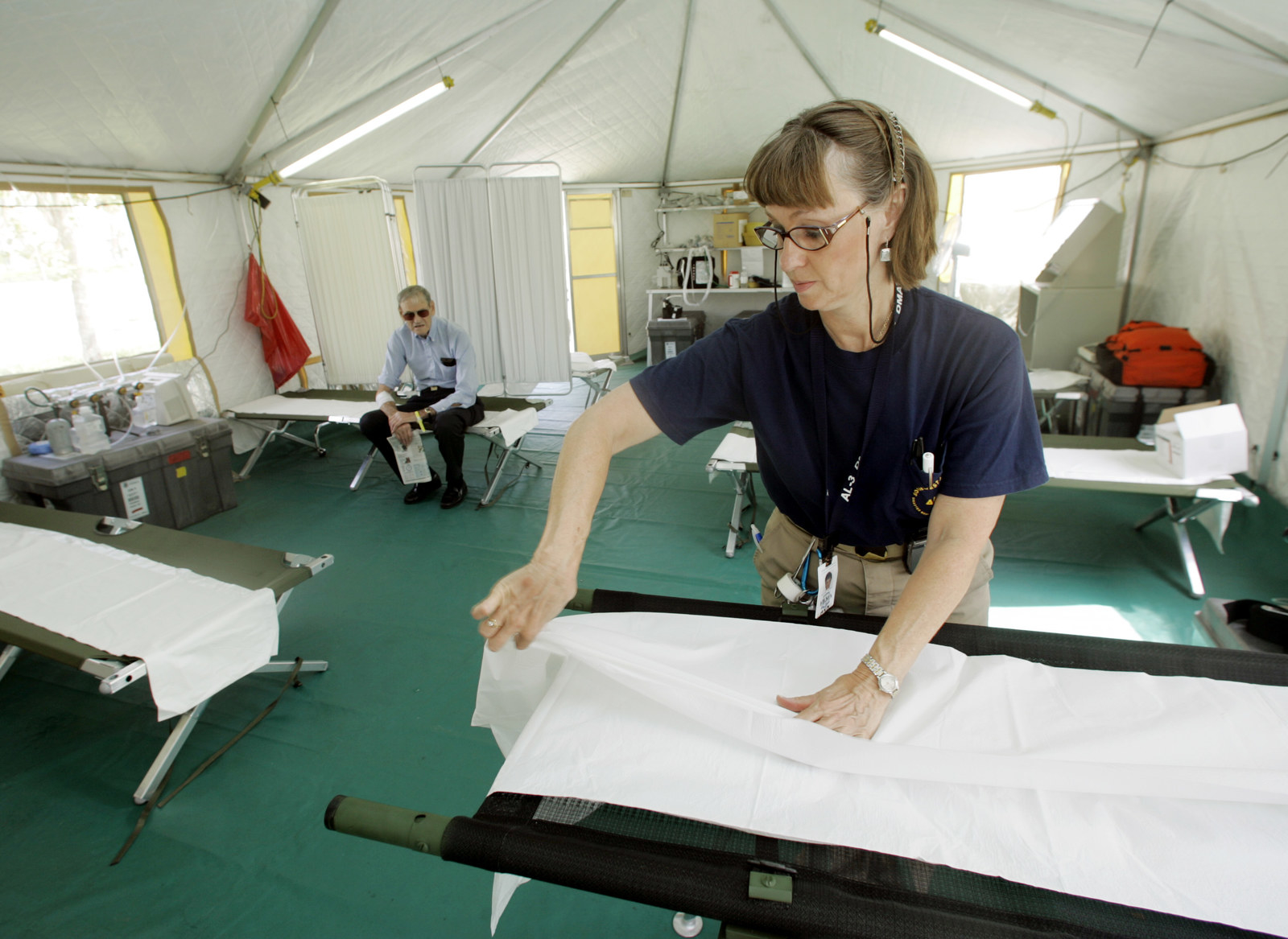 McPhaul joined DMAT around 2002, after seeing a news segment about a team in South Florida. As a member of a DMAT, his employment falls under the Uniformed Services Employment and Reemployment Rights Act of 1994, a Federal law that establishes rights and responsibilities for uniformed Service members and their civilian employers. So, when disaster strikes, he's free to pack up and leave his day-to-day duties. "We all have 'real' jobs outside of the DMAT, so this is something we do part-time — when something happens and it's our team's time to go, we deploy," he said.
Because so many different types of emergencies can occur during a disaster, those responding need to be ready for anything. "We have multiple avenues of training," Miller said. "We provide training in Anderson, Alabama through a partnership with FEMA. We go over the fundamentals — getting everyone refreshed on the equipment and our systems — and also provide scenarios." Those scenarios involve actors and health mannequins with specific conditions which can be treated and injected as if they were real-life patients.
Though there are teams in various regions throughout the U.S., they don't respond to disasters based on location. "Florida, for instance, has a couple of teams," Miller said. "But if something bad happened in Florida, we wouldn't use those teams, because we'd be pulling capabilities and resources from the state." When Hurricane Matthew hit the Sunshine State, a team based in Pennsylvania responded.
Employees on NDMS range from a race car driver to a greeter at Walmart to doctors who own private practices.
Deploying every type of team at once is extremely rare — in fact, Miller can't name a single instance in which teams from every division (DMAT, Veterinary, Trauma, mortuary, and victim identification) deployed for one disaster. "During Hurricane Sandy, all teams were activated [i.e. placed on orders to deploy] but the trauma team did not deploy," he said.
There have been instances, however, in which personnel from nearly every type of team deployed to a disaster zone. In the wake of the January 2010 earthquake in Haiti, for instance, personnel from four out of five teams deployed (the veterinary team did not).
The veterinary team travels most infrequently, generally only deploying to help support federal animals (police K-9s, Capitol Police horses, and the like). They did respond, however, in the wake of Superstorm Sandy, said Miller. "The vet team doesn't typically support pets but, because people left in such a hurry without taking their pets, the state asked for an exception. The team went to help shelter organizations, which were overwhelmed."
The mortuary affairs team is deployed only in cases in which there have been multiple fatalities. "After [the 2011 tornado in] Joplin, we sent our mortuary affairs team to support the city with victim identification," Miller said. "They work on-site with families to gather information and turn that information over to local or state coroners who will then make identifications."
The DMATs, which provide care for those suffering from non life-threatening injuries, travel most frequently, deploying to augment hospitals or healthcare facilities that are inundated with patients. "During Hurricane Matthew last year, a hospital in Florida lost power and wasn't able to fully treat patients," said Miller, "so we sent in the augmentation of a DMAT and they set up outside the hospital."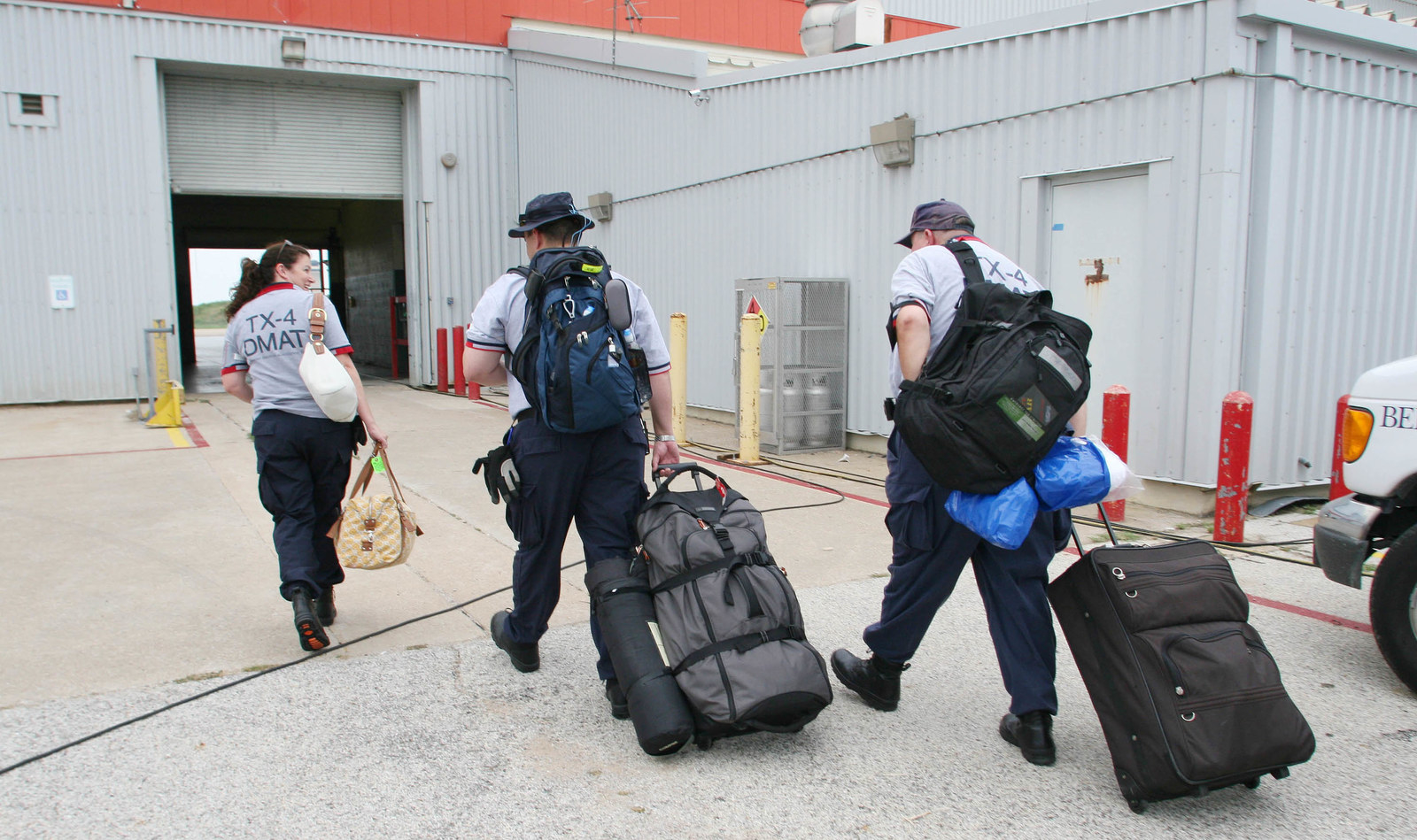 McPhaul has responded to a number of disasters, though his most notable was the 2010 deployment to Haiti. "The earthquake hit sometime in the afternoon, while I was working a woods fire," he recounted. "I got back to the station and my wife had called me, saying there was an earthquake in Haiti. I immediately turned on CNN and saw what was happening."
Later that same night, he got a call from his DMAT commander, asking him if he had a passport. "The team that was up for call [deployment] that month was based in New Jersey, but its commander didn't have a passport," he said. "So I was asked to serve as deputy commander. I had just worked a 24 hour shift at the fire station when I got the call."
Less than 48 hours later, he was on a plane to Atlanta to meet up with the New Jersey DMAT team. One by one, the members of the team met at a hotel near the Hartsfield-Jackson airport and, the next morning, headed to Haiti on a government-chartered flight.
During large-scale events (States of the Union, Super Bowls), DMATs will typically stay in hotels, but disaster-ravaged areas are entirely different. "I was in Haiti for a month," McPhaul said, "sleeping on a tennis court under mosquito netting. Sometimes we stay in austere conditions, eating MREs, stuff like that. We have tents set up for sleeping areas in some cases. We can live in the tents. Now, if there's a special event like the Super Bowl or State of the Union, that's when we stay in hotels."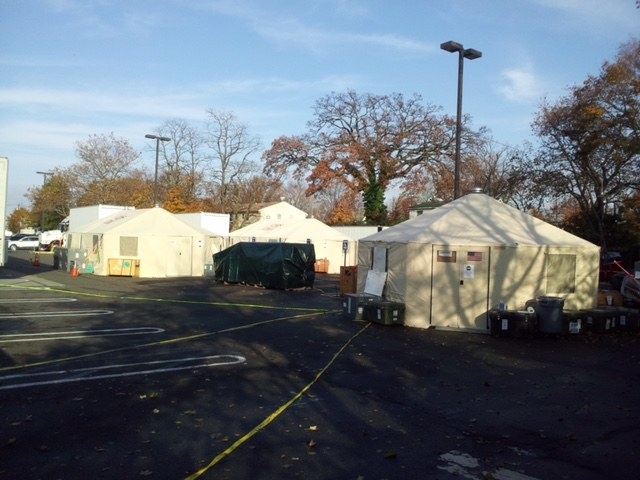 Typically, NDMS teams are deployed at the request of a state, but there are exceptions. "During catastrophic events, the president has the authority to deploy us without the states' request," Miller said.
McPhaul has deployed in some cases where there hasn't been a disaster at all, but there's the potential for one. "I deployed to the G-8 summit when it was up in Sea Island; they send teams to D.C. for Fourth of July, for the State of the Union, for Police Memorial Weekend," he said. "Any kind of national security event, teams will go as a precaution."
One such event includes the potential rupture of the Cascadia fault which, stretching from Northern Vancouver Island to Northern California, is capable of producing what could be the worst earthquake in history. It's impossible to know what the result of a rupture would be, but the disaster teams do have a response plan in place — despite the fact that they wouldn't be allowed to travel to the area, due to potential aftershocks. "Instead, patients would be evacuated to us," Miller said. "We're ready if that happens."
Another potential disaster lies on the New Madrid Fault Line, a seismic zone in the southern and midwestern United States. And then there are hurricanes, an all-too-regular occurrence in McPhaul's home state. "If New Madrid happens, that's going to be a bad day for the whole country. And Category 5 hurricanes are getting stronger and stronger," he said. "There are just so many things that happen that you wouldn't expect — look at Pulse Nightclub."
And despite the fact that he and his colleagues undergo rigorous, periodic training, he admits no one can be prepared for every horrible situation. "We aren't trained for everything, but we are problem-solvers," he laughed. "Pretty much everybody on the team is a Type A personality. We try to determine the best way to remedy the situation, whatever it may be."
This week, we're talking about preparing for and surviving the worst things imaginable. See more Disaster Week content here.