The White House / Via Spotify
The White House just released two Presidential Playlists on Spotify. But what is Barack Obama really trying to say with these tunes? See the hidden meaning in each song below.
1.
"Ain't Too Proud to Beg" by The Temptations
Lyric: "If I have to beg and plead for your sympathy/ I don't mind coz' you mean that much to me"
Meaning: The approval of the American people means a lot to President Obama and he ain't too proud to make a hip spotify playlist.
2.
"Live It Up Pts 1 & 2" by The Isley Brothers
Lyric: "Everybody needs love sure enough/ Everybody ought to live it up"
Meaning: #lovewins and Barack Obama couldn't be happier
3.
"Memories Live" by Reflection Eternal
Lyric: "Way back when I was a portrait of the artist as a young man"
Meaning: Our President, like all those before him, appears to have aged a solid 15 years in the last 7. This song was no doubt playing as he google imaged "Young Barack Obama" and scrolled through the photos with a single tear running down his cheek.
4.
"Tombstone Blues" by Bob Dylan
Lyric: "The Commander-In-Chief answers him while chasing a fly/ saying 'death to all those who would whimper and cry'"
Meaning: Um, this is terrifying, actually. I hope that this is one that the White House Intern who made this playlist just threw on there without listening to the full thing first.
5.
"So Much Trouble In The World" by Bob Marley & The Wailers
Lyric: "So you think you've found a solution/ but it's just another illusion"
Meaning: This is directed at all 47 GOP candidates. The presidential equivalent of a "come at me, bro."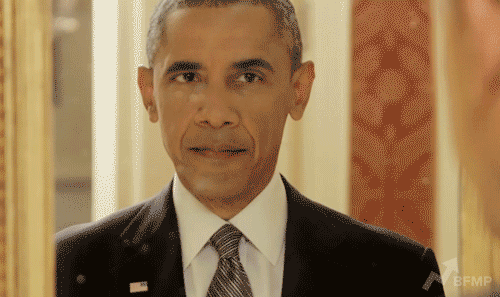 6.
"Paradise" by Coldplay
Lyric: "Life goes on, it gets so heavy/ the wheel breaks the butterfly, every tear a waterfall"
Meaning: This is about the Charleston shooting. And the movie theater shooting in Louisiana. Chattanooga. Newtown. Aurora. As President Obama's said before, "These tragedies have become far too commonplace."
7.
"Tengo Un Trato - Remix" by Mala Rodriguez
Lyric: "Si estas gordo, te dejo flaco"
Meaning: Google translate informs me that this means "If you are overweight, I leave skinny" so this obviously is in support of the First Lady's "Let's Move!" initiative to solve the epidemic of childhood obesity. #supersubtle
8.
"Wang Dang Doodle" by Howlin' Wolf
Lyric: "A we gonna pitch a ball, a down to that union hall/ We gonna romp and tromp till midnight"
Meaning: This is how hard POTUS plans to rage when the clock strikes noon on January 20th, 2017.
9.
"Another Star" by Stevie Wonder
Lyric: "But through my eyes the light of you is all I see"
Meaning: Aww. This is about Sasha & Malia. Very sweet, Papa Obama, very sweet.
10.
"Hot Fun In The Summertime" by Sly & The Family Stone
Lyric: "That's when I had most of my fun/ high high high high there"
Meaning: While this one is an enigmatic code to crack, to hazard a guess, I think Barack could still have some "fun in the summertime" again were he to visit the good people in the states of Washington, Oregon, Colorado, Alaska, or of course, maybe even in the Residence of the White House in the good ol D of C.
11.
"Boozophilia" by Low Cut Connie
Lyric: "I can open up a bakery/ maybe that's just what I need"
Meaning: This is our Commander in Chief postulating just which career he might possibly begin post-Presidency.
12.
"Wherever Is Your Heart" by Brandi Carlile
Lyric: "Oh it hurts so bad to let go of your hand/ Wherever is your heart I call home"
Meaning: No question, this song is about the love between America's favorite couple: POTUS & FLOTUS.
13.
"Good Day" by Nappy Roots
Lyric: "We're gonna have a good day/ And all my homies gonna ride today/ And all these mommies look fly today/ And all we wanna do is get by today"
Meaning: Undoubtedly, the mantra with which President Obama starts each and every morning.
14.
"Green Light" by John Legend, Andre 3000
Lyric: "I'm ready to go right now, I'm ready to go right now"
Meaning: Barack is so over this whole "leader of the free world" thing. And no wonder, the poor man looks like he could use a Rip-Van-Winkle-esque nap.
15.
"Gimme Shelter" by The Rolling Stones
Lyric: "War, children, it's just a shot away"
Meaning: Whoof, this playlist is heavy on the gun control messages! But possibly because President Obama thinks American society is so light on the actual gun control and though he's felt incredibly frustrated with the lack of progress, he has no plans on stopping in the next 16 months.
16.
"Rock Steady" by Arethra Franklin
Lyric: "Step and move your hips/ with a feeling from side to side"
Meaning: Though Barack's got vocal chops in spades, the one with the moves in this family is Michelle. FLOTUS obviously gave him this groovier predecessor to the Cha Cha Slide to help her husby match her skills.
17.
"Down Down the Deep River" by Okerville River
Lyric: "Tell me about you uncle and his friend/Because they seem like very bad men"
Meaning: Watch yo back, ISIS.
18.
"Pusher Love Girl" by Justin Timberlake
Lyric: "Since you came around/ I've been living a different life"
Meaning: No doubt that President Obama's life has been changed for the better with the introduction of Sunny to the hallowed halls of the White House, and this sweet girl has got everyone feeling the love.
19.
"Shake It Out" by Florence + The Machine
Lyric: "I like to keep my issues strong"
Meaning: Though he can only Barack & Roll as chief executive of the nation for just a short while longer, he's got no plans to back down from the issues that brought him to the Oval Office.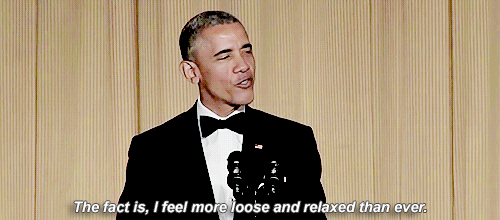 20.
"La Salsa La Traigo Yo" by Sonora Carruseles
Lyric: "La salsa la traigo yo"
Meaning: Literally translated, "I bring the salsa." Metaphorically speaking, President Obama is telling us that he plans on keeping things as flavorful and exciting as ever as he rounds out his last term. Never change, Barack, never change.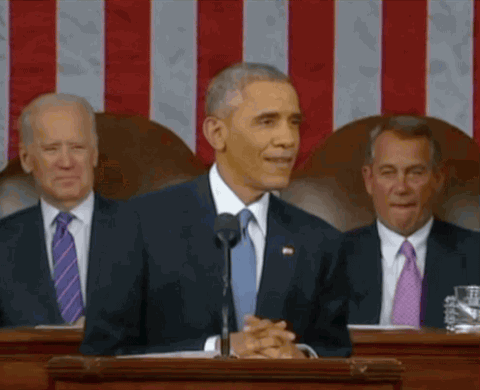 This post was created by a member of BuzzFeed Community, where anyone can post awesome lists and creations.
Learn more
or
post your buzz!
Looks like there are no comments yet.
Be the first to comment!